Uzbek Bread, beautiful golden bread with a soft fluffy centre. It's great to eat warm from the oven with butter or dipped into a soup or stew.
Traditionally this bread will have a stamped pattern on top that's made using an Uzbek bread stamp known as a 'Chekich'. We used a fork for some imprints but you can leave it plain also.
The bread is flattened into discs leaving the edges puffier than the middle. This creates a ring shape perfect for tearing, dipping and sharing.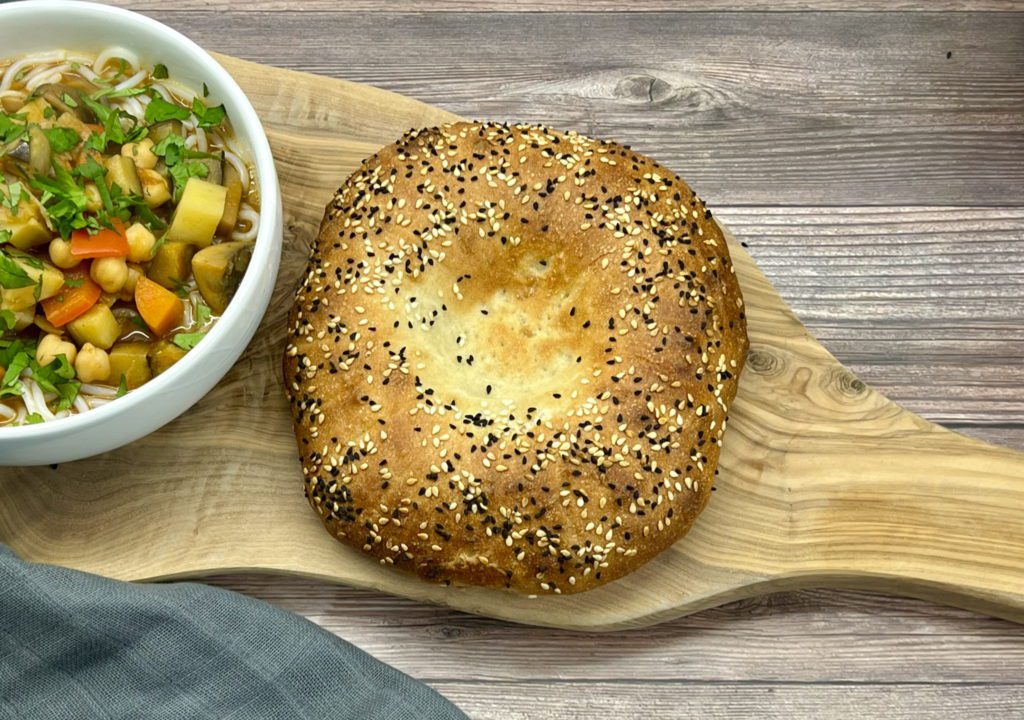 Uzbek bread is perfect served with Lagman, an Uzbek spiced noodle and vegetable soup. Our recipe for Lagman can be found here.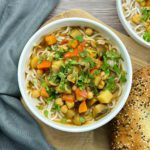 Vegan Lagman
A vegan take on a traditional spiced noodle and vegetable soup eaten in Uzbekistan and throughout Central Asia.
Check out this recipe
Uzbek Bread (Obi Non)
Beautiful golden bread with a soft fluffy centre. It's great eaten warm from the oven with butter or dipped into a soup or stew.
Ingredients
400

g

all-purpose flour

3

g

instant yeast*

7

g

salt

7

g

sugar

15

ml

olive oil

130

ml

water

room temperature

1

teaspoon

sesame seeds

1

teaspoon

nigella seeds

2

tablespoons

aquafaba for glaze

or plant milk
Instructions
Place all the dry ingredients into a large bowl and mix thoroughly with your hands or a wooden spoon.

Add the oil and roughly mix into the dry ingredients before adding the water. Mix the water into the flour until a rough dough forms.

Knead the dough in a stand mixer for 5 minutes until a smooth ball of dough is formed. If kneading by hand keep kneading until the dough is smooth this will take 5 to 10 minutes.

Cover and let the dough rest for 3 hours or until doubled in size.

Remove the dough from the bowl onto a lightly floured surface and divide it into two pieces.

Roll each piece into a smooth ball and leave to rest for a further 30 minutes.

Preheat an upside-down baking tray in an oven set to the highest temperature. For us, this was 250°C (480°F).

Place one of the balls onto a piece of baking parchment then flatten into a disc shape roughly 20cm in diameter leaving the edges thicker than the middle. Dock the dough in the centre with an Uzbek bread stamp or using a fork.

Glaze with aquafaba then sprinkle with the nigella and sesame seeds.

Using the baking parchment to lift the bread, carefully place it onto the tray in the pre-heated oven for approx 10 minutes or until golden brown. The parchment paper makes it easy to move the bread into the oven and will easily peel off the bread once cooked.

Remove from the oven then place on a wire rack

Repeat steps 8 to 11 for the other dough ball.

The bread can be enjoyed hot, fresh from the oven or left to cool.
Notes
We recommend being patient and allowing the bread time to rise but you can speed up the process by doubling the yeast.