Vegan Uzbek Manti, Uzbek-style steamed dumplings with a spiced tofu and pumpkin filling. Delicious as a light meal or served as part of a feast.
Shaping Vegan Uzbek Manti
As with any dumplings Uzbek Manti can be shaped in a variety of different ways. Our recipe suggests one way. However, feel free to shape them in your preferred style. You can also alter the size of the wrapper to make smaller or bigger dumplings.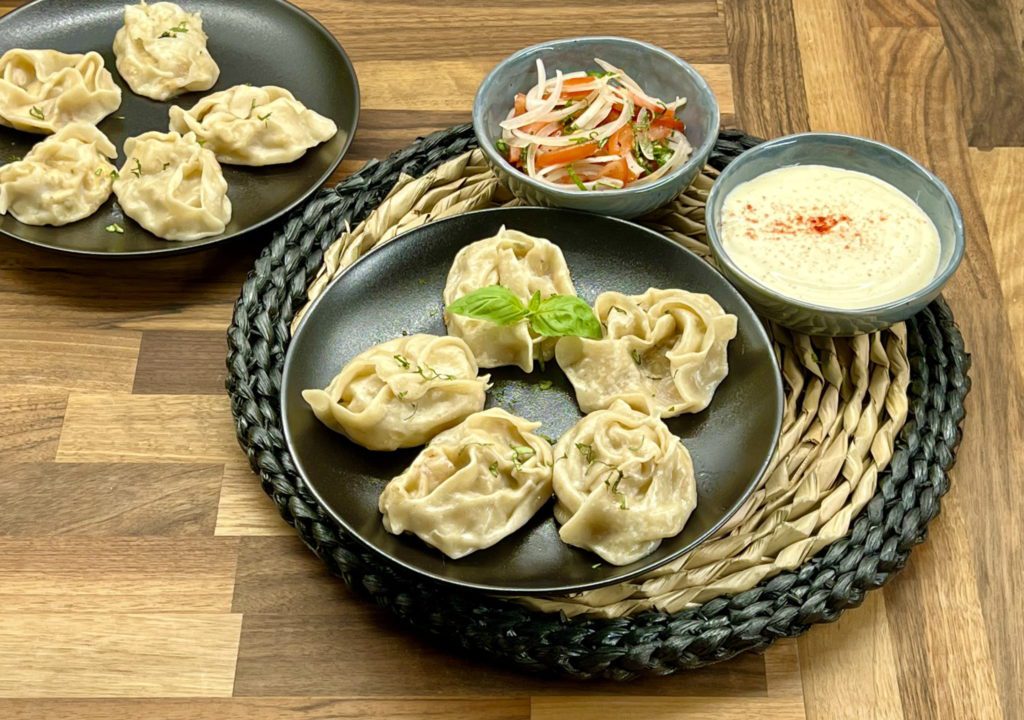 Filling options
Our Vegan Manti recipe uses pumpkin and potato which are traditional fillings. However, feel free to play around with the ingredients, such as using more pumpkin instead of potato. You can use squash if pumpkin isn't an option and cabbage is also a traditional ingredient. Tofu can also be replaced by using a vegan mince alternative.
Vegan Manti
Uzbek style steamed dumplings with a spiced tofu and pumpkin filling. Delicious as a light meal or served as part of a feast.
Ingredients
200

ml

vegan sourcream

or yogurt
Filling
250

g

extra firm tofu

200

g

pumpkin

150

g

potato

1

medium onion

diced

1

teaspoon

paprika

2

teaspoons

ground cumin

1

teaspoon

ground coriander

1

teaspoon

chilli flakes

optional

1

tablespoon

olive oil

1

teaspoon

cracked black pepper

1

teaspoon

salt

2

teaspoons

chopped parsley
Dumpling Wrappers
270

g

all-purpose flour

2

g

salt

125

ml

warm water

Cornflour for dusting

cornstarch
Instructions
Dumpling Wrappers
Mix the flour and salt in a bowl then add the warm water, mix with your hands until a rough ball of dough is formed.

Set aside the dough and cover with a damp kitchen towel. Let it rest for 20 minutes to allow the flour to hydrate.

Once rested knead the dough for a short time until the dough is smooth.

Split the dough in half and work with each half separately. Cover the other half to stop it from drying out too much.

Roll the dough out to a thickness of 1mm using a rolling pin or a pasta machine.

Cut the dough into 10cm squares then cover in a thin layer of cornflour to stop them from sticking to each other. Prepare all the wrappers then set them aside while making the filling.
Filling
Make sure the tofu has been pressed for at least 10 minutes to remove excess water. The filling should have as little moisture as possible. Once pressed, crumble the tofu into a large bowl, the pieces should be no bigger than 1cm cubes.

Peel the pumpkin and potato then cut them into 1cm or smaller cubes. Add them to the bowl with the tofu.

Add the diced onion and the rest of the ingredients for the filling into the bowl and mix thoroughly to coat everything in the spices.
Assembly *
Fill each wrapper with roughly 1 tablespoon of the filling. Place the filling in the centre of the wrapper and wet the edges with a small amount of water. Bring each corner of the wrapper into the centre and crimp together along the edges to make a pyramid type shape. Now take two of the lower corners and pinch together, do the same with the other side.
Cooking
Lightly oil the steamer trays or baskets and place the Manti on them. Don't let them touch as they will stick together while cooking.

Get a steamer up to a boil then steam the Manti for 30 minutes.

Serve immediately with some vegan sour cream.
Notes
Dumplings can be shaped in any way you find easiest.