Vegan Suya, a vegan take on popular Nigerian street food. Grilled seitan skewers with a delicious peanut spice rub. Great served on their own with a simple crunchy side salad and your favourite spicy sauce.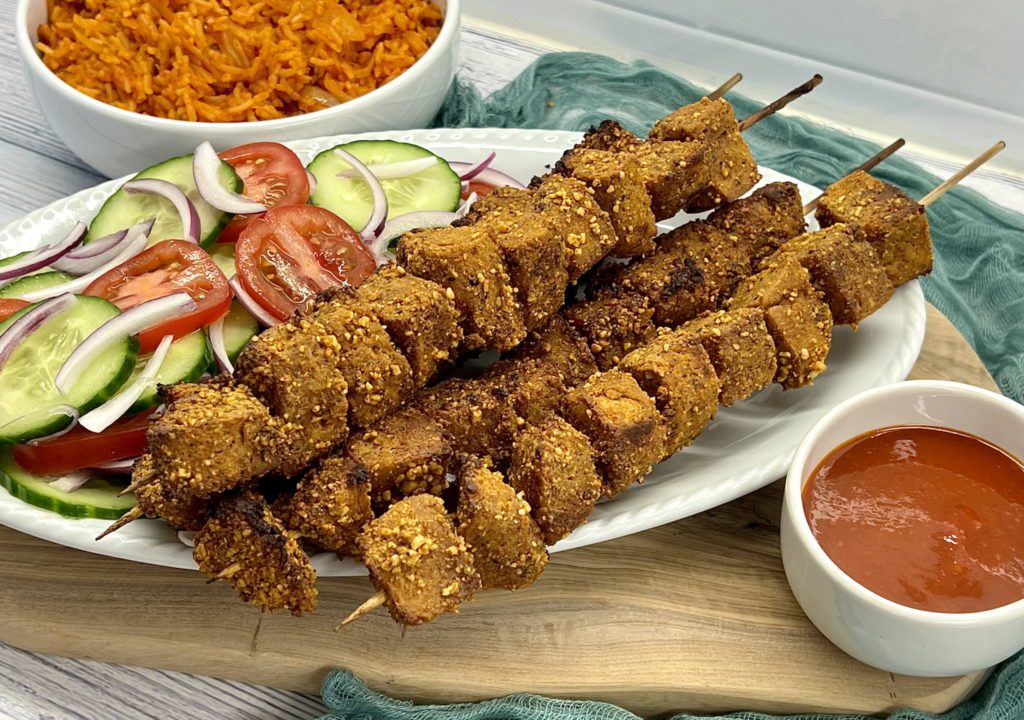 Vegan Suya Tips
The seitan can be made ahead of time. Make and steam the seitan steaks then they keep well in the fridge for a few days or in the freezer for longer. 
To speed up the recipe you can use shop-bought seitan or even something like tofu or tempeh can be used to make an equally delicious Vegan Suya.
Nigerian kebabs are usually cooked over an open fire and have a wonderful smokey flavour. To make Vegan Suya achievable in your home but retain the smokey flavour the recipe includes smoked paprika in the suya spice rub. We also suggest finishing the kebabs off under the grill (broiler). This will go some way to getting a smokey flavour with some shared bits. However, cooking these skewers on a BBQ in the summer is also possible.
Grains of Selim is a wonderful spice that's used in Nigerian and other West African cuisines. It has an aromatic peppery taste with a smoky woody note. It's used in everything from soups and stews and even in drinks in some parts of West Africa. When bought fresh a little goes a long way so use sparingly. If you cannot source Grains of Selim just omit it from the recipe.
Peanuts are an important ingredient in these Nigerian kebabs. Make sure you use unsalted peanuts to make sure they don't turn out too salty. If you can only find balanced peanuts you can roast them yourself in an oven or in a dry pan on the stove.
Serving Vegan Suya
Suya skewers are a type of Nigerian kebab, grilled over coals and typically found as street food. It can be eaten any time of day. Adding a simple crunchy side salad and serving with some Vegan Jollof is great as a complete meal.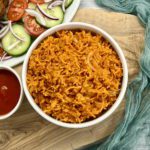 Vegan Jollof Rice
A spicy and smoky rice dish that's popular throughout West Africa. Made with a tomato and pepper based sauce that gives the rice a wonderful rich flavour.
Check out this recipe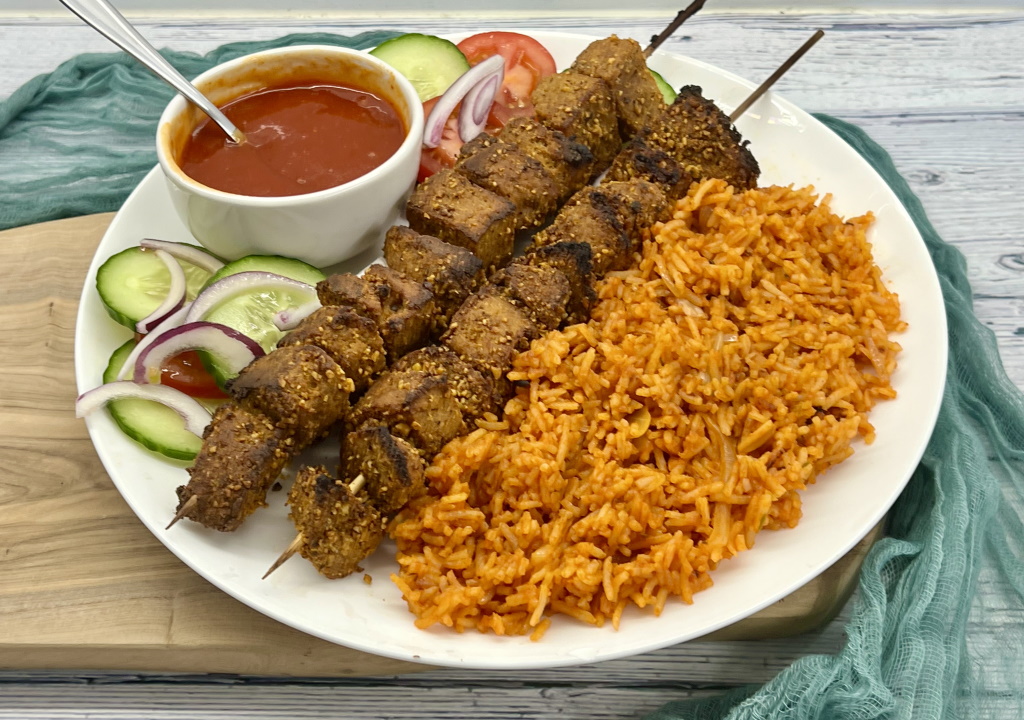 Vegan Suya – Nigerian Spiced Skewers
A vegan take on a popular Nigerian street food. Grilled skewers made with homemade seitan and a delicious peanut spice rub.
Ingredients
6

tablespoons

vegetable oil
Seitan
1

tablespoon

olive oil

1

medium onion

diced

2

cloves

garlic

minced

1

teaspoon

sweet paprika

2

tablespoons

tomato puree

400

g

tin chickpeas

2

tablespoons

nutritional yeast

350

ml

vegan beef stock

¼

teaspoon

salt

360

g

vital wheat gluten
Spice Rub
1

teaspoon

ground grains of Selim

optional

2

teaspoon

black peppercorns

2

teaspoon

hot smoked paprika

2

teaspoon

onion granules

2

teaspoon

garlic granules

1

teaspoon

ground ginger

100

g

unsalted roasted peanuts

½

teaspoon

ground cloves

½

teaspoon

salt
Instructions
Add all the Seitan ingredients to a high powered blender except the vital wheat gluten and blend until smooth.

Add the vital gluten to a large bowl and ladle in a quarter of the wet mix, using a spatula to combine. Continue adding in the wet mix in batches and mixing thoroughly. Use your hands to finish the mixing process then turn out onto a surface and knead for 3 minutes to make sure all the flavours are thoroughly combined.

Cut into

8

even pieces and shape into rough steak like shapes.

Preheat a steamer and either oil the base so the seitan doesn't stick or use parchment paper. Place the seitan steaks in the steamer, making sure they are not too close together as they will expand slightly.

Steam the steaks for 25 minutes to cook through. You can steam them in batches if your steamer is not big enough.

Take the steaks out of the steamer to cool completely before cutting them into bite-sized cubes then placing into a fridge to chill.

If using wooden skewers, soak them in water for 30 mins while the seitan is chilling. We used 8 large wooden skewers.

Add all the spice rub ingredients into a small food processor and blitz into a sand-like texture. Don't overdo the peanuts as they will begin turning into butter. If you are using grains of Selim pods grind them separately and sieve to remove any fibres before adding to the spice mix.

If you do not have access to a food processor, you can use a pestle & mortar to grind the mix in small batches.

After 30 mins remove the seitan from the fridge and add

4

tablespoons of oil. Using your hand massage the oil all over the cubes. Now add the dry rub in batches, tossing the seitan pieces with your hands to fully coat.

Place approx 10 cubes of seitan onto each wooden skewer and place into a preheated oven for 12 mins.

Optionally, remove the skewers from the oven and drizzle each with a little oil. Now grill under a preheated grill for approx 5 mins until you see a little charing around the edges.

Serve the Vegan Suya with your favourite dip, rice and salad.