Vegan Kare Kare, a Filipino vegetable curry with a thick savoury peanut-based sauce. Great served with rice and vegan bagoong.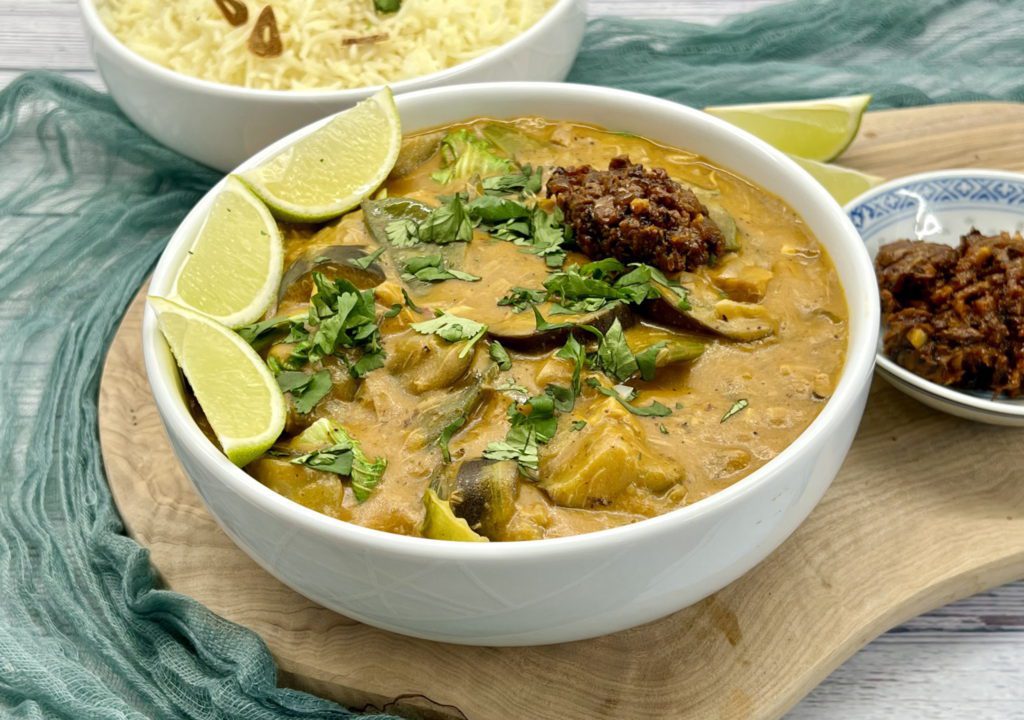 Kare-Kare is a delicious Filipino curry traditionally made with oxtail in a thick savoury peanut-based sauce. It's popular throughout the Philipines with many variations. This vegan recipe used tempeh as the protein which goes well with the thick curry sauce. Annatto paste is used to give the peanut sauce its colour. Our vegan Kare Kare is flavoured with onions, garlic and chillis for a rich flavour. To give the sauce an umami hit, Bagoong is used. This is an optional ingredient and is not usually vegan but it's worth making our vegan version if you can.
Ingredients of Note
Annatto paste is used extensively in Filipino cooking as well as throughout Latin America. The seeds are usually used in Filipino cooking but we found it easier to source the paste and it's also easier to use. It can be labelled as Anatto Paste which usually has added ingredients like garlic but this just adds to the flavour. Annatto gives a bright orange colour to dishes with a subtle sweet taste similar to a sweet red pepper.
Bagoong is a popular Filipino condiment made with fermented shrimp. It has a salty-sweet flavour that's rich in umami. Vegan versions are hard to find but are available online. We have a recipe for a vegan version here.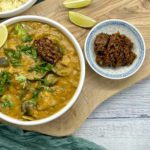 Vegan Bagoong
a vegan version of the popular Filipino condiment. Made with mushrooms and fermented black beans for a rich umami taste.
Check out this recipe
Calamansi is a citrus fruit variety popular in the Philippines and other South-East Asian we found this impossible to find where we live so opted to just use limes. If you can find them then great but limes or lemons will work as well.
Serving Vegan Kare Kare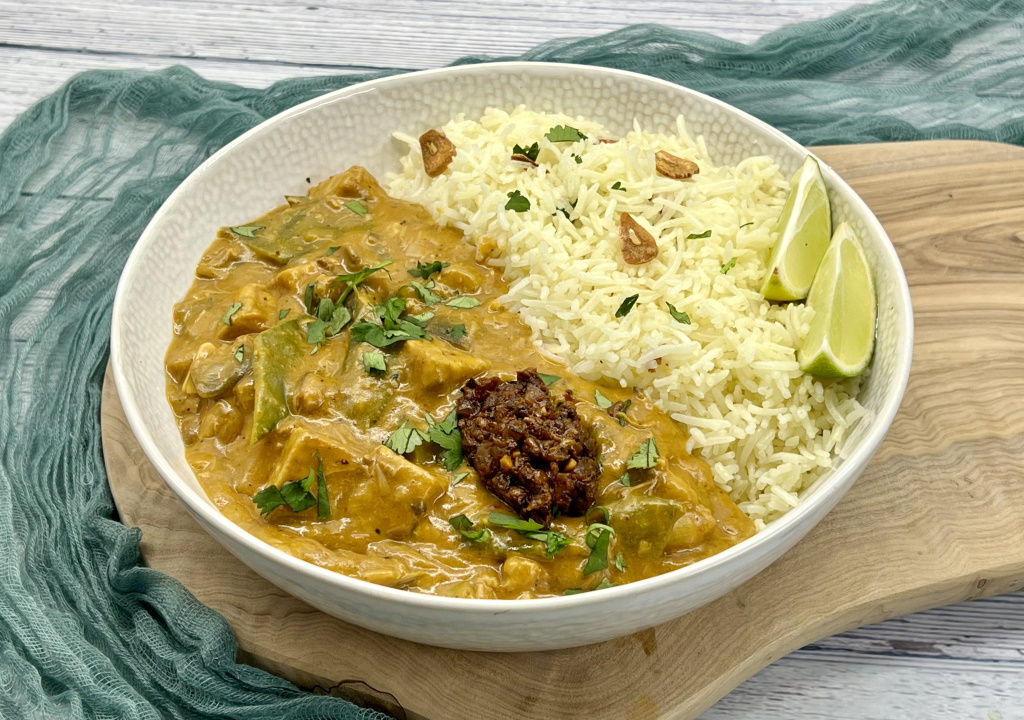 Vegan Kare Kare can be served on its own or with a side of jasmine rice. Kare Kare can also be served with a variety of toppings. Calamansi, bagoong and fried garlic are traditional. We find using lime wedges adds a nice tangy taste to the dish.
Cooking Tips
Make sure to use unsweetened peanut butter. Try to get a jar that's made with close to 100% peanuts. Kare Kare shouldn't be overly sweet.
Banana blossom is readily available in cans from most major supermarkets. Make sure to squeeze as much liquid as possible from them before adding to the curry. If you can get fresh banana blossoms you have to prepare them in a different way.
Kare Kare is usually thickened by toasting jasmine rice and grinding it. I found just using rice flour works well you can toast the flour in a dry pan. Watch not to burn it you want a light brown colour.
You can adjust the thickness to your tastes. Add more or less flour if needed. You can also thin it down by adding more stock.
Vegan Kare-Kare
A Filipino vegetable curry with a thick savoury peanut based sauce. Great served with rice and vegan bagoong
Ingredients
2

tablespoons

vegetable oil

250

g

tempeh

1

medium onion

diced

6

cloves

garlic

miced

1

birds eye chilli

miced

200

g

banana blossom

sliced

2

tbsp

vegan bagoong

optional

650

ml

vegetable stock

1

tablespoon

sugar

½

teaspoon

salt

½

teaspoon

freshly cracked black pepper

100

g

smooth peanut butter

2

tbsp

vegan bagoong

optional

1

teaspoon

annatto paste

150

g

green beans

or mange tout

100

g

bok choy

1

medium aubergine

2

tablespoons

toasted rice flour

or cornflour
To Serve
Vegan Bagoong

Fresh coriander

Calamansi

or lime wedges

Jasmine rice
Instructions
Cut the tempeh into small cubes.

Heat the oil in a large pan over medium heat. Once hot add the tempeh and fry until it's golden all over, around 6 minutes.

Add the diced onion and sauté until soft and translucent, around 6 minutes.

Add the minced garlic and chilli and continue to cook for a further minute.

Add the sliced banana blossom and the optional vegan bagoong and continue to cook for 4 minutes. The banana blossom will break apart in the pan this is expected.

Add the vegetable stock, sugar, salt, freshly cracked black pepper and the smooth peanut butter. Mix everything together well and bring to a boil.

Dissolve the annatto paste in some hot water and add to the pan.

Once boiling, reduce the heat to a gentle simmer and add the sliced vegetables, green beans, bok choy and aubergine. Cook for 10 minutes until the vegetables are soft.

Taste and adjust the seasoning. The amount of salt needed at this stage will depend on if you used the optional bagoong and how much salt was in your stock. We didn't need to add anything at this stage.

Mix the toasted rice flour in 4 tablespoons of water into a paste, add to the pan and continue to cook for a further 5 minutes until the sauce has thickened.

Serve with a garnish of chopped fresh coriander, vegan bagoong, jasmine rice, toasted garlic and calamansi.