Kering Tempeh, a vegan Indonesian dish of crispy fried tempeh in a sticky, sweet and spicy sauce.
Ingredients of Note
Tempeh is a staple ingredient in Indonesian cuisine, especially on the island of Java where it originated. It is made using soybeans, similar to tofu. However, unlike tofu the whole bean is used which gives tempeh a higher protein and fibre content, also a firmer texture that's ideal for this recipe.
In the recent past, tempeh has been hard to find in local supermarkets in the UK. Recently however it is becoming more popular with a variety of brands on offer.
Indonesian cuisine uses a lot of ingredients that can be hard to find depending on where you live. If you can't find some of the ingredients you can still make Kering Tempeh by using different ingredients or simply omitting them.
Kaffir Lime Leaves. These can be used fresh or dried. If you can't find any omit them or replace with ½ teaspoon of lime or lemon zest.
Palm Sugar. Palm sugar is usually sold in a solid block that needs grated before use. It is also sold as a syrup that can be used. If you can't find palm sugar you can use the same amount of brown sugar.
Tamarind Paste. A sour and citrusy paste. Replace with lime juice.
Kecap Manis. A sweet soy sauce. Replace with 1 teaspoon soy sauce in this recipe.
Serving Suggestions
Kering tempeh is traditionally served with rice usually as a main meal, but it's also great as a smaller vegan midday snack.
We served it with Indonesian Coconut Rice and Urap Sayur which made for a delicious meal.
Indonesian Coconut Rice. Jasmine rice, cooked in coconut milk and Indonesian flavours.
Urap Sayur. An Indonesian salad of cooked vegetables in a toasted coconut dressing.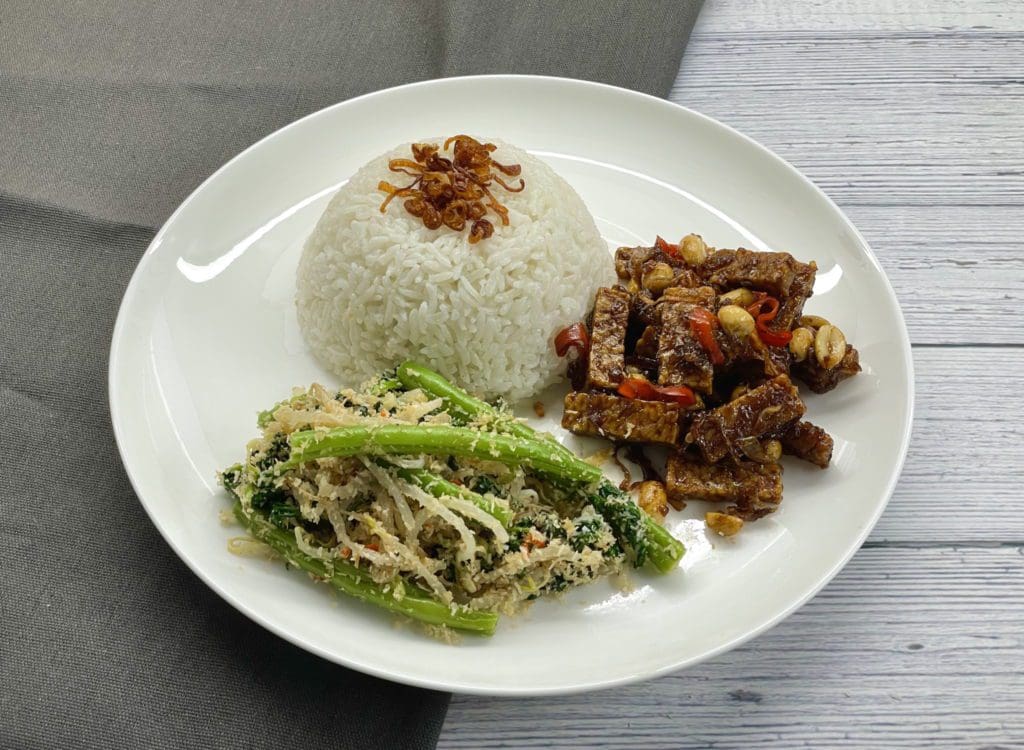 Kering Tempeh
Crispy fried tempeh in a sweet and spicy sauce.
Ingredients
200

g

tempeh

Vegetable oil for frying

2

tablespoons

vegetable oil

1

large red chilli

sliced

1

large banana shallot

thinly sliced

4

cloves

garlic

peeled and sliced

1

teaspoon

ground coriander

20

g

unsalted roasted peanuts

1

stalk lemongrass bruised

1

bay leaf

Indonesian if available

3

kaffir lime leaves

30

g

palm sugar

grated

1

teaspoon

tamarind paste

1

teaspoon

kecap manis

Salt to taste

Crispy shallots

for garnish
Instructions
Heat a pan of oil, 1cm deep, over medium-high heat to 180C.

Cut the tempeh into 1cm wide sticks about 4cm long, once the oil is up to temperature carefully add the tempeh and fry on all sides until golden brown, around 5 minutes.

Once golden brown, remove and drain on kitchen paper, then set aside. Make sure to remove the oil from the heat.

Place a clean pan over medium heat, add 2 tablespoons of vegetable oil. Once hot add the chilli, shallot, lemongrass, bay leaf and 3 kaffir lime leaves and cook until the shallot starts to brown, around 4 minutes.

Add the garlic and continue to cook until browned slightly, around 1 minute, add the ground coriander and cook for a further 30 seconds.

Add the remaining ingredients, 20g unsalted roasted peanuts, 30g palm sugar, 1 teaspoon tamarind paste, 1 teaspoon kecap manis. Add 1 tablespoon of water and mix thoroughly. Lower the heat to low, cook until the ingredients combine into a sticky glaze, around 5 minutes.

Add the fried tempeh to the pan and gently mix to coat in the glaze. Check for seasoning. Remove from the heat then serve. Garnish with crispy shallots