Vegan Jamaican Curry, curry roasted tempeh and root vegetables in a rich and spicy Caribbean curry sauce. Easy to make and full of wonderful flavours.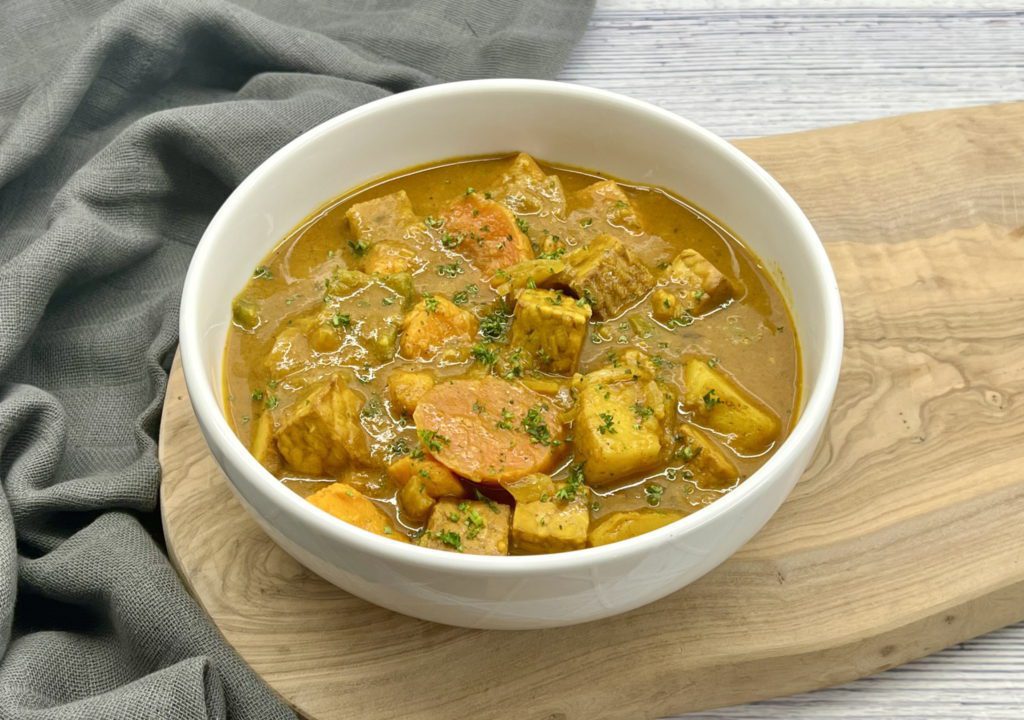 Jamaican Curry is the perfect curry to make vegan while still being delicious. It's already packed full of vegetables and it's easy enough to swap the protein for super healthy tempeh. The flavours that come from the Scotch bonnet, allspice berries, and the other herbs and spices are what make this curry unique.
Ingredients of Note
Jamaican Curry Powder, is very similar to other curry powders you can find in most supermarkets. It usually has a higher turmeric content so if you can't find Jamaican curry powder then just use whatever kind you can find and add extra turmeric.
Scotch Bonnet, is a spicey chilli variety that's used extensively in Caribbean and West African cooking. In this curry, it's used whole so the flavour is added to the sauce without much heat. If you like a hot curry consider cutting the chilli in half before adding it to the sauce but be weary as Scotch bonnets can be very hot. 
Allspice Berries, are the dried berry of a Pimenta tree. Like most spices, it's better to use allspice in its unground state. However, if you can't find allspice berries you can substitute them for ½ teaspoon of ground allspice. Depending on where you are in the world these can sometimes be called Jamaican pepper or pimento. These are a key flavour in a Jamaican Curry.
Serving Vegan Jamaican Curry
As with most curries, a side of fluffy white rice goes perfectly with Jamaican Curry. We have also used leftovers as a filling for Jamaican Patties and used up some leftover filo pastry to make easy curry samosas.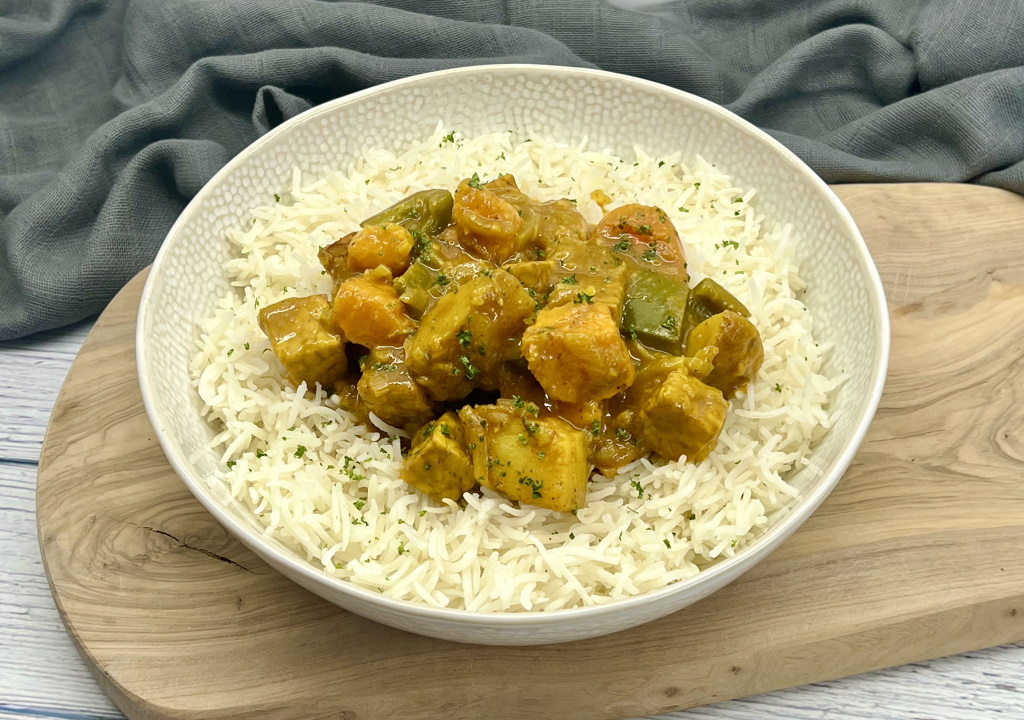 Jamaican curries typically have white potatoes and carrots and we love root vegetables in our curries but you could add other vegetables that you prefer or vegetables that are in season. We added sweet potatoes but you could also add celeriac, turnips, cauliflower or broccoli.
Move Vegan Caribbean Recipes We Love
Do you love the flavours of Caribbean cuisine and want to try other recipes? We have you covered. Here are a few of our favourites.
Vegan Jamaican Curry
Curry roasted tempeh and root vegetables in a rich curry sauce.
Ingredients
Roasted Temph and Vegetables
2

tablespoons

vegetable oil

600

g

tempeh

1

medium carrot

2

medium sweet potatoes

2

medium potatoes

1

tablespoons

Jamaican curry powder
Jamaican Curry Sauce
2

tablespoons

vegetable oil

2

medium onions

thinly sliced

4

cloves

garlic

minced

20

g

ginger

minced

1

tablespoon

tomato paste

6

sprigs thyme

6

allspice berries

4

spring onions

thinly sliced

1

green bell pepper

cut into chunks

2

tablespoons

Jamaican curry powder

1

Scotch bonnet

whole

500

ml

vegan chicken stock

400

ml

tin coconut milk

1

tablespoon

cornflour

optional
Instructions
Roasted Temph and Vegetables
Preheat an oven to 200°C (180°C Fan)

Cut the tempeh into small bite-sized cubes. Peel the carrots, potatoes and sweet potatoes and cut them also into small bite-sized cubes.

Place the tempeh and vegetables in a large bowl and pour in the vegetable oil then season well with salt and pepper and sprinkle over the Jamaican curry powder. Mix well to coat everything evenly in the oil and curry powder.

Spread out everything in a single layer on a baking tray and place in the preheated oven. Roast the tempeh and the vegetables until golden brown all over, around 20 – 30 minutes. Turning them halfway through cooking.
Curry Sauce
While the tempeh and vegetables are roasting. You can make the curry sauce.

Heat the oil in a pan over medium-high heat. Once hot add the sliced onions with a good pinch of salt and sauté until they are soft and translucent and are starting to turn golden, around 6 minutes.

Add the minced garlic and ginger and continue to sauté for 1 minute.

Now add the tomato puree and cook until it is dark and caramelised, around 2 minutes.

Add the thyme, allspice berries, white parts of the spring onions and green bell pepper. Stir everything together then add the Jamaican curry powder, scotch bonnet, vegan chicken stock and the tin of coconut milk. Bring to a boil then reduce the heat to a gentle simmer and continue to cook for 10 minutes, stirring occasionally.

If you would like the sauce to be slightly thicker you can mix 1 tablespoon of cornflour with 2 tablespoons of water before adding to the sauce.

Once the tempeh and the vegetables have finished roasting add them to the sauce and stir to combine everything together and continue to simmer for a couple of minutes.

Taste and adjust the seasoning. The amount of salt needed will depend on how much salt you added to the roasted vegetables and how much salt is in the stock.

Remove the thyme sprigs, allspice berries and Scotch bonnet before serving.

Serve your Vegan Jamaican Curry with some white rice.
Nutrition