Vegan Sopa Paraguaya, a vegan take on the National dish of Paraguay. Moist cheese and onion Cornbread. Delicious served with a soup or stew or on its own as a treat.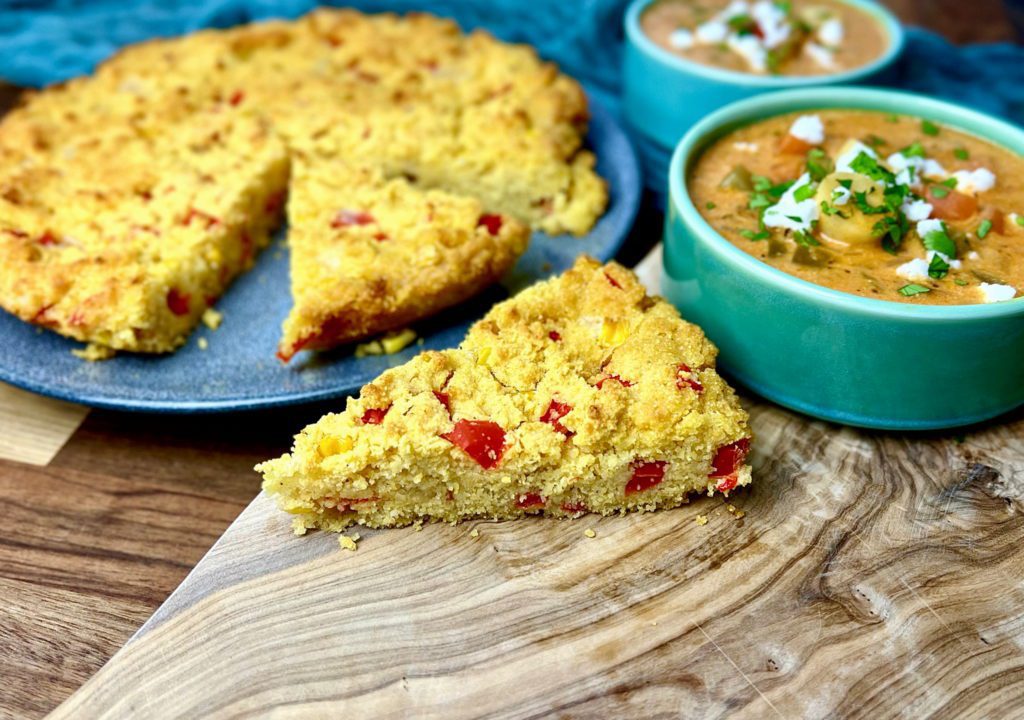 Sopa Paraguaya is the National dish of Paraguay. A cheese and onion cornbread. The name, as the legend goes, was from when a cook of the first president of Paraguay accidentally added too much cornmeal to the president's favourite soup. Too late to rectify the mistake she served it anyway. The president was impressed with the new dish and declared it Sopa Paraguaya.
Serving Vegan Sopa Paraguaya
Sopa Paraguaya is a delicious bread that goes well with anything. We had it with our Vegan Pira Caldo and with our Vegan Puchero Paraguayo. Leftovers didn't last long as it's great as a treat on its own. Paraguayan cornbread would also be great to serve with a BBQ in the summer.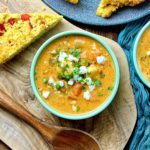 Vegan Pira Caldo – Paraguayan Soup
Vegan Pira Caldo, a vegan take on a traditional Paraguayan fish soup. Made with hearts of palm and vegetables in an aromatic coconut milk broth. Finished off with vegan cheese and fresh coriander.
Check out this recipe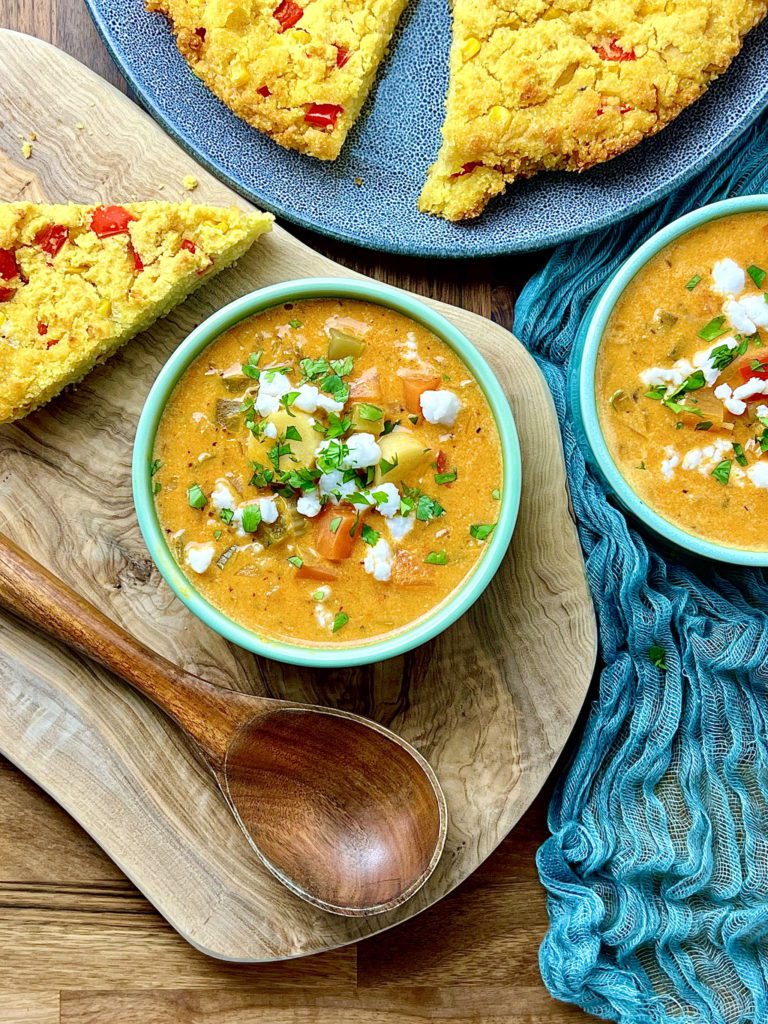 Vegan Paraguayan Cornbread Ingredients
Cornmeal can be a confusing ingredient to buy in some parts of the world. For us, fine polenta is what we have to buy. You want to get cornmeal that's medium to fine grit. Something like grits would be too big. Also, make sure it's yellow in colour for the best results.
Vegan Mozzarella, Sopa Paraguaya is traditionally made with a Queso Paraguayo, a type of rich white cheese. For a vegan version, we found using vegan mozzarella or feta worked the best.
Vegan Sopa Paraguaya – Paraguayan Cornbread
A vegan take on the National dish of Paraguay. A colourful and tasty cheese and onion Cornbread. Delicious served with a soup or stew or on its own as a treat.
Equipment
24cm diameter oven-proof skillet or frying pan
Ingredients
Makes:
24
inch
24
x
24
inch
round
1

tablespoon

olive oil

1

small onion

diced

1

small red bell pepper

diced

70

g

frozen sweetcorn

40

g

plant-based butter

260

g

polenta

fine cornmeal

70

g

all-purpose flour

10

g

baking powder

2

g

salt

20

g

white granulated sugar

5

g

nutritional yeast

70

g

vegan mozzarella

300

ml

oat milk

or other plant-based milk
Instructions
Heat the oil in a pan over medium heat. Once hot add the diced onion with a pinch of salt. Sauté until the onion is soft and translucent, around 4 minutes.

Add the diced red bell pepper and continue to sauté for a further 4 minutes. Now add the frozen sweetcorn and cook until the corn is fully defrosted, around 2 minutes.

Turn off the heat and transfer the vegetables to a bowl to cool down. Let them cool down for 10 minutes before moving onto the next step.

Preheat an oven to 180°C.

Add the plant-based butter to a cast iron frying pan or any other ovenproof frying pan. Place it in the center of the oven to preheat. You can also use a leak proof cake tin if you don't have an ovenproof frying pan. This recipe makes enough for a 22cm to 24cm pan.

In a large bowl add the cornmeal, all-purpose flour, baking powder, salt, sugar and nutritional yeast. Mix well to evenly combine everything. Now add the cooked vegetables and also mix well. Crumble up the vegan mozzarella and mix in with the flour and veg mix.

Slowly pour in the oat milk and mix well. You would have a thick cake batter consistency.

Once the pan has preheated in the oven and the butter is sizzling. Carefully remove the pan from the oven and pour in the bread mix and evenly distribute it in the pan.

Place the pan back into the oven to cook for 30 to 40 minutes or until a knife inserted in the center comes out clean and the top is golden.

Remove from the oven and let it cool for 5 minutes before carefully removing from the pan and placing on a wire cooling rack. The bread is quite crumbly so use a plate over the pan to help remove the bread without breaking it.

Enjoy your Vegan Sopa Paraguaya warm with a soup or stew or on its own as a treat.