Vegan Puchero Paraguayo, our vegan take on a traditional Paraguayan stew, a rich vibrant dish made with portobello mushrooms, butternut squash and vegetables in a delicious broth with rice.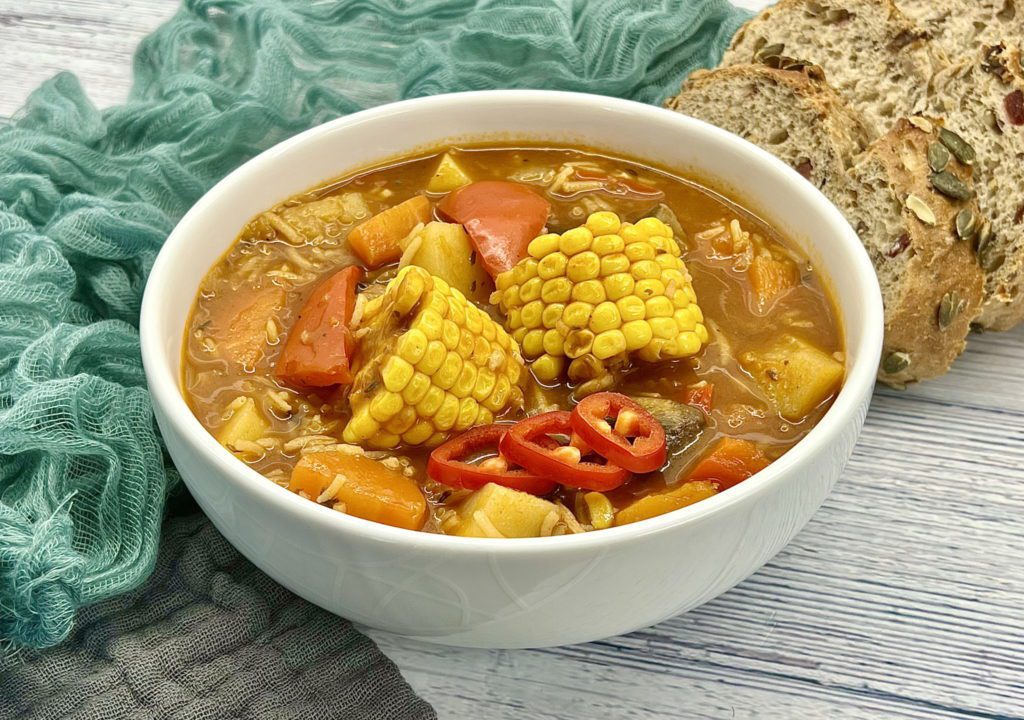 Puchero is a Spanish meat stew with many versions around the world in other Spanish speaking countries from the Yucatán peninsula, the Philippines and the Rio de la Plata region in South America. What makes Puchero Paraguayo different from the Spanish version is the use of rice rather than chickpeas and the addition of pumpkin or squash.
Since the meat is predominantly what flavours Puchero Paraguayo we had to add a few ingredients to our vegan version that typically wouldn't be found in the traditional dish. We used portobello mushrooms and tomato puree to add a kick of savoury umami flavour. The smoked paprika also helps build a deeper richer flavour in the broth.
Serving Vegan Puchero Paraguayo
Puchero is served differently around the world. In Spain, it is typically served split up into different courses. The broth is usually served on its own then the proteins and vegetables are served in the middle of the table and eaten as a feast. This also happens in Paraguay but is sometimes also just eaten as one dish. This is how we like to eat our vegan version. Serve up a bit of everything, with plenty of broth and use some fresh bread to soak it up.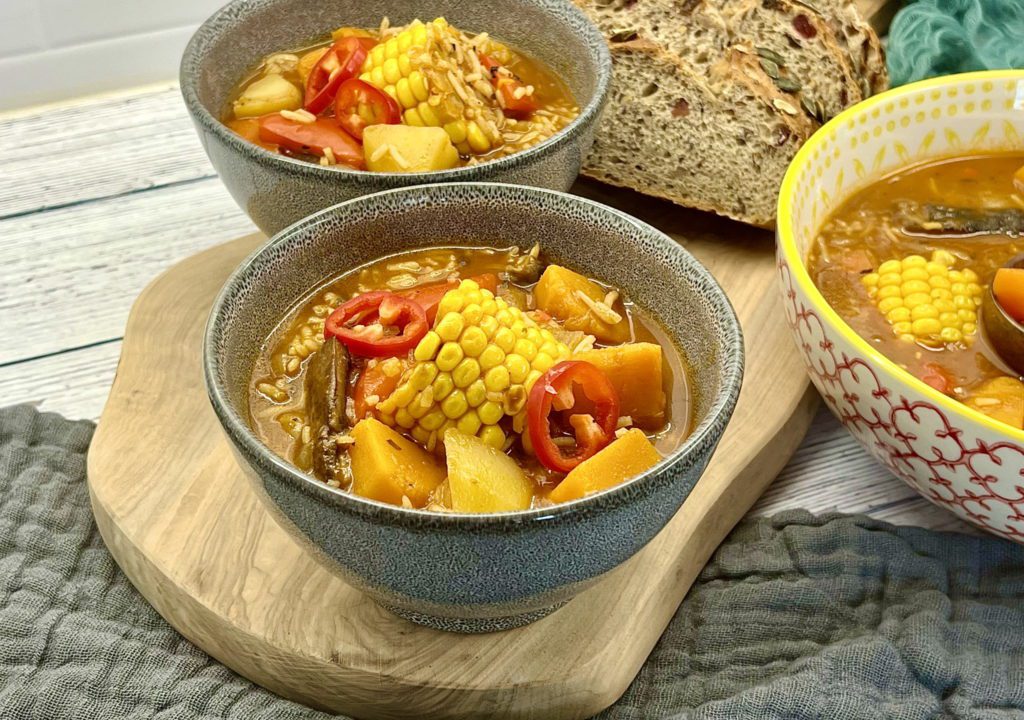 Vegan Puchero Paraguayo – Paraguayan Stew
Our vegan take on a traditional Paraguayan stew, a rich vibrant dish made with portobello mushrooms, butternut squash and vegetable in a delicious broth with rice.
Ingredients
3

tablespoons

olive oil

400

g

portobello mushrooms

2

onions

diced

3

medium carrots

diced

4

cloves

garlic

minced

1

red chilli

diced

2

sprigs fresh thyme

2

tablespoons

tomato purée

1

teaspoon

smoked paprika

½

teaspoon

freshly cracked black pepper

1

small butternut squash

2

medium potatoes

1

red bell pepper

1.5

l

vegetable stock

80

g

long grain rice

1

cob of sweetcorn

cut into 3cm sections
Instructions
Cut the portobello mushrooms into large chunks. Cut the red bell pepper, butternut squash and potatoes into bite-sized pieces. Reserve for later.

Heat the oil in a large pot over medium-low heat. Once hot add the portobello mushroom and stir to coat them in the oil. Let the mushrooms cook, stirring occasionally until all the liquid has been released. This will take 10 to 15 minutes.

Optional step: to remove more liquid from the mushrooms and to give them a meatier texture they can be pressed using a flat bottomed potato masher.

Remove the mushrooms from the pan and reserve them for later. Add the diced onions and carrots with a pinch of salt. Sauté until the onions are soft and translucent, around 8 minutes.

Add the minced garlic, red chilli and sprigs of thyme and continue to sauté for 2 minutes.

Now add the tomato purée and mix well. Sauté until the puree is a deep red colour, around 3 minutes.

Add the smoked paprika and the freshly cracked black pepper, mix in and sauté for 1 minute.

Add the butternut squash, potatoes and red bell pepper to the pan with the vegetable stock.

Mix to combine everything then bring to a boil. Reduce the heat to a gentle simmer, cover the pan with a lid and cook for 20 minutes.

Add the rice, reserved portobello mushrooms and the cut cob of sweetcorn. Mix everything together and make sure everything is submerged in the broth. Cover again and continue to simmer until the rice is cooked, around 10 minutes.

Taste and adjust the seasoning, the amount of salt needed will depend on the amount of salt in your vegetable stock. We needed to add ½ teaspoon of salt at this stage.

Serve your Vegan Puchero Paraguayo with some fresh bread.
Nutrition
Calories:
420
kcal
Carbohydrates:
70.1
g
Protein:
11.4
g
Fat:
11.5
g