A quick and easy way to use up leftover red cabbage that's also delicious. A crunchy and tangy condiment perfect for lots of different dishes. From sandwiches and tacos to quick salads and nourish bowls.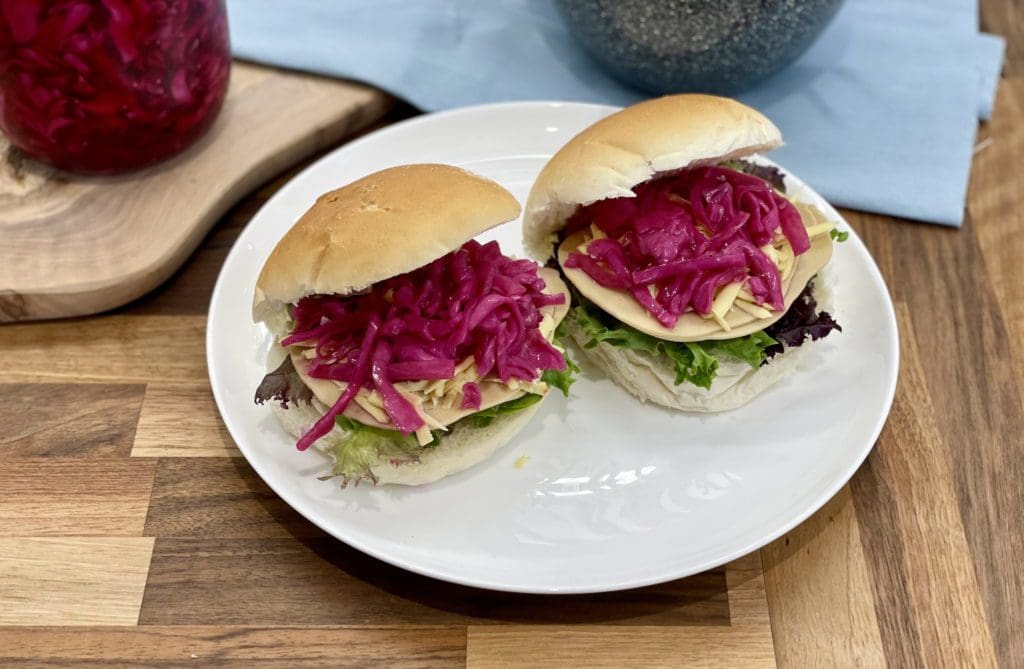 This is our go-to recipe to use up any leftover red cabbage we have from other recipes. Red cabbages are always huge, especially when in season, and you end up only using half a head of cabbage in most other recipes, like in our Red Cabbage Salad. This recipe uses the other half to create a condiment that's going to last up to 3 weeks in the fridge if care is taken with sterilisation.
Of course, if you have a full head of cabbage and you want to create a quick pickle out of it, you can easily double the recipe.
Quick Pickled Red Cabbage
A quick and easy way to use up leftover red cabbage, that's also delicious.
Ingredients
400

g

red cabbage

shredded

3

teaspoons

coarse sea salt

if using finer salt use slightly less

1

cup

water

1

cup

red wine vinegar

2

tablespoons

granulated sugar

1

teaspoon

yellow mustard seeds

½

teaspoon

whole black peppercorns

3

bay leaves
Instructions
Shred the cabbage into a desired size. Put in a bowl and cover with 1 teaspoon of the salt. Using your hands, mix and squeeze the cabbage to distribute the salt and soften the cabbage.

Sterilise a large jar or 2-3 smaller ones by washing them thoroughly with dish soap, rinse well then either boil them in a big enough pot to fully submerge them for 10 minutes or put them in an oven, set to 110°C, for 10 minutes.

Add the cabbage to the sterilised jar.

Put the remaining ingredients into a pot over medium heat. Once the liquid just begins to simmer but before it starts boiling remove the pan from the heat, leave it to cool for a minute then carefully pour into the jar with the cabbage. Make sure the jar is warm before pouring the liquid in or the jar might crack.

Make sure all the cabbage is covered by liquid. If more liquid is needed then top up with more vinegar.

Leave the jar out to cool then put it in a fridge. Ready to eat after an hour but best left overnight to allow the flavours to develop.