Sweet Red Pepper Paste (Biber salçası) is used extensively in Turkish cooking and as a condiment. Making it at home with fresh peppers creates a paste with a wonderful texture and a deep rich flavour that's worth the effort.
There are two main varieties of pepper paste. One that's made with hot chillies and the one we prefer, made with sweet red peppers. This recipe would work the same if you would like to make it spicy. Just replace some of the sweet peppers with red chillies to your desired heat level.
Traditionally made using sun-dried red peppers which have been dried over several days. Being in the UK we can't guarantee the sun being out very often and we are unable to buy them locally so we opted for roasted red peppers as an alternative.
We recommend buying fresh red sweet pointed peppers then roasting them yourself for a fresher taste, however you could speed things up by purchasing the jars of roasted red peppers.
To get the best, roasted flavour we prefer to char our red peppers over the naked flame of our gas hob. The hob will need to be cleaned afterwards but we believe the extra effort is worth it.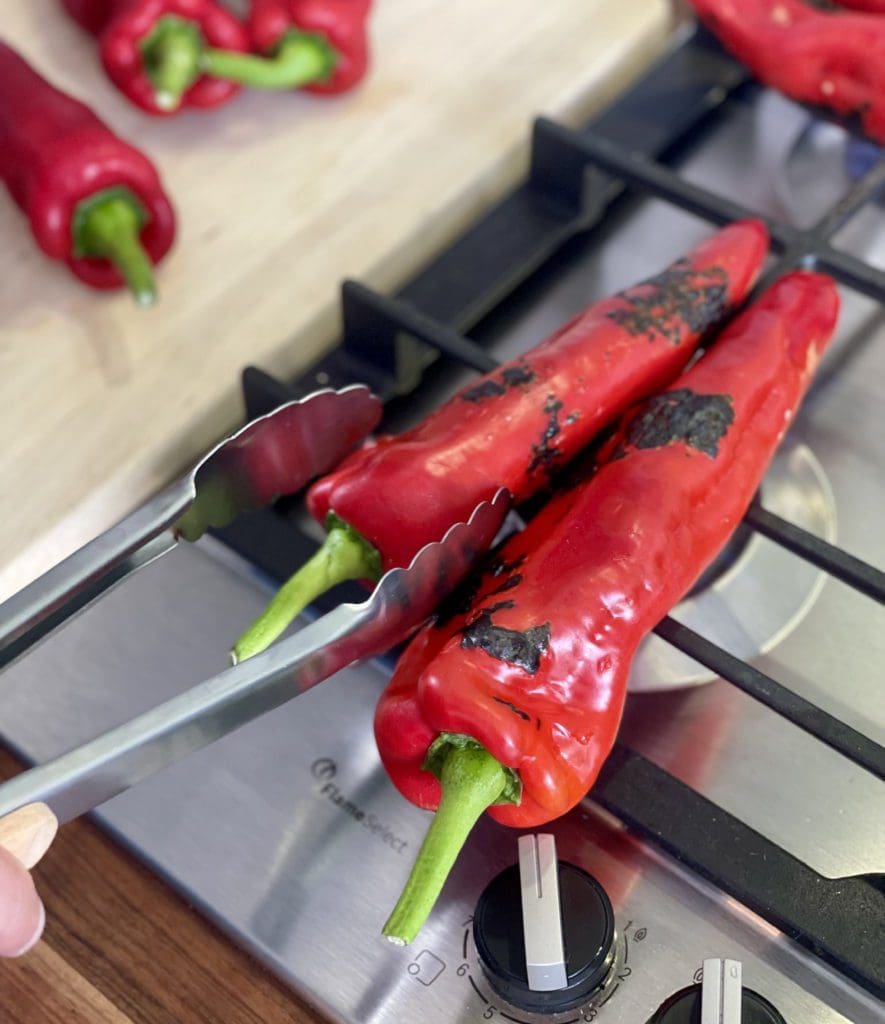 Using metal tongs carefully blacken all sides of the peppers.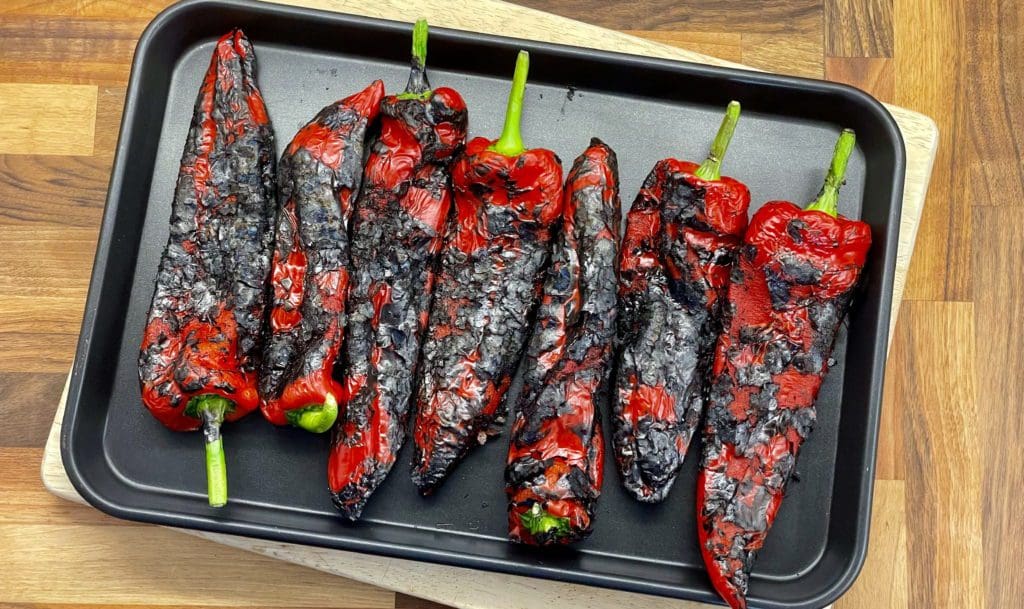 The 1kg of peppers gets cooked down to only 300g of paste. It might seem like a lot of effort for such a small amount of paste but the flavour you get is worth it.
We have lots of recipes that use red pepper paste as an ingredient. However, it's also great spread on some fresh bread or as a condiment in a pita bread sandwich.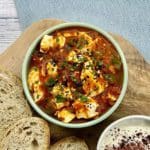 Vegan Menemen – Turkish Tofu Scramble
A Turkish dish, traditionally eaten at breakfast. A rich and flavourful tomato-based sauce with peppers and silken tofu.
Check out this recipe
Red Pepper Paste (Biber salçası)
Roasted sweet red peppers turned into a thick paste ready to use in recipes or as a condiment.
Ingredients
1

kg

long sweet red peppers

1

teaspoon

salt

Juice of

1

lemon

1

tablespoon

extra virgin olive oil
Instructions
Roast, grill or use a naked flame to blacken the skin of the red peppers. We like to place the peppers over our gas hob and slowly turn them to blacken the skin. The hob will need to be cleaned afterwards but we find this way creates the best, roasted flavour. If using an oven then heat the oven to 200°C and roast the peppers for 25 minutes turning halfway.

Once all the skin is blackened and blistered place the peppers on a tray to cool.

Once the peppers are cool enough to touch start peeling off as much skin as you can. You will get a better texture if you manage to remove all the skin.

Once fully peeled run the peppers under cold water to remove all black bits that might be remaining on the pepper.

Cut the peppers in half and remove the seeds and pith.

Place all the peppers in a blender and blend until you have a smooth consistency.

Transfer the blended peppers to a pan and bring to a gentle simmer over medium heat. You should use a lid here as the peppers will bubble up and splatter.

Simmer the peppers, stirring occasionally until they have a thick consistency, around 30 minutes.

Remove from the heat and add the remaining ingredients.

1

teaspoon salt, juice of

1

lemon and

1

tablespoon extra virgin olive oil. Thoroughly mix to combine everything then allow to cool before transferring to a sterilised jar.