Vegan Kotlet Schabowy, made with celeriac for a wonderful taste and texture, served with buttery dill potatoes.
Kotlet Schabowy is a Polish dish of breaded pork chop, similar to schnitzel. In this recipe, celeriac is used to make it vegan but also for the perfect texture and taste.
Ingredients of note
Celeriac, sometimes known as celery root make the perfect vegan alternative for the cutlet. They have a wonderfully savoury, nutty flavour with a subtle celery taste. If sliced thin enough before frying it has a wonderful texture that's firm but tender.
Gram flour is used to make a batter that replaces eggs when dredging the cutlets. Gram flour can sometimes be a strong flavour but doesn't come through strongly in this recipe. The batter used in the recipe is quite thick and sometimes doesn't stick to the cutlets. However, with a bit of perseverance, the batter does stick and makes for a perfect coating.
Serving Suggestions
This recipe makes enough for 2 celeriac cutlets for each person with a small portion of potatoes. If you want to make it a meal on its own add more potatoes. However, I think it's perfect served with a couple of sides.
Red Cabbage Salad (Surówka z czerwonej kapusty) A Red Cabbage Salad with carrots and apple in a light lemon juice and parsley dressing.
Polish Beetroot Salad (Sałatka z buraków) A Beetroot Salad with shallots and red wine vinegar.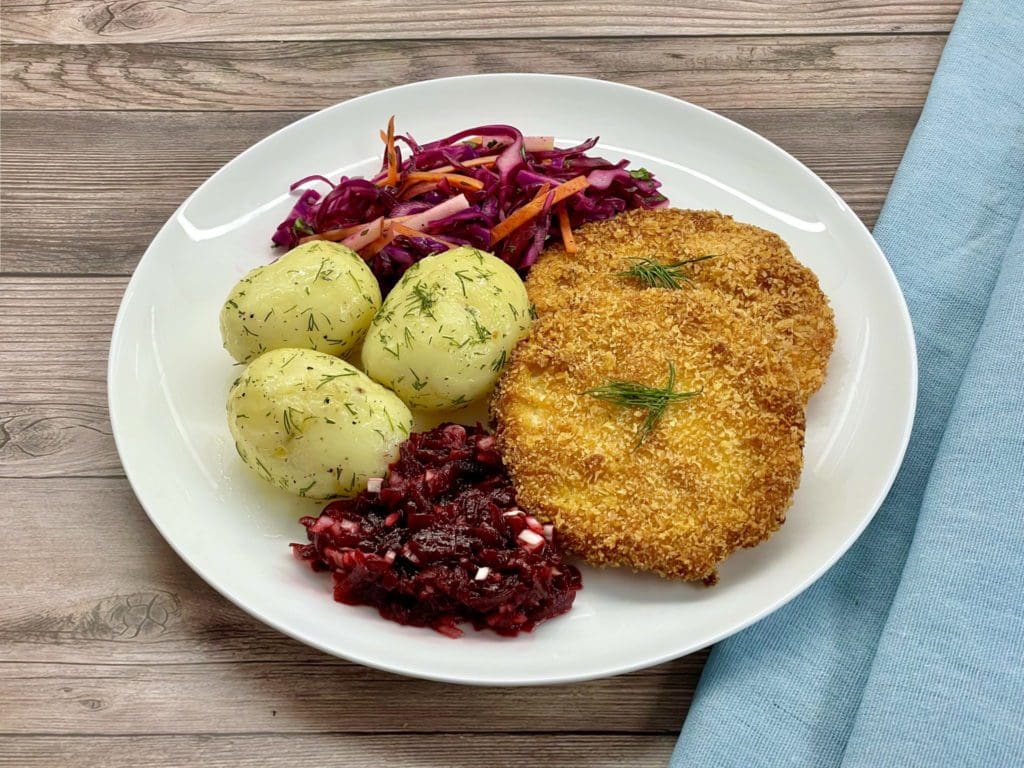 The cutlets on their own also make the perfect vegan schnitzel. Traditionally a thin breaded veal cutlet, the national dish of Austria. My celeriac cutlets make the perfect vegan version. Serve the vegan schnitzel with a wedge of lemon and a side salad.
Leftovers
If your celeriac is on the large side or you didn't serve all the celeriac cutlets they can be kept for a couple of days in the fridge and reheat perfectly in the oven. Cook them as described in the recipe before putting them in the fridge.
To reheat, preheat the oven to 200°C/180°C Fan, 400°F. Place the cutlets on a baking tray and cook in the centre of the oven for 8 to 10 minutes or until they are sizzling and hot through.
Vegan Kotlet Schabowy and Dill Potatoes.
Vegan Kotlet Schabowy, made with celeriac for a wonderful taste and texture, served with buttery dill potatoes.
Ingredients
Kotlety
1

celeriac

3

tablespoons

plain flour

1

teaspoon

black pepper

½

cup

gram flour

½

cup

unsweetened plant milk

2

tablespoons

nutritional yeast

½

teaspoon

smoked paprika

1

teaspoon

salt

1 and ½

cup

panko breadcrumbs

2

cups

vegetable oil
Potatoes
600

g

new potatoes

½

teaspoon

salt

½

teaspoon

freshly cracked black pepper

30

g

plant-based butter

melted

1

tablespoon

dill

finely chopped
Instructions
Kotlety
Prepare the celeriac by peeling off the skin and washing it. Cut it into thin slices around 1cm thick, make sure the slices are thin otherwise it won't cook properly. I got 6 slices out of one celeriac.

Now prepare the dredging station. In one bowl add the 3 tablespoons plain flour and 1 teaspoon freshly cracked black pepper.

In another bowl add the ½ cup gram flour, ½ cup unsweetened plant milk, 2 tablespoons nutritional yeast, ½ teaspoon smoked paprika and 1 teaspoon salt. Mix well with a whisk to remove all lumps. The batter should be thick.

In the last bowl add 1 and ½ cups panko breadcrumbs.

Heat the 2 cups of vegetable oil in a pan to around 170C. Make sure the oil is at least 2cm deep.

Once the oil is hot, dredge each slice firstly in the flour, then the gram flour mix, then finally in the breadcrumbs. You might need to get your fingers messy to make sure the gram flour batter sticks. Cook in the hot oil on each side until golden brown, around 2 minutes on each side.

Once cooked, drain the excess oil on kitchen paper.
Potatoes
Scrub potatoes then steam them for 15 to 20 minutes until fork tender. The time will vary depending on the size of the potatoes.

Once tender, remove the potatoes from the steamer and set them aside to cool

When cool enough to handle gently peel the skins off the potatoes.

Heat a pan over medium heat and add the butter to melt. Once melted add the potatoes along with the chopped dill, salt and pepper. Stir to coat the potatoes in the butter for around 1 minute, remove the pan from the heat and serve.