Vegan Tofu Menemen, A Turkish breakfast dish made with silken tofu in a delicious pepper and tomato-based sauce. Serve with some fresh bread and vegan yoghurt.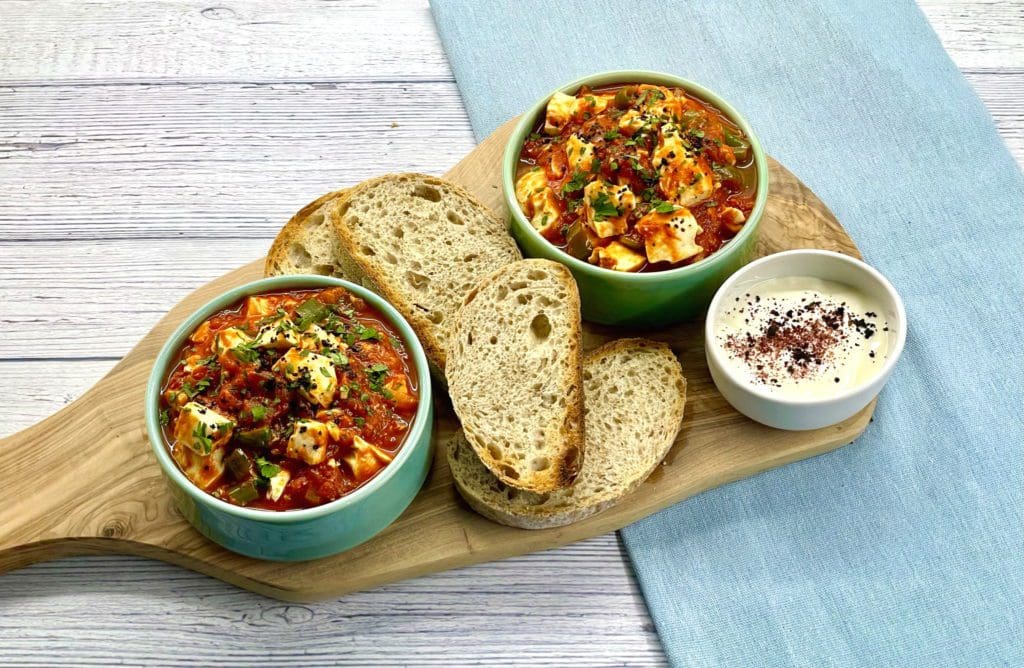 Serving Vegan Tofu Menemen
Menemen is a Turkish breakfast dish similar to shakshuka that is popular throughout the Mediterranean. Menemen is the Turkish version of the dish. Shakshuka is usually made with whole eggs while in Menemen the eggs are scrambled. Using silken tofu creates the perfect vegan scramble that perfect to use in a Turkish Menemen. 
Although usually eaten at breakfast with some fresh bread we have also enjoyed it at dinner and it would also make a perfect lunch. You could make a heartier Menemen for dinner by including some vegan sausages cut up into chunks or adding some mushrooms. You could also sprinkle over some vegan white cheese.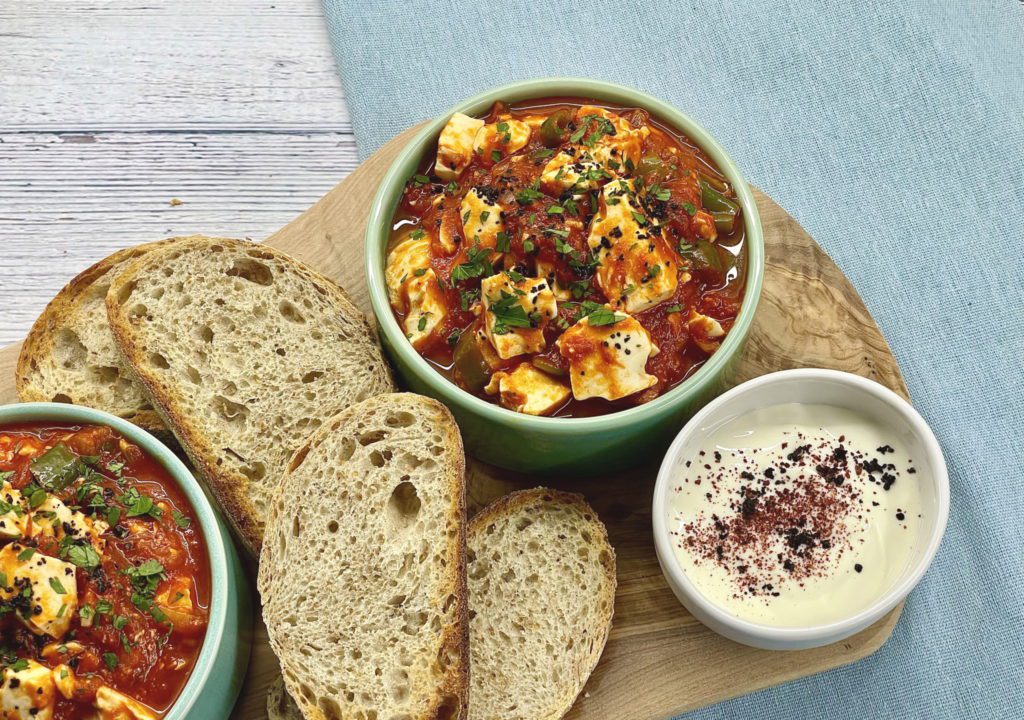 This Menemen recipe uses Turkish red pepper paste. We have a recipe for Red Pepper Paste. We believe it's worth the extra effort to make your own.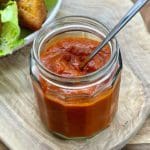 Red Pepper Paste (Biber salçası)
Roasted sweet red peppers turned into a thick paste ready to use in recipes or as a condiment.
Check out this recipe
Vegan Menemen – Turkish Tofu Scramble
A Turkish dish, traditionally eaten at breakfast. A rich and flavourful tomato-based sauce with peppers and silken tofu.
Ingredients
1

tablespoon

olive oil

1

small onion

diced

6

small Turkish green peppers or 1 green bell pepper

diced

1

clove

garlic

minced

1

tablespoon

tomato purée

1

tablespoon

red pepper paste

1

sprig of fresh oregano

finely chopped

½

teaspoons

fresh black pepper

½

teaspoon

salt

400

g

tin of peeled plum tomatoes

350

g

block firm silken tofu

1

tablespoon

nutritional yeast

1

teaspoon

Urfa pepper

Spring of fresh parsley

chopped
Instructions
Heat the oil in a pan over medium heat. Once hot add the onions. Sauté until soft and translucent, around 2 minutes. Add the diced peppers and continue to cook until soft, around 4 minutes.

Add the garlic, tomato puree and pepper paste and continue to cook for a further 1 minute.

Next add the salt, black pepper, oregano and tomatoes. Break up the tomatoes the best you can at this stage.

Lower the heat to a gentle simmer and continue to cook for 10 minutes until the sauce has thickened slightly.

Meanwhile, roughly cut the silken tofu into small chunks.

Once the sauce has cooked add the silken tofu and the nutritional yeast to the pan and stir to combine the tofu through the sauce. The tofu is fragile so stir gently. Cook for a further 1 minute to heat the tofu.

Remove the pan from the heat and serve. Garnish your vegan Menemen with Urfa pepper flakes and some chopped fresh parsley.
Nutrition
Calories:
226
kcal
Carbohydrates:
20.7
g
Protein:
17.4
g
Fat:
9
g
Sodium:
734
mg