Vegan Obe Ata, a vegan take on a popular Nigerian spicy red pepper stew. Tofu, mushrooms and vegetables in a rich and spicy red pepper sauce.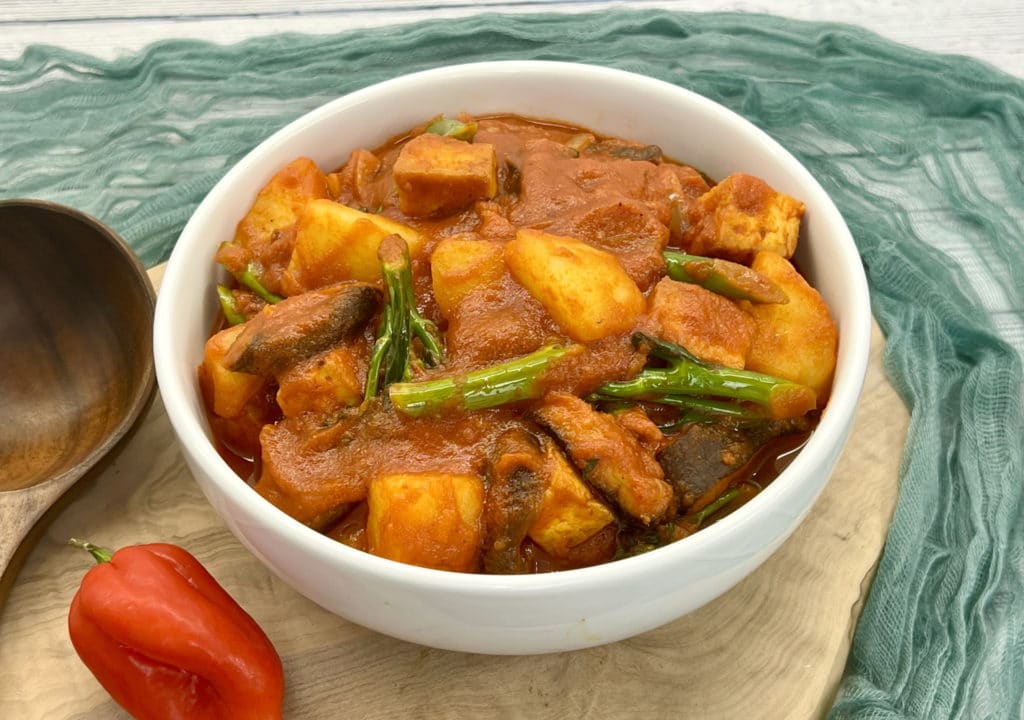 Ingredients of Note
Scotch Bonnet, is a spicy chilli variety that's used in Caribbean and West African cooking. You can add more or less depending on how spicy you like your food. Consider adding it whole if you want to add the flavour to the stew without much of the spice.
Roasted Red Peppers, you can roast your own red peppers if you like or you can buy a jar to save a bit of time. If you are using fresh ones you can use red bell peppers or something sweeter like red pointed peppers. They all work great in a vegan Obe Ata and make a rich and vibrant sauce.
Serving Vegan Obe Ata
Vegan Obe Ata is a wonderfully rich and vibrant stew made with a fried red pepper sauce. Blending roasted red bell peppers with onions, garlic and Scotch bonnet makes a striking red sauce that's then fried down into a thick paste to intensify the flavours. You can add pretty much anything to the sauce once it's made. We like adding tofu, mushrooms, potatoes and broccoli. You can add whatever you like.
Serve the Vegan Obe Ata hot with your favourite side. Rice works particularly well at soaking up any extra sauce.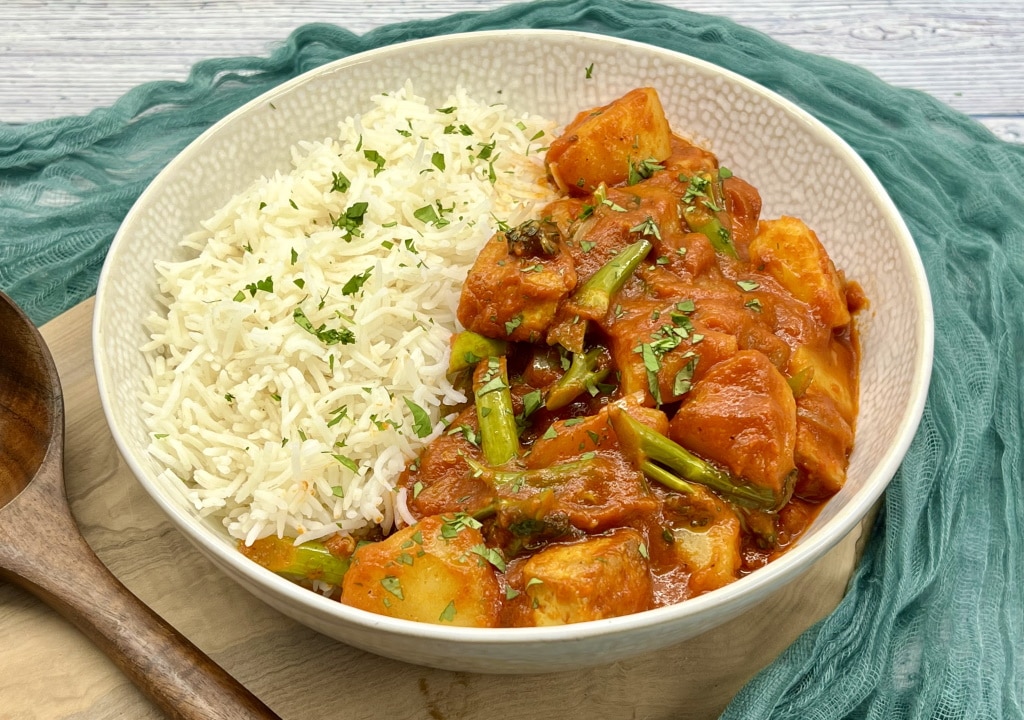 Vegan Obe Ata – Nigerian Red Pepper Stew
A vegan take on a popular Nigerian spicy red pepper stew. Tofu, mushrooms and vegetables in a rich and spicy red pepper sauce.
Ingredients
Sauce
5

roasted red bell peppers*

2

medium tomatoes

1

small brown onion

1

Scotch bonnet

2

cloves

garlic
Stew
6

tablespoons

vegetable oil

split

200

g

shiitake mushrooms

300

g

firm tofu

½

teaspoon

smoked paprika

1

medium brown onion

sliced

1

teaspoon

ground coriander

1

teaspoon

smoked paprika

1

tablespoon

curry powder

200

g

potatoes

1

tablespoon

vegan worcestershire sauce

300

ml

vegan chicken stock

200

g

tenderstem broccoli
Instructions
If you are using fresh bell peppers, roast them in an oven until their skin is blackened. Remove them from the oven then place them in a bowl and cover them to allow them to cool. Once cool, peel off as much skin as possible and remove the pith and seeds.

Roughly chop all the ingredients for the sauce and place them in a blender. Blend until smooth then set aside until later.

Cut the tofu into bite-sized cubes and season them well with salt and pepper and

½

teaspoon of smoked paprika.

Slice the mushrooms into large bite-sized pieces.

Add half the oil to a pan over medium heat. Add the tofu and sauté on all sides until golden, around 8 minutes. Remove the tofu from the pan and set aside.

Add the mushrooms and sauté them until golden around the edges, around 5 minutes, then remove them from the pan.

Add the remaining oil with the sliced onions and a pinch of salt and sauté the onions until they are beginning to turn soft, around 4 minutes.

Now add the ground coriander, smoked paprika and curry powder. Mix them into the onions and continue to cook them for 30 seconds.

Add the blended red bell pepper sauce and bring it to a boil then turn the heat down to a gentle simmer.

Cover the pot and continue to simmer until the sauce has reduced into a thick paste and the oil is starting to pool around the edges of the pot. This will take around 20 minutes. Stir the sauce occasionally to make sure it doesn't burn.

While the sauce is thickening, peel and cut the potatoes into bite-sized pieces. Add the potatoes to a pot of salted water and bring to a boil. Cook until they are just fork-tender, around 8 to 10 minutes. Drain and set them aside until later.

Once the sauce has thickened add the potatoes along with the cooked tofu and mushrooms, vegan chicken stock and the Worcestershire sauce. Stir everything together then bring back to a simmer.

Once simmering add the tender stem broccoli and cook in the sauce until tender, around 7 minutes.

Taste and adjust the seasoning. The amount of salt needed will depend on the salt level of the stock. We added

½

teaspoon of salt and

½

teaspoon of freshly cracked black pepper at this stage.

Serve your Vegan Obe Ata with some fluffy white rice.
Notes
Roast your own red bell peppers or use a jar.