Tofu and Green Peppers in Black Bean Sauce, crispy tofu with stir-fried green pepper and onions in a Chinese black bean sauce. Quick and easy to make.
Green peppers in a black bean sauce used to be my favourite dish from the Chinese takeaway. The black bean sauce has a wonderful rich umami flavour. It's quick and easy to make at home and tastes even better than the takeaway. Perfect as a weeknight dinner served with some jasmine rice.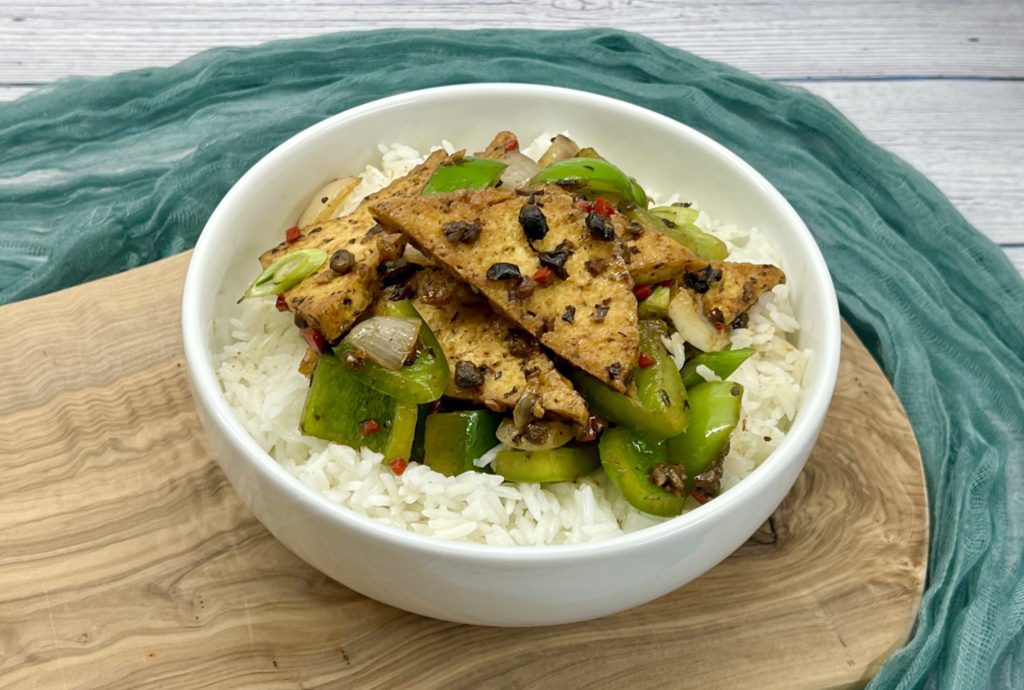 Black Bean Sauce
Black bean sauce is delicious and only needs a couple of special ingredients that can be sourced online or from your local Asian supermarket.
Fermented black beans or salted black beans are the stars of the dish. They are small, black soybeans that have been preserved in salt. They are used extensively in Chinese cooking and give dishes a powerful salty-savoury flavour. They are worth sourcing as making the black bean sauce on your own tastes much better than the pre-mixed black beans sauces you get in jars.
Make sure to rinse your fermented black beans before using to remove any excess salt and to rehydrate them slightly.
Tofu and Green Peppers in Black Bean Sauce
Crispy tofu with stir-fried green pepper and onions in a Chinese black bean sauce. Quick and easy to make.
Ingredients
3

tablespoons

vegetable oil

300

g

firm tofu

30

g

ginger

minced

3

cloves

garlic

minced

1

fresh red chilli

seeds removed and finely diced

4

tablespoons

fermented black beans

1

white onion

roughly diced

2

green bell peppers

roughly diced

Salt to taste

1

spring onion

thinly sliced
Sauce
2

teaspoon

light soy sauce

1

teaspoon

dark soy sauce

3

teaspoons

Shaoxing wine

1

teaspoon

sugar

Pinch

Chinese 5 spice

Pinch

white pepper

1

teaspoon

cornflour

4

tablespoons

water

¼

teaspoon

msg

optional
Instructions
Cut the tofu into bite-sized pieces. No need to press the tofu just drain any excess liquid.

Prepare the fermented black beans by washing them and thoroughly drying them. Chop half of them into a fine crumb. Leave the other half whole. Set aside.

Put all the ingredients for the sauce in a bowl and mix well. Set aside.

Heat the oil in a frying pan over medium-high heat. Once the oil is hot add the tofu and shallow fry on all sides until golden brown.

Once the tofu is golden brown on all sides, remove from the pan.

Optional: You can remove some of the oil so there is around 1 tablespoon remaining in the pan.

Keep the heat on medium-high, add the ginger and stir until fragrant, around 30 seconds. Next add the minced garlic, red chilli, and the fermented black beans. Continue to cook for 1 minute.

Add the roughly diced white onion and cook until just turning soft. Around 1 minute.

Add the roughly diced green bell peppers and the white parts of the spring onion and cook until they are heated through and the onion is beginning to turn translucent. Around 3 minutes.

Now thoroughly mix the sauce ingredients in the bowl so the cornflour is properly incorporated as it will have sunk to the bottom.

Add the sauce to the pan together with the tofu. Mix well to coat everything in the sauce and continue to cook until the sauce has thickened, around 1 minute. Check for seasoning then serve with white rice. Garnish with the green parts of the spring onion.