Vegan Carbonnade, a vegan take on a Flemish Stew made with mushrooms, onions and vegetables in a rich ale sauce.
Serving Vegan Carbonnade
This dish is traditionally served with a generous portion of chips(fries) with a slice of crusty bread with extra mustard spread on it. The chips and bread are perfect for dipping into the rich sauce.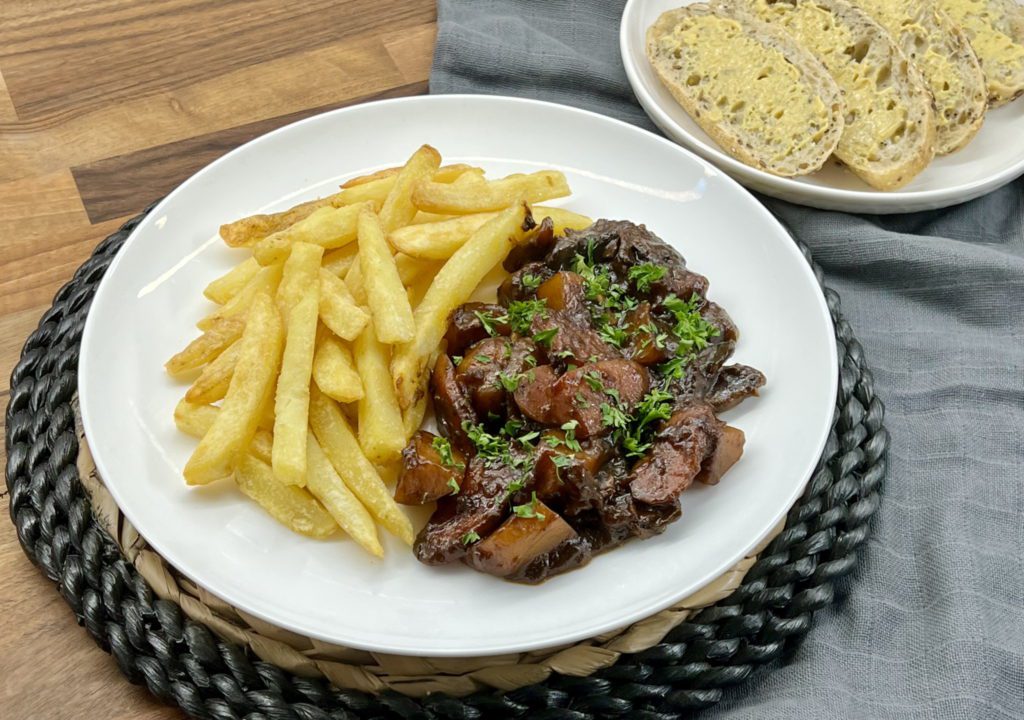 If you want something lighter (or healthier) then you could serve Vegan Carbonnade with a side of green vegetables and wholemeal pasta.
Pressed Mushrooms
To get the best texture when cooking the portobello mushrooms, it is a good idea to make sure all of the liquid is cooked out of the mushrooms. This will give the mushrooms a meaty texture perfect for this stew. We find the best way to press mushrooms is to use a flat bottomed metal potato masher. This is a completely optional step but we believe it's worth it.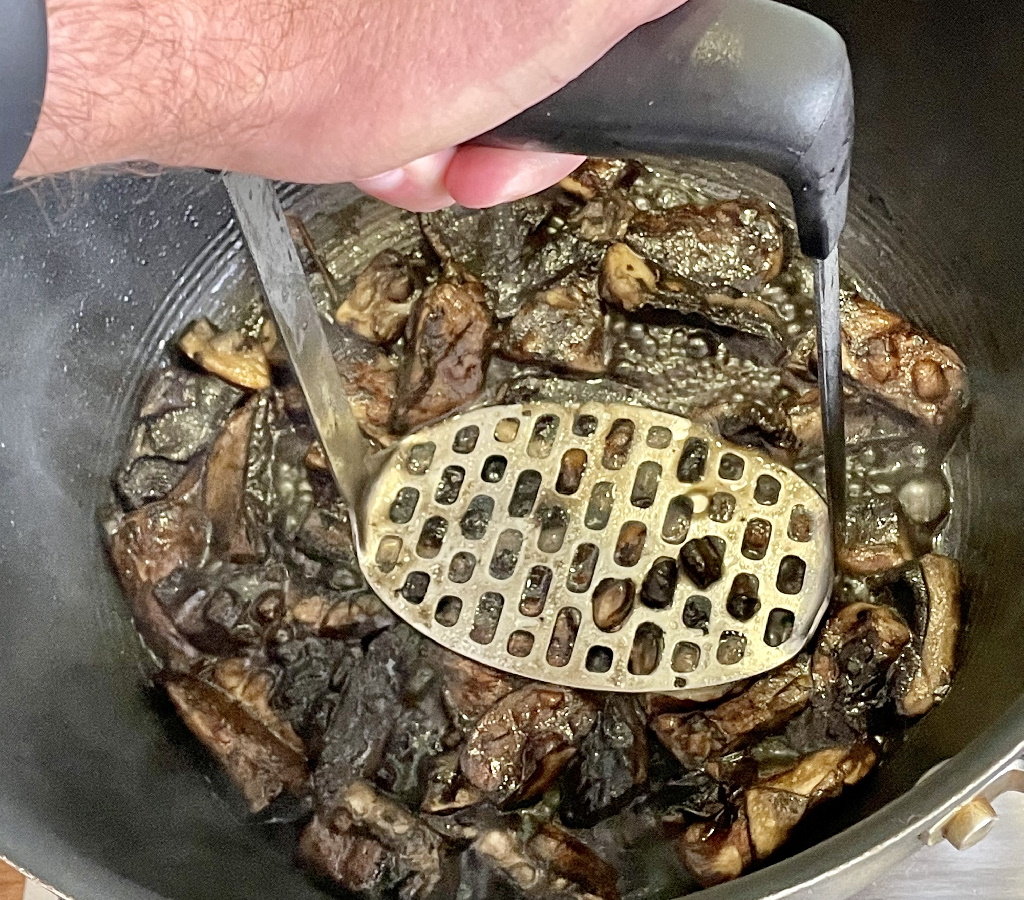 Vegan Carbonnade
A vegan take on a Flemish Stew made with mushrooms, onions and vegetables in a rich dark ale sauce.
Ingredients
300

g

portobello mushrooms

200

g

button mushrooms

2

medium carrots

3

medium potatoes

3

tablespoons

olive oil

4

medium onions

thinly sliced

5

cloves

garlic

minced

1

tablespoon

tomato paste

300

ml

dark Belgian ale

Leffe Brune

300

ml

vegan beef stock

or vegetable stock

½

teaspoon

smoked paprika

2

bay leaves

2

sprigs of thyme

2

cloves

2

tablespoons

Dijon mustard

1

tablespoon

brown sugar

1

tablespoon

red wine vinegar

1

teaspoon

freshly cracked black pepper

Salt

Parsley

for garnish
Instructions
Prepare the mushrooms and vegetables. Clean and cut the mushrooms into bite-sized pieces. Scrub the carrot and peel the potatoes and cut them into bite-sized pieces. Set aside for later.

Heat the olive oil in a large heavy-bottomed pan over medium-high heat. Once hot, add the portobello mushrooms and stir to coat them in the oil. Let the mushrooms cook, stirring occasionally until all the liquid has been released. This will take 10 to 15 minutes.

Optional step: to remove more liquid from the mushrooms and to give them a meatier texture they can be pressed using a flat bottomed potato masher.

Once the portobello mushrooms are cooked and all the liquid has cooked off remove them from the pan and reserve for later.

Add the button mushrooms to the pan and also cook them until they have released all their liquid and they are beginning to turn golden around the edges. No need to press these mushrooms. Remove them from the pan and reserve for later.

Turn the heat down to medium, make sure there is at least 1 tablespoon of oil in the pan then add the thinly sliced onions with a pinch of salt. Sauté them until they are soft and are beginning to turn golden.

Add the minced garlic and continue to sauté for a minute. Now add the tomato paste, stir to coat the onions and continue to sauté for a further 2 minutes.

Add the prepared carrots to the pan with the Belgian dark ale and bring to a gentle simmer. Continue to cook until the amount of liquid has reduced by half, around 6 minutes.

Now add the remaining ingredients, minus the salt and chopped parsley, along with the prepared potatoes. Mix well to make sure everything is well incorporated. The carrots and potatoes should be fully submerged in the stock, add more water or stock if needed.

Bring to a boil then reduce the heat to a gentle simmer before covering the pot and letting simmer for 10 minutes. After 10 minutes remove the lid from the pot and let the stew begin to reduce. Continue to cook until the potatoes and carrots are fork-tender and the sauce has reduced to a rich and thick gravy. This will take around 20 minutes.

Taste and adjust the seasoning. The amount of salt needed will depend on how salty the beef stock is. We found we had to add very little salt at this stage.

Serve with crunchy chips (fries) and garnish with a good amount of fresh chopped parsley.