Vegan Chettinad, a spicy South Indian inspired vegetable and chickpea curry with a deliciously spiced tomato-based sauce.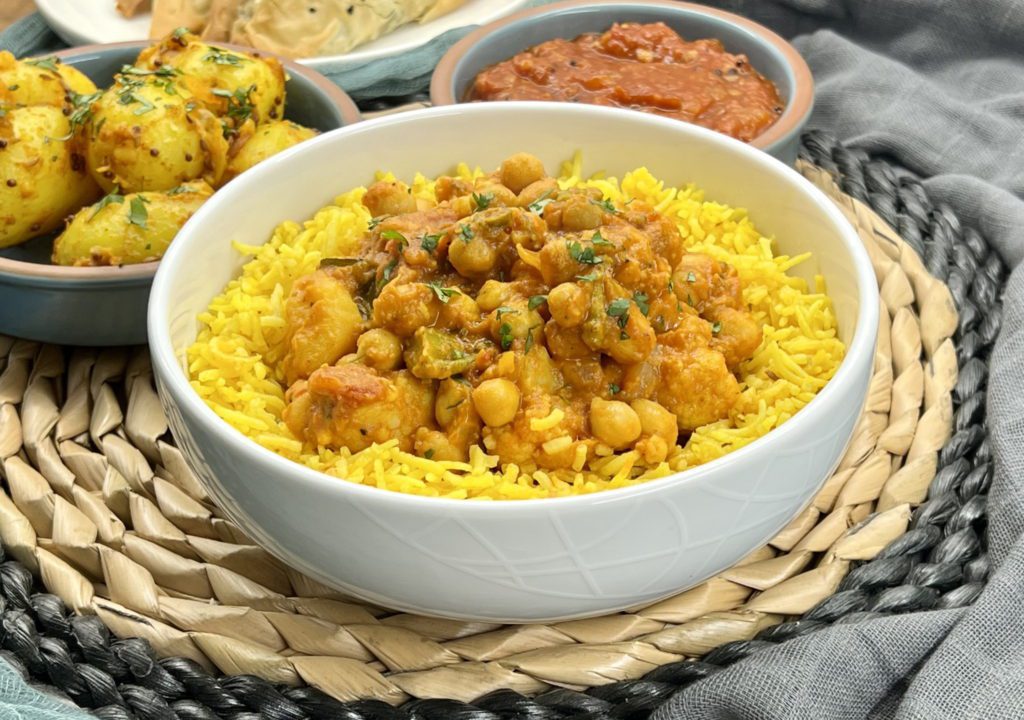 Ingredients of Note
White Poppy Seeds are used in this vegan Chettinad recipe to thicken the curry sauce. Using white seeds will make sure the sauce is not coloured by the seeds. White poppy seeds are generally easy to find but if you can't find them don't replace them with black poppy seeds just omit them from the recipe. This will make the sauce slightly less thick in consistency but won't affect the flavour.
Kashmiri Chilli Powder, this chilli powder is not used for the heat but used for its wonderful flavour and deep red colour. If you cant find Kashmiri chilli powder don't just swap one-for-one with an alternative chilli powder as this could make the dish very spicy. Instead swap for sweet paprika for the colour and a small amount of chilli powder if some spice is desired. 
Green Chillies – Chettinad is traditionally a spicy curry. Use as many small spicy green chillies as you want.
Serving Vegan Chettinad
Vegan Chettinad can be served over some pilau rice and a side of vegan naan bread or crispy poppadoms.
If you are feeling more adventurous consider making Chettinad with a couple of other curries and side dishes and serving as part of an Indian Thali platter. We have recipes for many Indian dishes that you can pick and choose from for your perfect Thali. 
Aloo Fry (Spiced Baby Potato Fry)
Vegan Chicken 65 (Mushroom 65)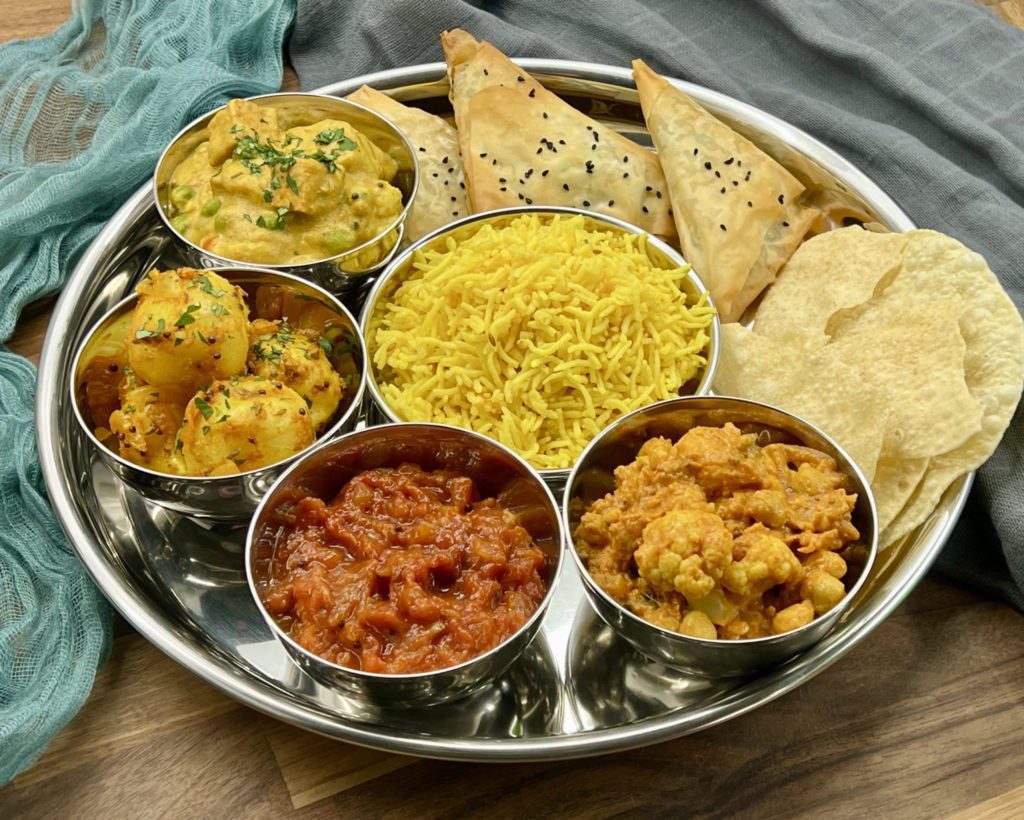 Vegan Chettinad
A spicy South Indian inspired vegetable and chickpea curry with a deliciously spiced tomato-based sauce.
Ingredients
Chettinad Spice Blend
1

tablespoon

coriander seeds

1

teaspoon

cumin seeds

½

teaspoon

fennel seeds

½

teaspoon

black peppercorns

1

tablespoon

white poppy seeds

½

teaspoon

turmeric powder

2

teaspoons

Kashmiri chilli powder
Curry
2

tablespoons

vegetable oil

1

cinnamon stick

3

cloves

2

large shallots

thinly sliced

20

g

ginger

minced

3

cloves

garlic

minced

2

green chillies

minced

5

curry leaves

1

tablespoon

tomato purée

400

g

tin chopped tomatoes

100

ml

thick coconut milk

100

g

cauliflower

100

g

tendersteam broccoli

400

g

tin chickpeas
Instructions
Chettinad Spice Blend
Heat a dry pan over medium heat. Once hot add the coriander seeds, cumin seeds and fennel seeds. Toast the seeds until fragrant, around 30 seconds. Remove from the pan and add to a pestle and mortar with the white poppy seeds then grind into a powder. Add the turmeric and Kashmiri chilli powder and mix together. Set aside the spice mix until later.

If you have access to a spice grinder then it can be used to grind the seeds.
Curry
Heat the vegetable oil in a pan over medium heat. Once hot add the cinnamon stick, cloves and the thinly sliced shallots with a pinch of salt. Sauté until the shallots are soft and translucent, around 6 minutes.

Add the minced garlic, ginger and chillies and the curry leaves, continue to sauté until fragrant, around 2 minutes.

Add the tomato purée and continue to cook until it is cooked through and is well mixed into the other ingredients, around 2 minutes.

Now add the tin of chopped tomatoes and the ground spices, bring to a simmer and cook until the tomatoes are broken down and the oil is pooling at the sides of the pan. Stir frequently at this stage. Using a lid is advised as the sauce can splatter. This process will take around 15 minutes.

While the sauce is cooking you can prepare the vegetables. Wash and cut the cauliflower and broccoli into bite-sized pieces. Place the cauliflower in a pot of boiling water and cook until fork-tender, around 10 minutes. Drain and reserve for later.

Once the sauce is ready and the tomatoes have broken down, add the coconut milk, cauliflower and broccoli. Drain and rinse the chickpeas and also add them to the pot. Cook for a further 5 minutes to heat the chickpeas and broccoli through.

Taste and adjust the seasoning then serve.