Vegan Forfar Bridie, our vegan take on a traditional Scottish hand-held mince pie. Flaky pastry filled with lightly spiced vegan mince and onions.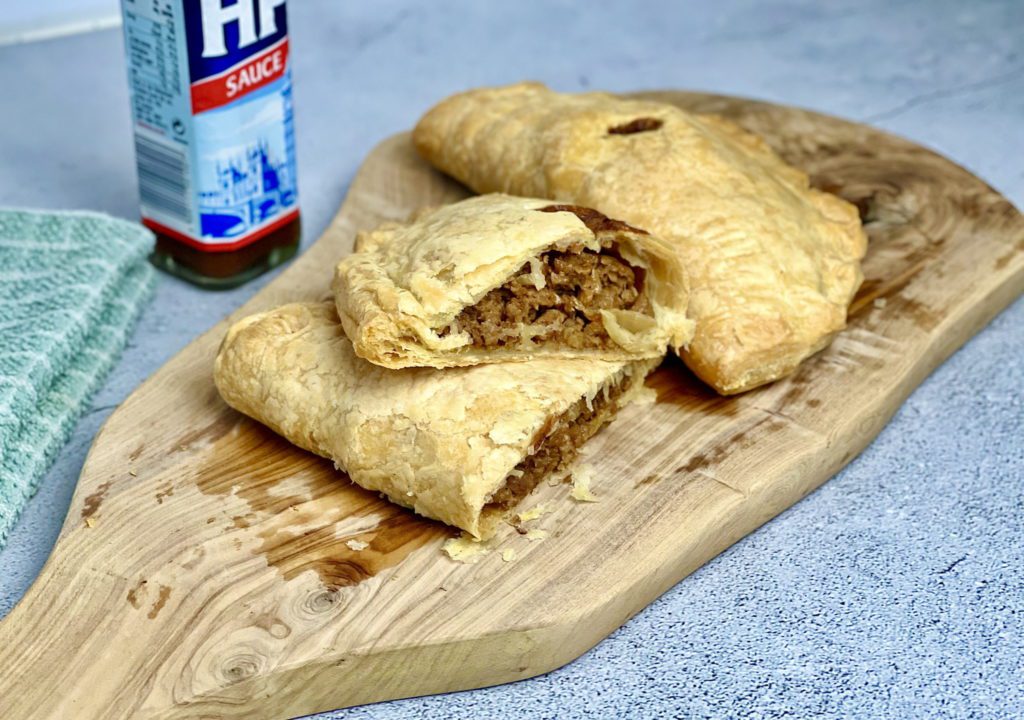 Serving Vegan Forfar Bridies
Our Vegan Forfar Bridies are simple and easy to make yet flavoursome and moreish. They make the perfect lunchtime meal. They can also be made smaller and served at a picnic or a party.
Traditionally Bridies are made using shortcrust pastry. However recently in Scotland, its made using puff pastry and this is the version that is found more often. We prefer using flaky puff pastry. While not as sturdy as shortcrust the puff pastry is lighter and tastier.
Traditionally the mince filling in a Forfar Bridie is usually raw before placing in the pastry. We found it much better to cook out the mince before adding it to the pastry. It produced a much nicer flavour and texture and it also allows you to check the seasoning.
We used beyond mince for our filling but any vegan mince would work.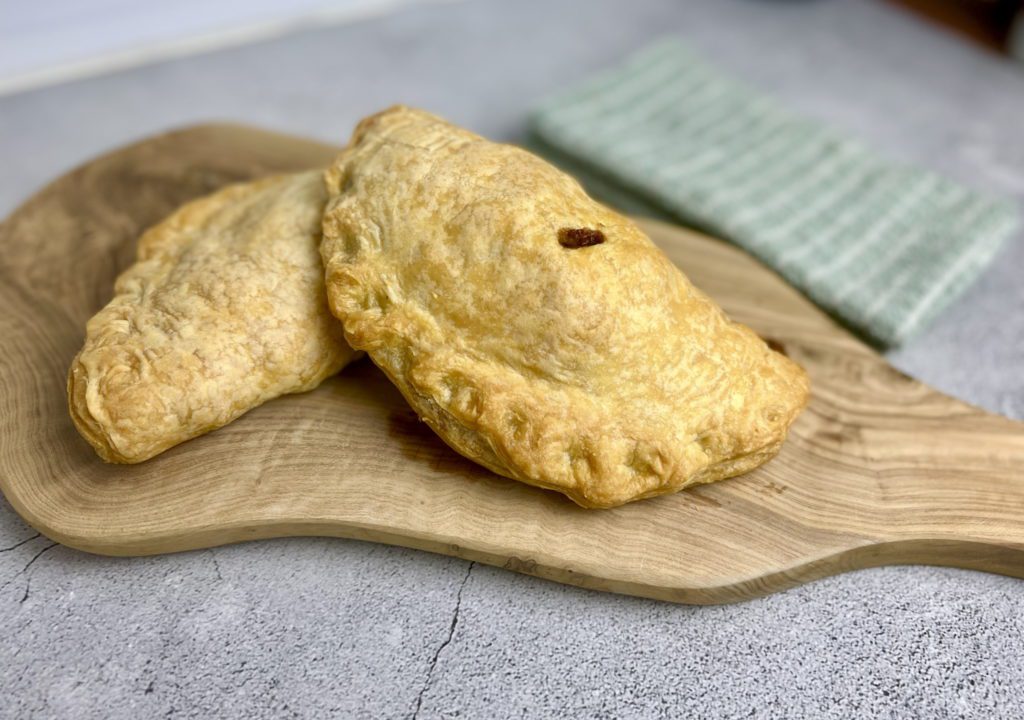 Vegan Forfar Bridie
Our vegan take on a traditional Scottish hand-held mince pie. Flaky pastry filled with lightly spiced vegan mince and onions.
Ingredients
2

tablespoons

rapeseed oil

350

g

vegan mince

1

medium onion

100

ml

vegan beef stock

1

teaspoon

mustard powder

Salt and pepper to taste

1

roll pre-made puff pastry

Your favourite sauce to serve
Instructions
Heat the oil in a pan over medium heat. Once hot add the vegan mince and the diced onion. sauté until the mince is cooked and the onion is soft and translucent.

Add the vegan beef stock and the mustard powder. Simmer gently until most of the liquid has cooked off.

Taste and adjust the seasoning. We added a pinch of black pepper but didn't need to add any more salt.

Transfer the mince mixture to a bowl and place in the fridge to cool.

When the mixture has cooled to at least room temperature remove the pastry from the fridge and preheat an oven to 180°C.

If your pastry is ready rolled, unroll it. Otherwise, roll it out to a thickness of 5mm.

Cut out two large circles from the dough. Use as much of the dough as possible.

Put some mixture in the middle of each circle. You want it quite full but make sure you don't put too much in so you can't close it.

Use some water to wet the edges then fold over and seal. You can use a fork or your fingers to seal around the edge.

Transfer to a baking sheet lined with parchment paper. Using a knife create a small slit in the top of the bridie to let the steam escape when cooking.

Place in the preheated oven until the pastry is golden all over, around 30 minutes.

Serve your Vegan Forfar Bridie with your favourite sauce.