Vegan Turkish Stuffed Meatballs (Içli köfte), a bulgur and potato casing stuffed with a spiced mushroom filling. Fried into a delicious crispy köfte.
Içli Köfte is Turkey's version of kibbeh, a popular dish throughout the Middle East with many different versions. In Turkish, Içli Köfte, translates to 'stuffed meatballs'. They are the Middle East's answer to a stuffed croquette.
The outer casing is made with fine bulgur then stuffed with a meat filling. We use mushrooms and spices in the filling to get a meaty umami flavour. However, it's a great dish to make Vegan using any filling of your choice such as vegan mince or your favourite vegetables mixed with Turkish spices. They are shaped into a rugby or American football shape then deep-fried for maximum crunch. For ease, you could make them into a ball shape if you struggle with the traditional shape.
To make sure the outer casing sticks together and doesn't fall apart during frying it's important to use fine bulgur and to make sure you knead the casing mixture to achieve the correct texture. Coarse or medium bulgur won't work correctly.
Serving Suggestions
Serve them with lettuce and your favourite sauce, we particularly liked them with Acuka, a wonderful Red Pepper & Walnut Spread or a simple yoghurt dip. They are also great served as part of a meze platter with lots of other dishes and dips to eat with them.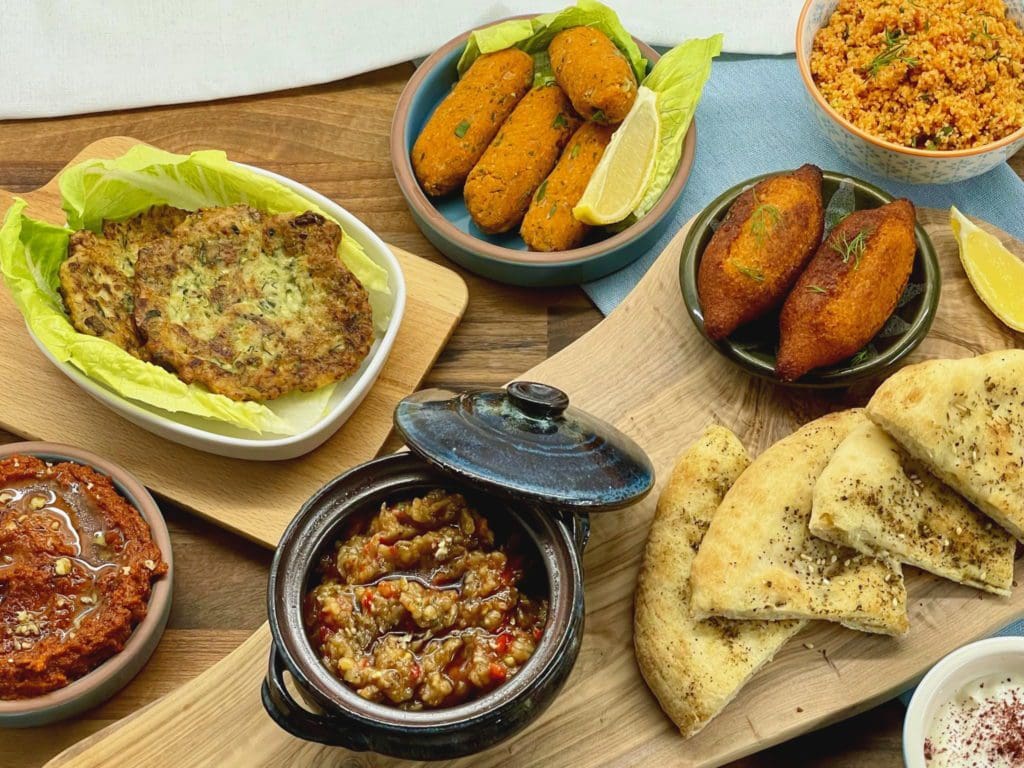 If you have you have any leftovers they are also great to eat as a snack the next day. Leftovers can be kept for a couple of days in a fridge and are great cold or reheated in an oven.
This recipe uses a Turkish red pepper paste. Our recipe for homemade pepper paste can be found here. We believe it's worth the extra effort to make your own paste.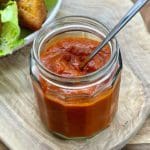 Red Pepper Paste (Biber salçası)
Roasted sweet red peppers turned into a thick paste ready to use in recipes or as a condiment.
Check out this recipe
Vegan Turkish Stuffed Meatballs (içli köfte)
A bulgur and potato casing stuffed with a spiced mushroom filling fried into a delicious crispy kofte.
Ingredients
Casing
3

medium potatoes

1

cup

fine bulgar

1

tablespoon

tomato paste

1

tablespoon

red pepper paste

½

teaspoon

salt
Filling
1

tablespoons

olive oil

350

g

chestnut mushrooms

1

medium onion

diced

½

teaspoon

paprika

½

teaspoon

smoked paprika

1

teaspoon

cumin

½

teaspoon

dried dill

2 ½

tablespoons

ground walnuts
Other
Oil for deep frying

Lettuce

Parsley for garnish
Instructions
For the casing.
Put a pot of enough water to cook the potatoes over medium heat and bring to a boil.

Peel the potatoes and cut them into 2 cm chunks. Place in the boiling water until fork-tender, around 15 minutes. Remove from the heat and drain. Mash the potatoes into a smooth paste. Pass them through a potato ricer twice or mash with a potato masher until smooth. Set aside to cool.

In a bowl add the fine bulgur then pour over 1 cup of boiling water. Cover the bowl for 5 minutes to let the bulgur soak up the water.

Add the remaining ingredients for the casing, red pepper paste, tomato paste and salt, to the bulgur along with the mashed potatoes and mix well to combine everything. Set aside to cool enough to handle.

Once cool enough knead the dough for 5 minutes with your hands. This step is important to get the correct texture that can be used as a casing.
For the filling.
Chop the mushrooms thoroughly into a small crumb-like texture.

Heat a pan over medium heat. Add the 2 tablespoons vegetable oil and the mushrooms. Fry until they release all their water and it's all cooked off, around 6 minutes.

Add the onions and continue to fry until the onions are soft, around 4 minutes.

Add the spices and the ground walnuts and continue to cook for a further 1 minute, stirring until everything is well combined.

Turn off the heat and set aside to cool.
Assembly and cooking
Once both mixtures are cool enough to handle start by taking around 1 or 2 tablespoons of the casing mixture into your hand. You can decide if you want a smaller or larger köfte. We prefer the larger ones and they are easier to make.

There are two ways of making the köfte. Either shape into a ball then poke a hole in one end creating a hollow ball with thin sides around 1cm thick. Stuff about 2 teaspoons of the filling into the hole then close the casing around the filling.

The other way is to take the casing mixture and shape it into a dish shape in your hand then place the 2 teaspoons of filling in the middle of the disk and roll the disk over to encase the filling.

Whatever way you choose to stuff the filling you finally shape the casing into the classic rugby ball or American football shape

We managed to make 10 large köfte from the ingredients.

Once you have used all the casing and filling. Heat a pan of vegetable oil over medium heat. The oil should be deep enough to fully submerge the köfte.

Heat the oil to 170°C then carefully place the köfte into the oil. Don't crowd the pan as this will cause the oil temperature to drop. Fry them in batches maintaining the oil temperature.

The köfte should be golden on all sides before being removed and drained of excess oil on a clean paper towel.

Serve hot with lettuce and a garnish of chopped parsley.