Vegan Kurzemes Strogonovs, a vegan take on a Latvian stroganoff. Mushrooms, onions and pickled cucumbers in a creamy sauce.
Serving Vegan Kurzemes Strogonovs
The pickled cucumbers are what makes this a Latvian stroganoff. It's such a unique flavour and is absolutely delicious. Kurzemes Strogonovs is traditionally served with mashed potatoes but the mushrooms in the creamy sauce goes great with any starchy side. It goes great with mashed potatoes, fries or pasta.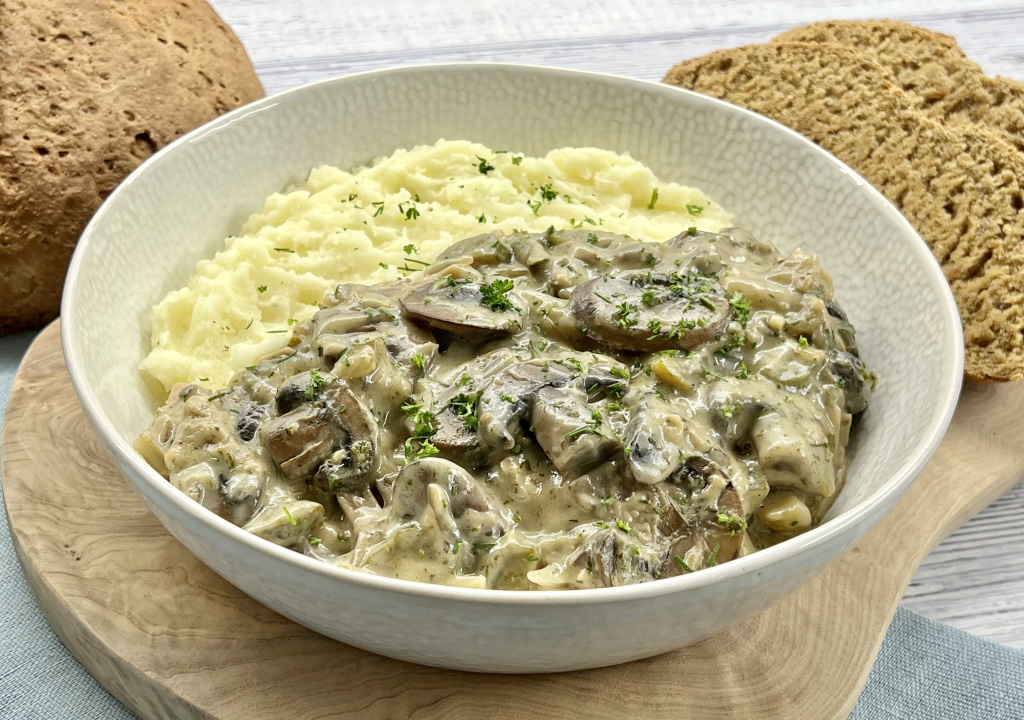 Mushrooms, this vegan stroganoff can be made with almost any type of mushrooms. We tried it with pressed portobello mushrooms. The sauce was a lot darker but it was still delicious. The porcini mushrooms add a wonderful richness to the sauce. However, any dried mushrooms would work great or you could just add some mushrooms stock rather than dried mushrooms.
Vegan Latvian Stroganoff (Vegan Kurzemes Strogonovs)
A vegan take on a Latvian stroganoff. Mushrooms, onions and pickled cucumbers in a creamy sauce.
Ingredients
15

g

dried porcini mushrooms

350

ml

boiling water

2

tablespoons

olive oil

400

g

chestnut mushrooms

2

medium onions

diced

2

cloves

garlic

minced

1

tablespoon

all-purpose flour

250

ml

vegan cooking cream

150

g

pickled cucumber

diced

1

tablespoon

pickle juice

½

teaspoon

liquid smoke

optional

2

tablespoons

chopped fresh parsley

1

tablespoon

chopped fresh dill
Instructions
Soak the porcini mushrooms in

350

ml boiling water and set aside for 15 minutes.

Meanwhile, wash the chestnut mushrooms to remove any dirt then cut them into slices.

Heat the olive oil in a pan over medium heat. Once hot, add the mushrooms and a pinch of salt. Stir to coat them in the oil. Let the mushrooms cook, stirring occasionally until all the liquid has been released and they are beginning to turn golden around the edges. This will take 10 to 15 minutes.

Add the diced onions and minced garlic and continue to cook until the onions are soft and translucent, around 6 minutes.

Add the flour and stir to coat everything. Cook for a further minute.

Once the porcini mushrooms have been soaking for 15 minutes remove them from the liquid and cut them into small pieces. Add them to the pan along with the liquid they have been soaking in. Watch out not to add any sediment that might be in the soaking liquid.

Add the vegan cooking cream, diced pickled cucumbers, pickle juice and optional liquid smoke.

Stir everything together and bring to a gentle simmer. Continue to cook until the sauce has thickened, around 5 minutes.

Add the chopped parsley and dill and taste for seasoning. We added

½

teaspoon of salt and

¼

teaspoon freshly cracked black pepper.

Turn off the heat and serve with some creamy mashed potatoes.