Tofu à Lagareiro, a mouthwatering vegan twist on the traditional Portuguese delicacy, Polvo à Lagareiro. With tender tofu replacing octopus and a delicious onion and garlic-infused oil, this delightful dish captures the essence of Mediterranean flavours, offering a delectable plant-based culinary experience.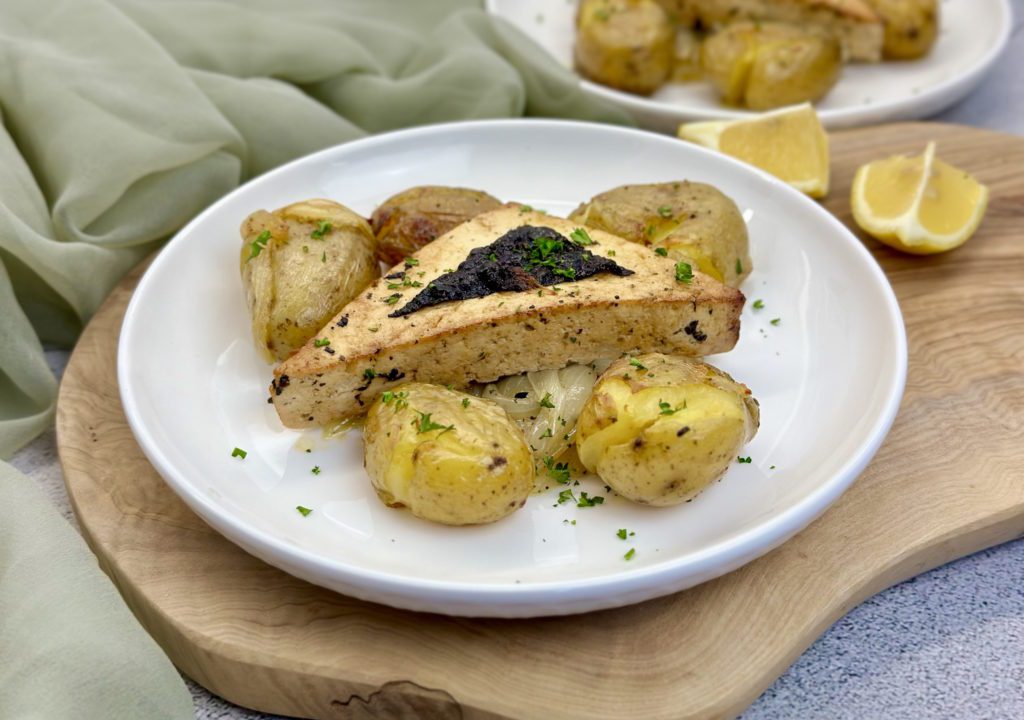 With this vegan adaptation of Polvo à Lagareiro, you can savour the rich flavours of Portugal without compromising your plant-based lifestyle. By using firm tofu instead of octopus, we've created a dish that is both delicious and sustainable. Embrace the delectable goodness of this plant-based delight and impress your guests with a vegan twist on a classic Portuguese favourite.
Using Tofu In Vegan Portuguese Recipes
Using tofu in Tofu à Lagareiro and other vegan Portuguese recipes offers several culinary advantages. Tofu's versatility allows it to absorb flavours and seasonings, providing a delicious and tender texture reminiscent of octopus and other Portuguese ingredients like Bacalhau. Its neutral taste makes it an ideal canvas to carry the rich flavours found in Portuguese recipes, ensuring a delightful and satisfying culinary experience.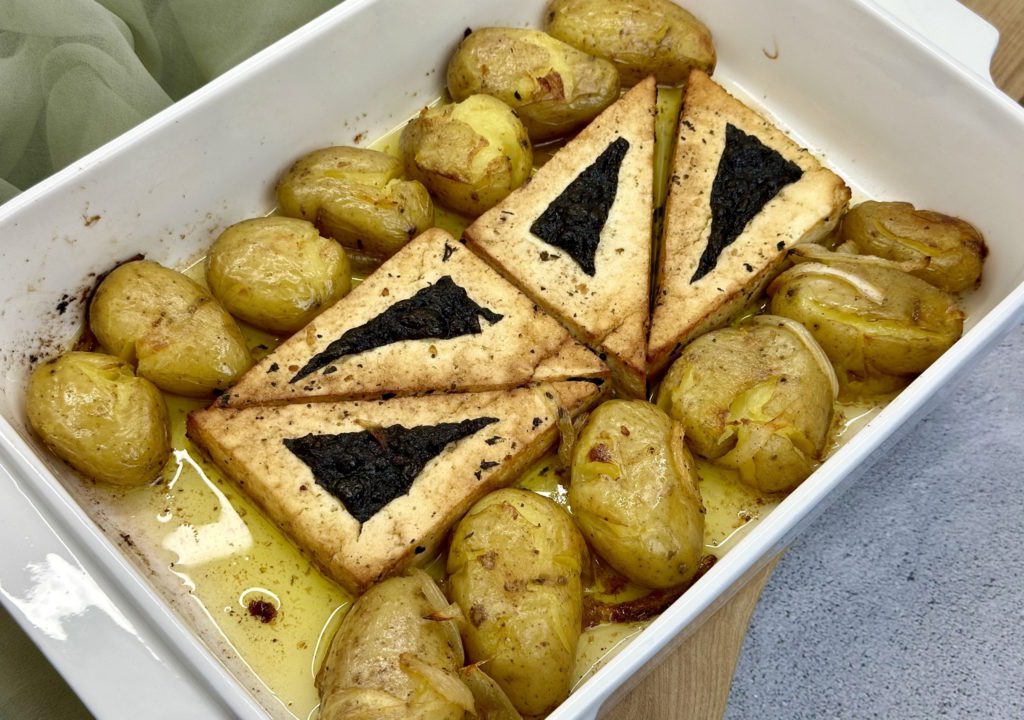 Tips for Cooking Tofu à Lagareiro
Choose Firm Tofu: Opt for firm tofu to ensure it holds its shape during roasting and provides a satisfying texture for Tofu à Lagareiro.
Press the Tofu: Before cutting the tofu into pieces, press it gently between paper towels to remove excess moisture. This step helps achieve a crispier texture when roasting.
Roast with Care: Roast the tofu in a preheated oven until the edges turn golden and crispy.
Crush the Potatoes: After boiling the potatoes, use a mug to gently crush them to create a rustic and uneven texture.
Infuse the Oil: Sauté the finely sliced onion and thinly sliced garlic until they release their flavours into the oil. This creates a deliciously fragrant onion and garlic-infused oil to drizzle over the dish.
Be Generous with the Infused Oil: Portuguese recipes and others found throughout the Medetaranian don't hold back on oil use. So buy a good quality Portuguese Olive Oil and when serving, don't be shy with the onion and garlic-infused oil. Drizzle it generously over the tofu and potatoes to enhance the flavours.
Fresh Parsley and Lemon Juice: The final touch of freshly chopped parsley and a drizzle of lemon juice adds a burst of freshness and complements the dish beautifully.
Pair with Crusty Bread: Serve your vegan Tofu à Lagareiro with crusty bread to soak up the delightful onion and garlic-infused oil, making the most of the delicious flavours.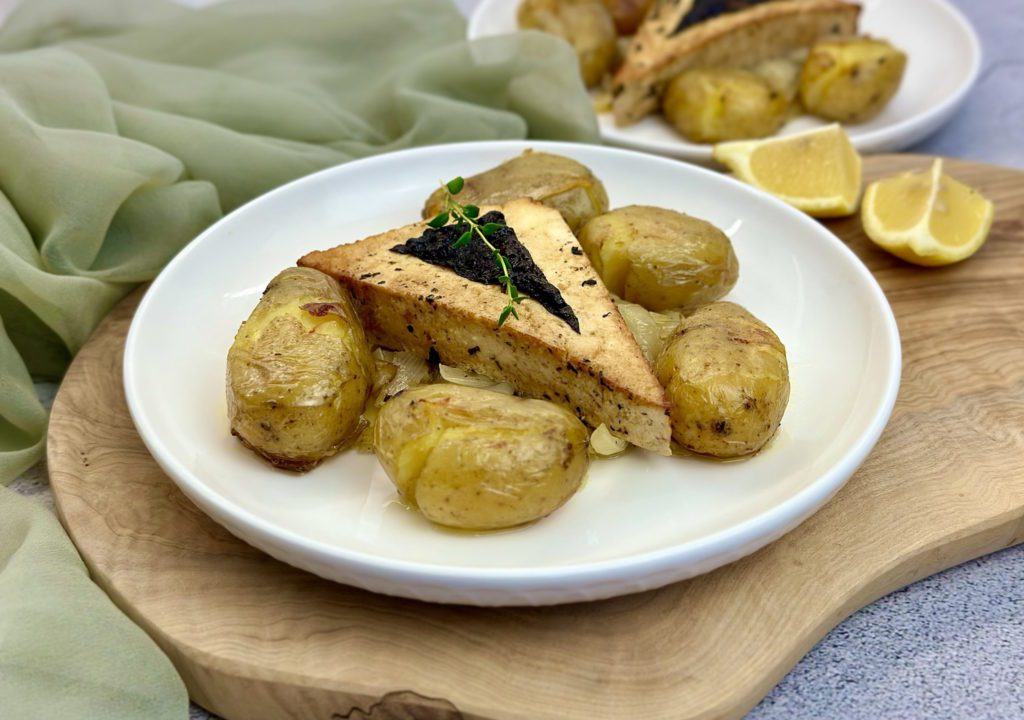 Tofu à Lagareiro
Tofu à Lagareiro, a mouthwatering vegan twist on the traditional Portuguese delicacy, baked tofu and crushed potatoes with onion and garlic infused olive oil.
Ingredients
300

g

extra firm tofu

1

nori sheet

optional

500

g

baby potatoes

skin on

150

ml

Portuguese extra virgin olive oil

2

medium brown onions

sliced

5

cloves

garlic

sliced

3

sprigs

fresh thyme

1

bay leaf

½

teaspoon

salt

½

teaspoon

black pepper
Tofu Marinade
1

nori sheet

1 ½

tablespoon

lemon juice

2

tablespoons

light soy sauce

¼

teaspoon

msg

2

garlic cloves

minced
Instructions
Tofu Marinade
Press the tofu to remove excess water. You can do this by wrapping the block of tofu in a clean kitchen towel and placing a heavy object, such as a book or a cast iron skillet, on top of it for at least 10 minutes.

Using a knife or small food processor cut the nori sheet into a small crumb.

Mix all the ingredients for the marinade until well incorporated.

Cut the tofu into 4 equal sized pieces.

Place the tofu in the marinade and cover well.

Place in the fridge overnight or for at least 1 hour. Flip the tofu halfway through the marinade process to make sure it's evenly marinated.
Onion and Garlic Infused Olive Oil
Heat the olive oil in a pan over medium-low heat. Add the sliced onions, garlic, thyme, bay leaf, salt and black pepper. Very gently sauté until the onions are soft and translucent, around 10 minutes. Make sure not to burn the extra virgin olive oil. Reduce the heat if needed.

Turn off the heat and set aside until later.
Crushed Potatoes
Place the potatoes in a pan of salted water then bring to a boil. Boil until the potatoes are crushable, around 10 to 15 minutes depending on the size of the potatoes. Drain them, then lightly crush them with the bottom of a mug.
Baking Tofu à Lagareiro
Preheat an oven to 200°C (390°F).

Place the crushed potatoes in an ovenproof dish in a single layer. Be careful not to break them apart too much.

Drain the tofu from the marinade and place them in the dish next to the potatoes. Remove any large pieces of nori.

Cut the nori into pieces the same size and shape as tofu then place on the tofu, rough side down.

Drizzle the onion and garlic infused oil over the tofu and potatoes.

Place them in the oven until the tofu and potatoes are golden brown, around 30 minutes, baste the tofu halfway through cooking.
Serving Tofu à Lagareiro
Reheat the onion and garlic mixture.

Serve the tofu on a bed of the onion mixture with the crushed potatoes on the side. Drizzle over more oil if needed.

Serve your Tofu à Lagareiro with a wedge of lemon and some freshly chopped parsley.