Vegan Peri-Peri Tofu, tofu marinated in a homemade peri-peri sauce and then grilled to perfection. Serve with corn on the cobs and some rice for the perfect spicy summer dish.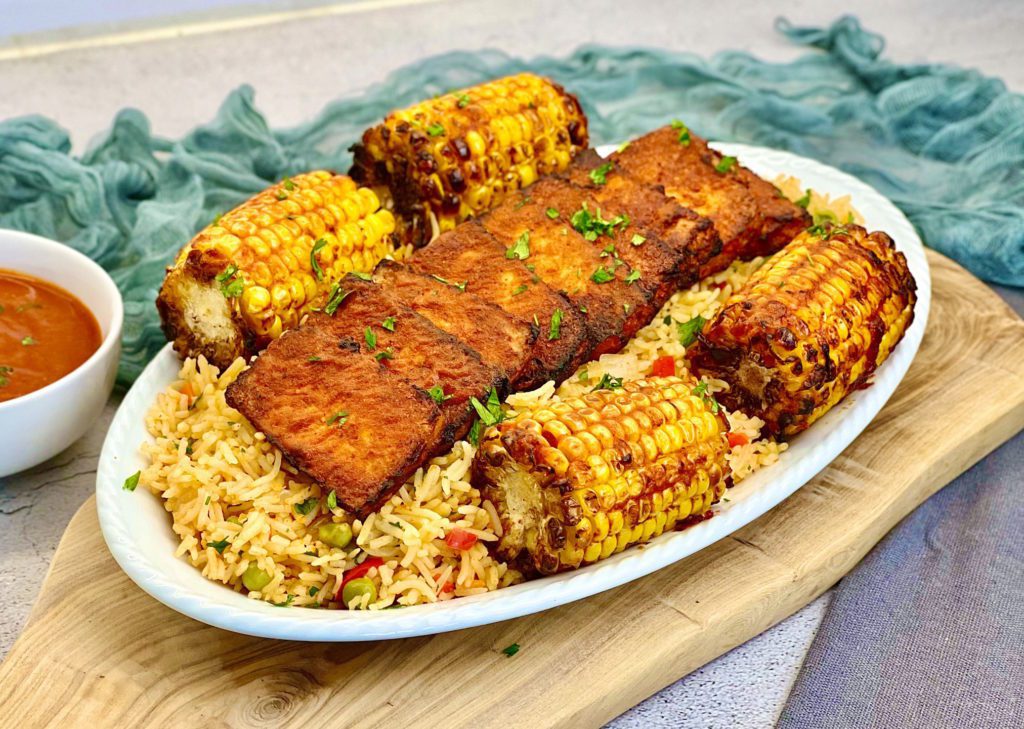 Indulge your taste buds in a symphony of flavours with our sensational Vegan Peri Peri recipe! If you're a fan of Nando's famous peri-peri dishes but prefer a plant-based twist, you're in for a treat. This easy-to-make recipe captures the essence of Nando's signature spiciness while keeping it entirely vegan. Get ready to tantalize your palate and learn how to create a mouthwatering plant-based Nando's experience right in your very own kitchen.
Unlocking the Vegan Peri-Peri Magic:
Originating from Mozambique and popularised by Nando's in the UK, Peri-Peri sauce has long been celebrated for its potent combination of spiciness and zest. Our easy-to-make vegan version of this iconic sauce retains all the fiery magic while being 100% plant-based and cruelty-free. We've crafted a harmonious blend of spicy chillies, tangy lemon, aromatic garlic, and a mix of herbs and spices that will leave you craving for more.
Serving Suggestions: Elevate Your Vegan Peri-Peri Feast
No feast is truly complete without the perfect accompaniments to complement the star of the show. In this case, we're talking about serving your tantalizing Vegan Peri-Peri Tofu with two sensational sides: Grilled Corn on the Cob and a hearty helping of African Rice. These additions will not only enhance the flavours on your plate but also transport your taste buds on a global journey.
We have a delicious African-Style Yellow Rice recipe that's a fusion of textures and flavours. With a base of fluffy long-grain rice combined with colourful vegetables and a harmonious blend of spices, this rice dish provides a comforting and wholesome companion to the fiery peri-peri flavours.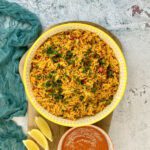 Vegan African Style Rice
African-Style Rice, an easy recipe to make a rice side dish more flavourful and vibrant. White basmati rice, flavoured with onions, smoked paprika and turmeric.
Check out this recipe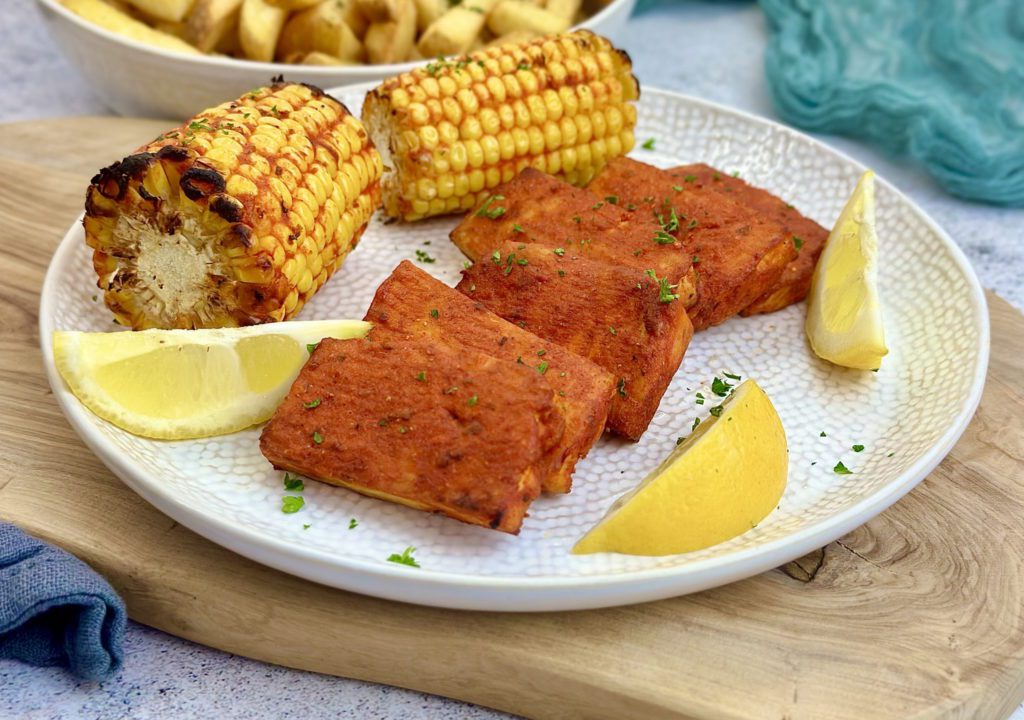 For a super quick weeknight meal, serve with fries and corn. The tofu is still flavourful if you omit the marinating stage however we suggest you make the Peri-Peri sauce the day before and marinate overnight. The tofu only takes 10 minutes to cook.
Cooking Tips
Peri-Peri Sauce: When blending the sauce, consider making double. The sauce keeps in the fridge for up to a week and is delicious with loads of dishes.
Tofu Prep: For a firmer texture, press tofu to remove excess moisture before marinating. Cut into uniform slices to ensure even grilling.
Marination Magic: Let the tofu marinate for at least 30 minutes, or ideally, a few hours. This lets the flavours penetrate deeply for a more robust taste.
Spice Control: Adjust the number of red chillies in the marinade to your preferred spice level.
Flavorful Char: Aim for a slightly charred exterior for that signature grilled taste. But be attentive; tofu can go from charred to burnt quickly.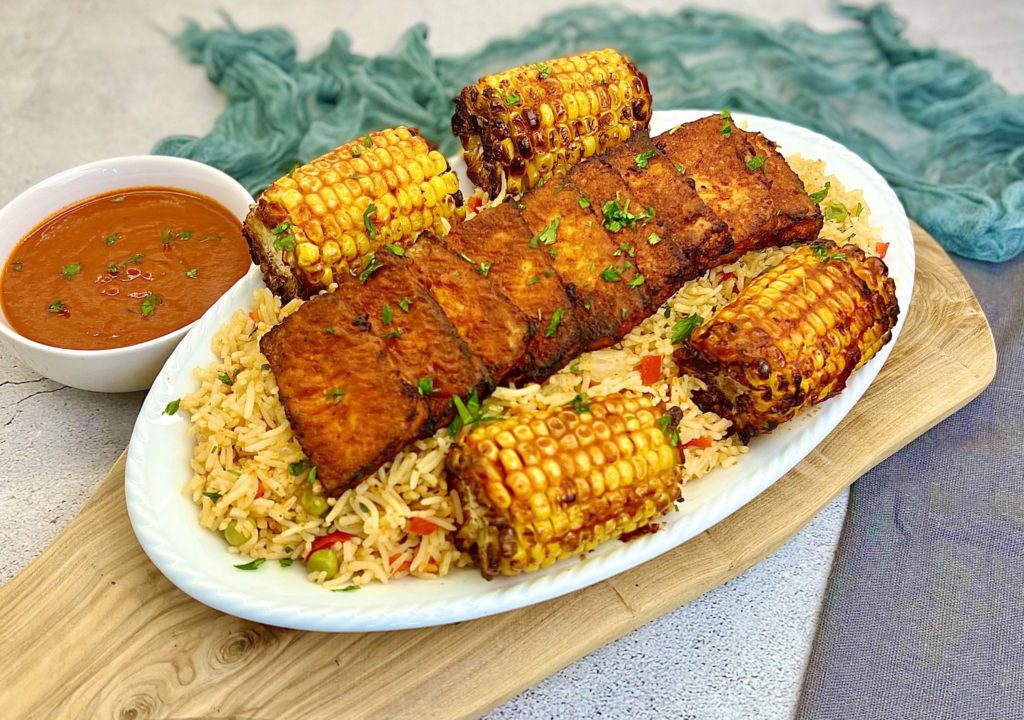 Vegan Peri-Peri Tofu
Tofu marinated in a home-made peri peri sauce then grilled to perfection. Serve with corn on the cobs and some rice for the perfect spicy summer dish.
Ingredients
400

g

extra firm tofu

2

corn cobs
Peri-Peri Sauce
30

ml

red wine vinegar

1

lemon

zest and juice

3-6

birds eye chillies

2

teaspoons

sweet paprika

2

teaspoons

smoked paprika

1

large roasted red bell pepper

4

cloves

garlic

1

teaspoon

white sugar

1

teaspoon

salt

¼

teaspoon

white pepper

1

tablespoon

dried oregano

1

tablespoon

vegetable oil
Instructions
Press the tofu to remove excess water. You can do this by wrapping the block of tofu in a clean kitchen towel and placing a heavy object, such as a cast iron skillet or a chopping board, on top of it for at least 10 minutes.

Put all the ingredients for the Peri-Peri sauce in a blender then blend until smooth. Adjust the spice level to your taste by adding more or less chillies.

Place the tofu in a dish then pour over a third of the Peri-Peri sauce. The rest of the sauce will be used when cooking and drizzled over the dish when serving.

Evenly coat the tofu in the sauce then place in the fridge overnight or for at least 30 minutes. Flip the tofu halfway through the marinade process to ensure it's evenly marinated.

Preheat a grill (broiler) to high heat.

Cut the corn into small 10 cm cobs.

Place the marinated tofu and corn on a baking tray. Line with kitchen foil for easier cleanup.

Brush some of the Peri-Peri sauce over the tofu and corn then place under the grill until the tofu and corn have started to blacken, around 4 to 5 minutes.

Remove from the grill then brush the tofu again with more sauce. Turn the tofu and corn then brush again.

Place under the grill again until the other side has started to blacken, around 4 to 5 minutes.

Remove from the grill and brush for a final time before serving

Serve your Vegan Peri-Peri Tofu with grilled corn and a side of rice. Drizzle over any remaining sauce to suit your taste.