Turkish Pide Bread, soft leavened flatbreads seasoned with a za'atar spice mix. The perfect Turkish bread to serve with a variety of meze dishes.
This is the perfect Turkish bread to cut up and serve with a selection of meze dishes. We have recipes for a variety of vegan Turkish meze dishes that are delicious with this bread.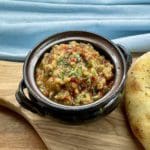 Turkish Style Baba Ganoush (Abagannuş)
A meze dish made with roasted aubergines and peppers.
Check out this recipe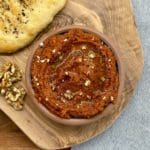 Red Pepper & Walnut Spread (Acuka)
Red Pepper and Walnut Spread, made with pepper paste, crushed walnuts, pomegranate molasses and spices.
Check out this recipe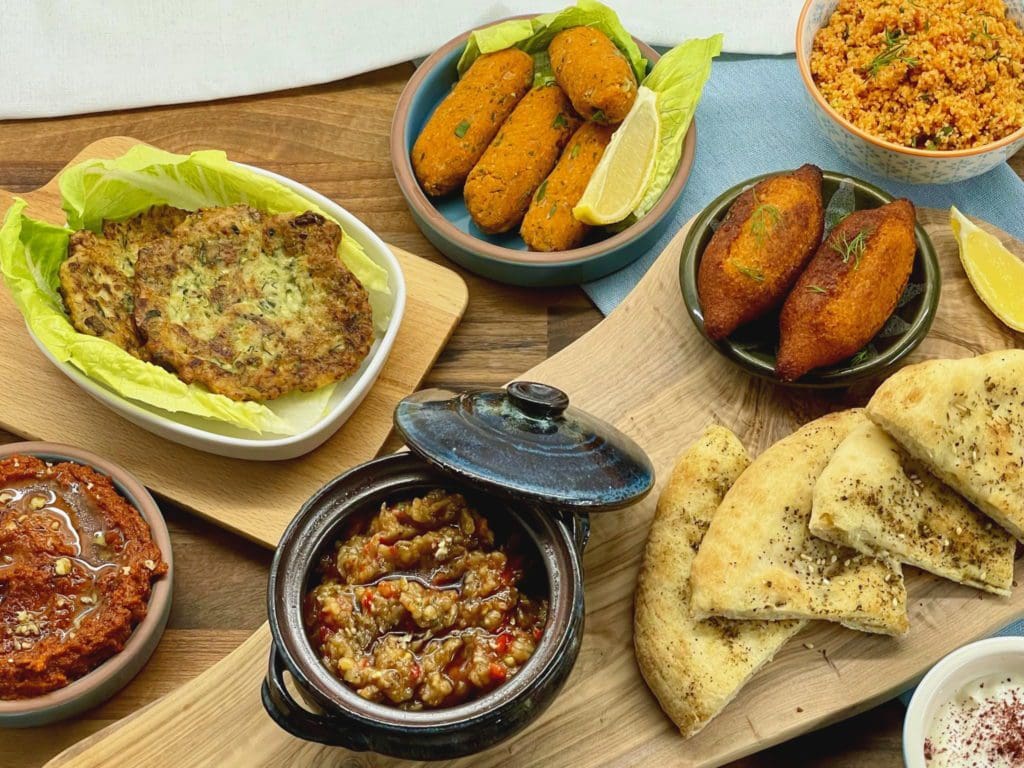 The bread is even delicious with red pepper paste spread on it. We have a recipe for homemade pepper paste. We believe it's worth the extra effort to make your own paste.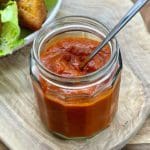 Red Pepper Paste (Biber salçası)
Roasted sweet red peppers turned into a thick paste ready to use in recipes or as a condiment.
Check out this recipe
Turkish Pide Bread
Soft leavened flatbreads seasoned with a za'atar spice mix. Perfect to serve with a variety of vegan meze dishes.
Ingredients
500

g

white bread flour

10

g

sugar

10

g

salt

7

g

dry yeast

350

ml

tepid water

15

ml

olive oil
Topping
Olive oil

Za'atar

Flaked sea salt

optional
Instructions
Place the flour, sugar, salt and yeast into a bowl and combine everything together.

Make a well in the middle of the dry mix and add the water and oil.

Using a stand mixer with the dough hook attached, mix the dough on high speed until it pulls away from the edges for 5-8 minutes. Alternatively, mix by hand for 10-12 minutes.

Cover and leave to rise for about 1 hour until doubled in size.

With wet hands to stop the dough from sticking. Push the dough down and fold the edges into the middle about 3-4 times.

Cover and let rise for a further hour until doubled in size again.

Turn the risen dough out onto a large floured work surface and divide it into 4 even pieces.

Heat an oven to its maximum temperature, ours is 270°C. Place a baking pan upside down or a pizza stone to heat up within the oven.

Roll each piece into a smooth ball, cover with flour and a tea towel then allow them to rest for 15mins.

Now it's time to shape the balls into your preferred bread shape. We chose to make ours round. Gently flatten or roll out one of the balls into your desired shape around 1cm thick, leave the edges just slightly thicker as this will create a tasty crust. Keep the other 3 balls covered until you are ready to shape them.

Using your fingers push gently on the dough to make dimples. Making sure to not push down on the edges.

Using a pastry brush, coat the top of the dough with the olive oil then sprinkle on the Za'atar and some flaked sea salt. Alternatively, you can drizzle the oil if you don't have a brush.

Place one of the prepared doughs on baking parchment and gently place it on the preheated tray in the oven. Bake for around 5 mins until golden brown, depending on your oven this may be less or more time. Repeat with the other prepared doughs.

Serve warm or cold with your favourite Turkish dip, or as a snack on its own.