Vegan Khow Suey, Burmese style curry noodle soup made with coconut milk. Served with tofu and vegetables and a selection of toppings.
Khow Suey, a Burmese comfort food. A deliciously aromatic broth made with spices and coconut milk that's served with noodles.
Start by making the curry paste. We like our food a bit spicy. But, feel free to omit the green chilli from the paste if you want something milder or add more if you want more heat. The amount of water you need to add to the paste depends on the size of your blender. If you have a smaller blender then you might need less water and this will speed up the cooking time later.
Khow Suey is a very versatile dish, almost all of the separate components can be swapped out. The protein, vegetables, noodles and topping can all be changed to your favourites or something you have leftover in the fridge or cupboard. We tried it with mushrooms and it was delicious. It would also work with tempeh or even chickpeas. Try adding carrots or cauliflower. Spinach would also be a great addition. For a healthier option try a wholegrain noodle, like soba noodles or even brown rice noodles. The recipe calls for wheat noodles but, again use your favourite or what you have in the cupboard.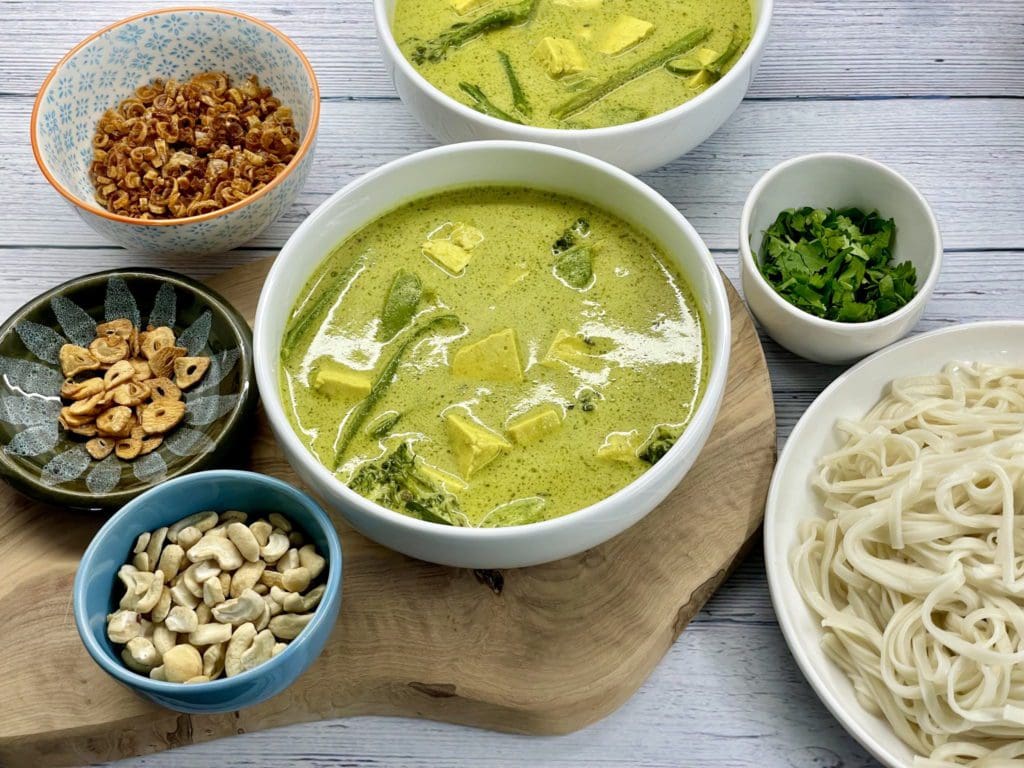 Vegan Khow Suey Toppings
Khow Suey is traditionally served with a multitude of toppings and we love trying it with a different variety. Try roasted peanuts for more crunch or some sliced green chillis for more heat. Sliced spring onions would be delicious or even some sliced cucumber for a fresh flavour. Serve all the toppings on the side so your guests can pick and choose which toppings they would like.
Vegan Khow Suey
Burmese noodle curry soup made with coconut milk. Served with tofu and vegetables.
Ingredients
Paste
30

g

minced ginger

6

cloves

garlic

3

tablespoons

vegetable oil

2

stalks lemongrass

1

green chilli

10

g

coriander

20

g

cashews

½

teaspoon

turmeric

2

tablespoons

toasted gram flour

½

cup

water
Curry
1

tablespoon

vegetable oil

1

dried chilli

½

teaspoon

coriander seeds

1

teaspoon

cumin seeds

1

onion

finely diced

1

teaspoon

salt

½

teaspoon

cracked black pepper

1

tablespoon

vegan fish sauce or Worcestershire sauce

300

g

tofu

pressed

1

tin coconut milk

500

ml

vegetable broth

200

g

tenderstem broccoli

200

g

mangetout

snow peas
Toppings
Wheat Noodles

Cashew nuts

Fried shallot and garlic

Coriander
Instructions
Start by making the paste. Slice the ginger, lemongrass and green chilli into small pieces. Place everything into a blender and blend until you have a smooth paste.

Make sure the tofu has been pressed for at least 10 minutes to remove excess liquid. Once pressed cut the tofu into small 1cm cubes.

Heat 1 tablespoon vegetable oil in a pan over medium-high heat. Once hot add the coriander seeds and cumin seeds along with the dried chilli. Cook them until the seeds start to pop, around 30 seconds.

Add the diced onion along with the salt and cracked pepper. Cook until the onion has browned slightly. Around 5 minutes.

Add the paste mixture to the pan. Bring the paste to a simmer and cook until it has reduced and the oil is separating from the paste. This will take around 10 minutes.

Once the paste is separating from the oil add the vegan fish sauce, cubed tofu, the tin of coconut milk and vegetable broth. Stir everything to combine and bring the broth to a simmer. Check for seasoning. Depending on how salty the vegetable broth is, more salt might need to be added.

Once the broth is simmering cut the tenderstem broccoli and mangetout into bite-sized pieces and add them to the broth. Cook them for 8 minutes then turn off the heat.

While the vegetables are cooking cook the noodles according to packet instructions.

To serve pour the broth into a serving bowl, place the noodles on top and garnish with crushed cashew nuts, crispy shallots, fried garlic and chopped fresh coriander.