Vegan Arroz Chaufa, our vegan take on Peruvian style Chinese fried rice. Quick and easy to make. Versatile, so you don't have to stick to the same ingredients every time.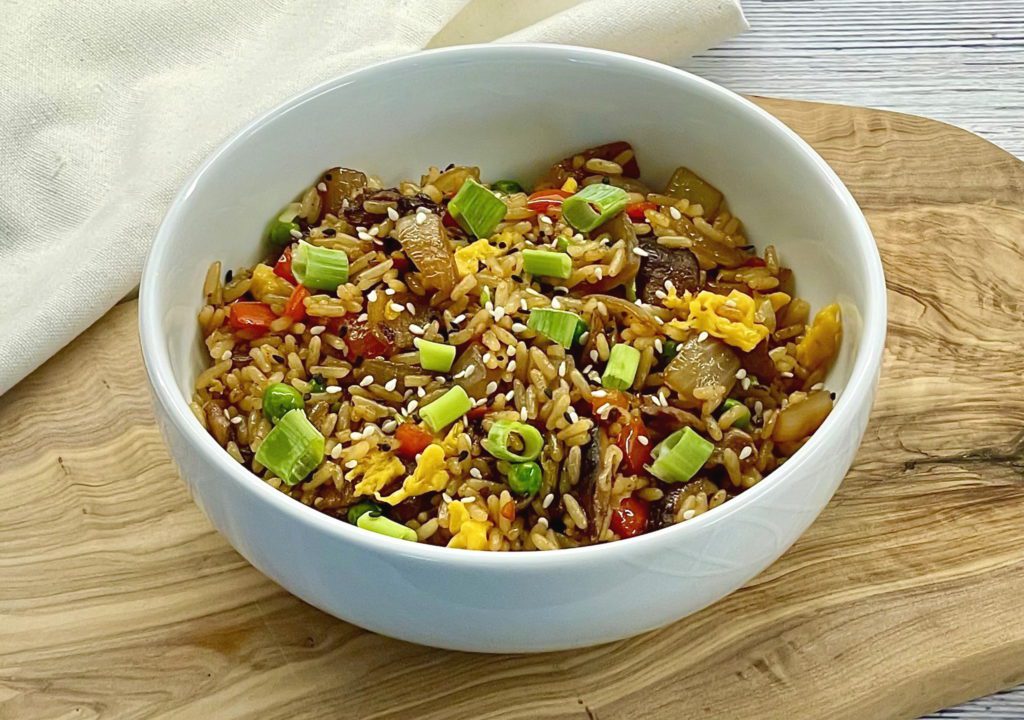 Before I became vegan I used to love fried rice. I used to always get a portion when visiting my local Chinese restaurant. Arroz Chaufa, a mix of Peruvian and Chinese cuisines was the perfect opportunity to veganize one of my favourite dishes.
Peru has had a large population of Chinese immigrants as far back as the 19th century and they brought over their culinary influences which mixed with local traditions and ingredients. The word chifa is used to describe this fusion of cuisines. Nowadays in Peru, there are thousands of chifa restaurants and it has become one of the most popular cuisines and Arroz Chaufa is one of the most popular dishes.
Ingredients of note
You have a few options on the egg replacer. I used Crackd egg which is available in the UK and it worked well. Just Egg would work if you have that where you live. I have also included a quick recipe for a tofu scramble that you could use. There is also an option of not using any egg in your Arroz Chaufa. Feel free to add more mushrooms or other vegetables if you omit the eggs.
As mentioned in the Vegan Causa recipe, Aji Amarillo paste is sometimes hard to find in some parts of the world. However, unlike in the Causa, the Aji Amarillo paste can be replaced with other chilli hot sauces if you want a bit of heat. I have tried Vegan Arroz Chaufa with Cholula and it gave a nice subtle heat. Of course, if you like your food spicy feel free to add more or less hot sauce to match your tastes.
As with all fried rice dishes the rice in Vegan Arroz Chaufa is an important ingredient to get correct. Leftover rice, kept in the fridge is ideal and creates a dish with the perfect texture. Rice that has just been cooked and is still steaming will create a softer texture when cooked and won't fry correctly.
Serving Vegan Arroz Chaufa
I included a selection of vegetables in this recipe, however, these don't need to be followed exactly. Feel free to use whatever is in season for you or whatever you have leftover in the fridge.
Vegan Peruvian Arroz Chaufa
A Peruvian take on Chinese fried rice. Packed full of vegetables and Peruvian flavours.
Ingredients
400

g

cold cooked white rice

2

tablespoons

vegetable oil

2

teaspoons

sesame oil

200

g

shiitake mushrooms

chopped into small slices

1

red bell pepper

finely diced

1

white onion

cut into small wedges

50

g

spring onion

finely chopped

2

cloves of garlic

finely chopped

2

teaspoons

ginger

finely grated

2

tablespoons

tamari or soy sauce

1

tablespoon

red wine

2

teaspoon

aji amarllio paste

½

cup

green peas

Vegan egg replacer

Black pepper

Sesame seeds (Optional)
Instructions
Prepare all the vegetables ready to cook. In a small bowl add

1

tablespoon of the tamari,

1

tablespoon of red wine,

2

teaspoons aji amarillo paste, ginger, garlic and

2

teaspoon sesame oil, mix to combine.

Prepare the vegan egg replacer by making a dry scrambled egg. I used Crackd which required me to scramble the eggs in a pan for 5 minutes. Follow the instructions for which even egg replacer you are using. You should make enough to make

½

cup of scrambled egg. If using tofu crumble see the instructions at the bottom

Heat a pan over high heat, once hot add

1

tablespoon of the vegetable oil.

Add the shiitake mushrooms and onions, stir fry until the onions have golden edges and the mushrooms are cooked, about 2 minutes. Add the red bell pepper and stir fry for a further minute.

Add the bowl with the sauce to the pan, stir until the liquids have reduced to a glaze on the vegetables, about 3 minutes.

My pan is on the small side so I removed the vegetable mix and set it aside at this stage.

Add 1 tablespoon vegetable oil to the pan, add the white parts of the spring onions and the rice. Cook continuously stirring until the rice is heated through. Around 5 minutes.

Add the remaining

1

tablespoon of tamari, with the peas and stir to coat the rice. Continue to cook for a minute.

Add the vegan eggs and vegetable mixture and combine thoroughly. Season with freshly cracked black pepper then check for seasoning.

Remove from the heat and serve your Vegan Arroz Chaufa in a bowl with the green parts of the spring onion and the sesame seeds used as a garnish.
Tofu scramble (Optional)
Heat a pan with

1

tablespoon of oil, crumble up

200

grams of firm tofu add to the pan, cook for 4 minutes stirring constantly.

Add the salt, black pepper, a pinch of turmeric and

1

tablespoon of nutritional yeast. Cook for a further 4 minutes. At this stage, the tofu should resemble a dry scrambled egg. Check for seasoning remove from the heat and set aside.