Tacos de Jamaica, Mexican, fully vegan tacos. Made using dried hibiscus as a filling with fresh pico de gallo. Perfect for a vegan taco Tuesdays.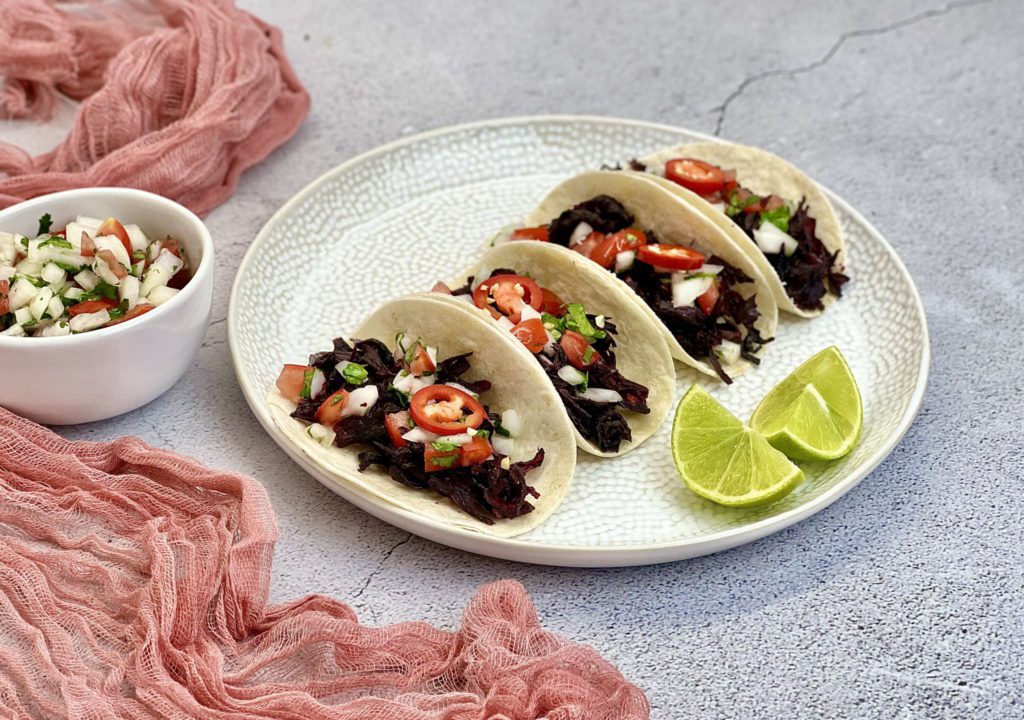 Flor de Jamaica – Dried Hibiscus
Dried hibiscus is used worldwide to make drinks. Steeping the hibiscus makes a delicious concentrate that can be sweetened and served over ice to make a wonderful fresh summer drink. Usually, when making hibiscus teas or drinks the soaked flowers are discarded. This is where Tacos de Jamaica come in. Once they have been steeped the flowers have a chewy but tender texture similar to pulled meat. They have a subtle sour and slightly bitter flavour that absorbs other flavours well. Perfect as a vegan taco filling.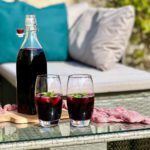 Senegalese Jus de Bissap – Iced Hibiscus Tea
An iced drink made with dried hibiscus flowers. Sweetened with sugar and flavoured with orange blossom and fresh mint.
Check out this recipe
When buying dried hibiscus it will be named differently depending on where in the world you are buying it. It can also be called bissap, flor de jamaica, zobo or sorrel. Look for dried flowers with a deep red colour. They should be whole and not have any white on them. 
More Taco Recipes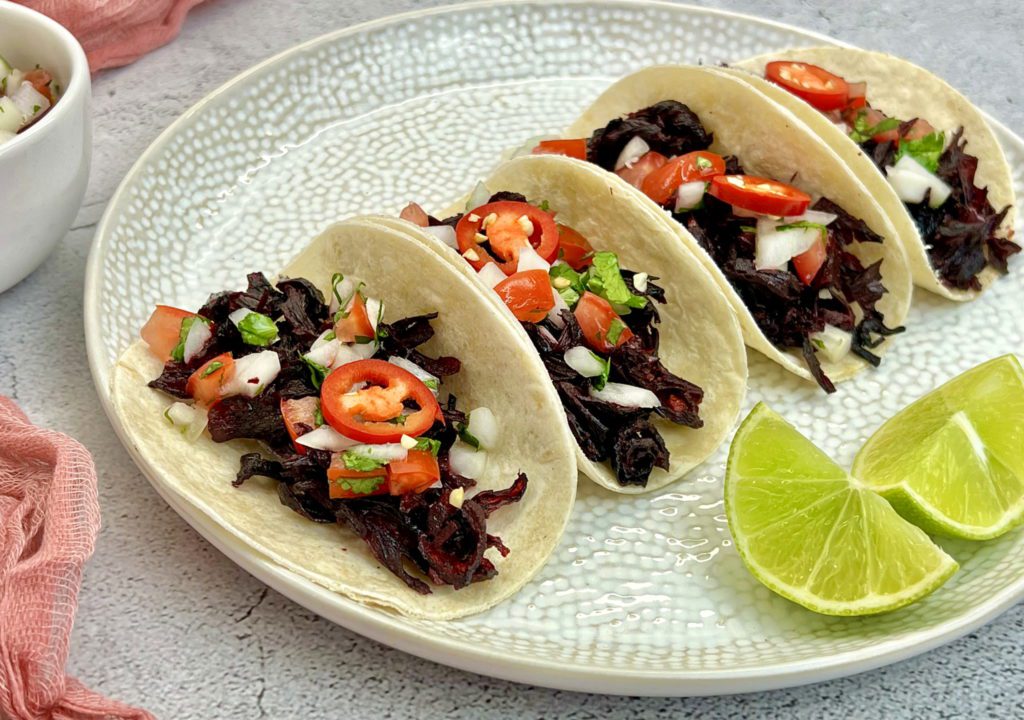 Tacos de Jamaica – Vegan Hibiscus Tacos
Mexican, fully vegan tacos. Made using dried hibiscus as a filing with fresh pico de gallo. Perfect for a vegan taco Tuesdays.
Ingredients
50

g

dried hibiscus

1

small white onion

diced

1

medium tomato

diced

1

medium mild green chilli pepper

diced

2

tablespoons

vegetable oil

1

red chilli

diced

2

cloves

garlic. minced

1

teaspoon

ground cumin

½

teaspoon

chipotle powder

or smoked paprika

½

teaspoon

Mexican oregano

½

teaspoon

salt

½

teaspoon

freshly cracked black pepper

Small flour tacos to serve

2

tablespoons

chopped fresh coriander

1

lime

juiced
Instructions
Quickly rinse the dried hibiscus under running cold water to remove any dirt.

Bring a pot of 1500ml of water to a rolling boil then turn off the heat.

Immediately add the hibiscus and make sure it's all submerged in the water.

Let it steep for 15 minutes then drain out the hibiscus and reserve for later.

Add the diced tomato, green chilli and half the diced onion to a bowl. Sprinkle over a large pinch of salt, mix well and set aside.

Heat the oil in a pan over medium-high heat. Once hot add half the diced onion, all the red chilli and a pinch of salt. Sauté until the onion is translucent and starting to turn golden, around 6 minutes.

Add the minced garlic and continue to sauté for 2 minutes.

Add in the ground cumin, chipotle powder, Mexican oregano and the reserved soaked hibiscus. Sauté for a further 4 minutes.

Taste and adjust the seasoning then set aside, off the heat.

Drain any liquid from the bowl of onion, tomato and chilli. Add in the lime juice and chopped fresh coriander. Mix well and taste and adjust the seasoning.

Serve your Tacos de jamaica with some of the hibiscus filling and the pico de gallo sprinkled on top.