Vegan Causa, our vegan take on a traditional Peruvian Causa. Made with layers of potato, quinoa and avocado. Topped with vegan mayo, passion fruit sauce and mushrooms.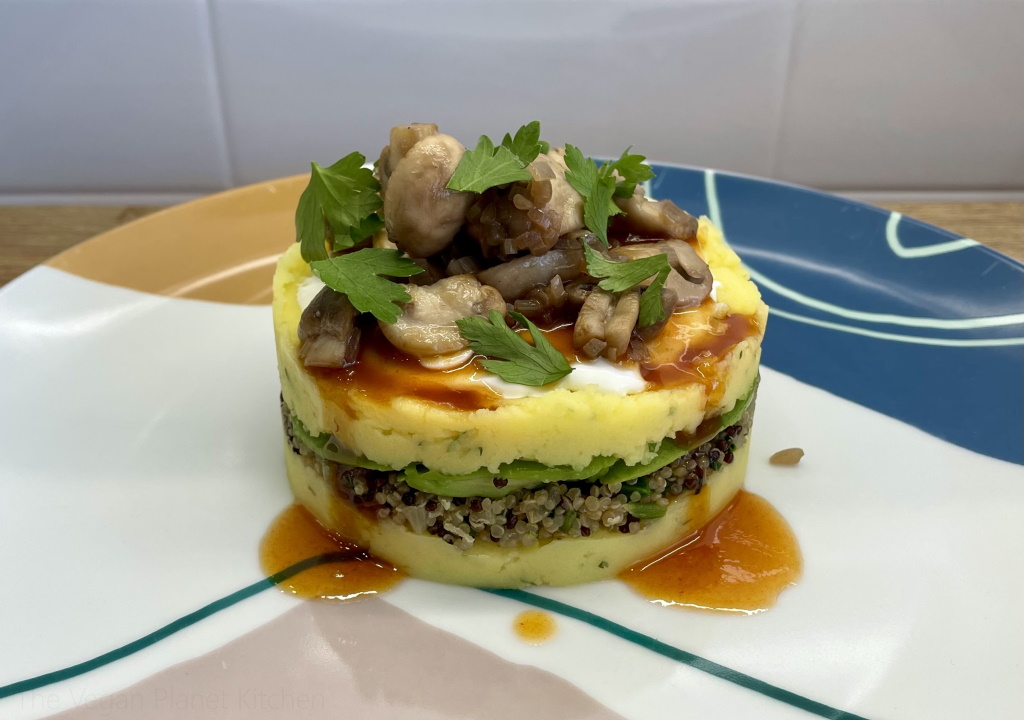 When we started researching Peruvian week we quickly realised Vegan Causa had to be one of the dishes. The idea of a dish with mashed potatoes as the star ingredient, that's also eaten cold was so intriguing to us. All the wonderful versions everyone has done online just added to our intrigue.
Ingredients of note
Potatoes were originally cultivated in the area of modern-day Peru. These days many varieties are available in Peru. Causa usually calls for a type of potato called Papa Amarilla, however, they are impossible to find in the UK so we used Desiree potatoes. You can use any potato that has yellow flesh and makes a good mash.
Aji Amarillo chilli paste is another ingredient in Causa that's not usually found in supermarkets in our part of the world. We managed to source it from an online Mexican grocer. It can also usually be found on Amazon. The paste adds a fruity spiciness to the potatoes and helps make the mixture yellower. If you can't find this and have access to fresh, medium heat, yellow chilli peppers you could try making a paste from them. Otherwise, I would leave the chilli paste out.
If you do source Aji Amarillo paste for your Vegan Cause you can also use it in our Vegan Lomo Saltado and Vegan Arroz Chaufa recipes.
Serving Vegan Causa
Vegan Causa really is a versatile dish, that's part of its beauty. In this recipe, we have topped it with mushrooms and passion fruit sauce but it can really be topped with anything or even nothing for a lighter bite. For a fresher lunch, how about some quartered cherry tomatoes and black olives. Or a quick salad of sliced onions and peppers in a simple lime, olive oil and coriander(cilantro) dressing.
Vegan Peruvian Causa
A Peruvian dish with layers of potato, quinoa and avocado. Topped with vegan mayo, passion fruit sauce and mushrooms.
Ingredients
Potatoes
900

g

yellow potatoes

120

ml

olive oil

1

tablespoon

aji amarillo paste

Juice of

2

limes

Few sprigs of parsley

finely chopped

Salt and pepper
Filling
250

g

cooked red and white quinoa

1

small onion

diced

100

g

spinach

finely chopped

1

tablespoon

olive oil

2

avocados

Salt and pepper
Passion Fruit Sauce
100

ml

passion fruit puree

80

ml

agave syrup

30

g

tomato ketchup

½

teaspoon

white wine vinegar

Salt and pepper
Mushrooms
200

g

button mushrooms

1

small shallot

finely diced

1

clove of garlic

finely minced

2

tablespoons

olive oil

60

ml

brandy

Salt and pepper
Topping
4

teaspoons

vegan mayo

Parsley for garnish
Instructions
Potatoes
Peal, dice then boil the potatoes in salted water until fork-tender, around 10 minutes. Drain, pass them through a potato ricer two or three times until smooth without any lumps. Add them to a bowl and allow them to cool.

Once the potatoes are cooled, add the aji Amarillo paste, lime juice, parsley and half the olive oil to the potatoes. Mix together, now add the remaining olive oil a small bit at a time until you have a smooth consistency. Season to taste.
Passion Fruit Sauce
While the potatoes are cooking add all the ingredients for the passionfruit sauce to a pan over medium heat and simmer for 10 minutes or until thickened slightly. Season to taste, it should have a savoury sweet and sour taste. Transfer to a dish to cool.
Filling
Heat

1

tablespoon olive oil in a pan over medium heat. Add the diced onion and season to taste then sauté until the onions are translucent.

Add the spinach to the pan and stir until wilted.

Cook the quinoa as per packet instructions. Once cooked add to the pan and mix to combine. Check for seasoning then transfer to a bowl to cool.
Mushrooms
Clean then cut the mushrooms into quarters. Prepare the shallot and garlic by finely dicing them. Pour the brandy, away from any naked flames, into a small bowl.

Heat a frying pan over high heat. Add the olive oil and the mushrooms and stir to coat the mushrooms in the oil. Sear the mushrooms for 2 to 3 minutes until they just start to release liquid.

Add the shallot and garlic then season to taste. Continue to cook for 2 to 3 minutes watching that the garlic does not start to burn.

Now add the brandy. Watch out if there are any open flames as the brandy might ignite. As soon as the brandy is added, stir quickly to coat the mushrooms evenly. Once the brandy has cooked off, turn off the heat and check for seasoning. Remove from pan to cool.
To Assemble
Once everything has cooled the Vegan Causa can be assembled.

Place a food ring on the serving plate, I used a 10cm ring. Add an even layer of the potato mixture inside the ring

On top of the potato add an equal layer of the quinoa mixture.

Slice the avocado into thin strips and add these as a thin layer on top of the quinoa.

Add a final layer of the potato mixture on top and make sure this layer is flat.

The food ring can now be removed gently.

To the top of the stack add a generous teaspoon of mayo and smooth out over the top.

Pour over a small amount of the passionfruit sauce until it starts to pour over the side of the stack. Watch to not add too much as this could overpower the dish.

Finally, add the mushrooms on top and garnish with parsley.
Notes
Warning: When using brandy around open flames there is a chance for it to ignite. Stand back from the pan when adding the brandy and while it is cooking off. 
Resources
Ingredient and presentation inspiration: Germinando Vida