Pikliz, a spicy, tangy slaw that is a staple of Haitian cuisine. It is often served alongside grilled or fried proteins, rice and beans, and other Haitian dishes. We feel it's perfectly served with a variety of vegan dishes.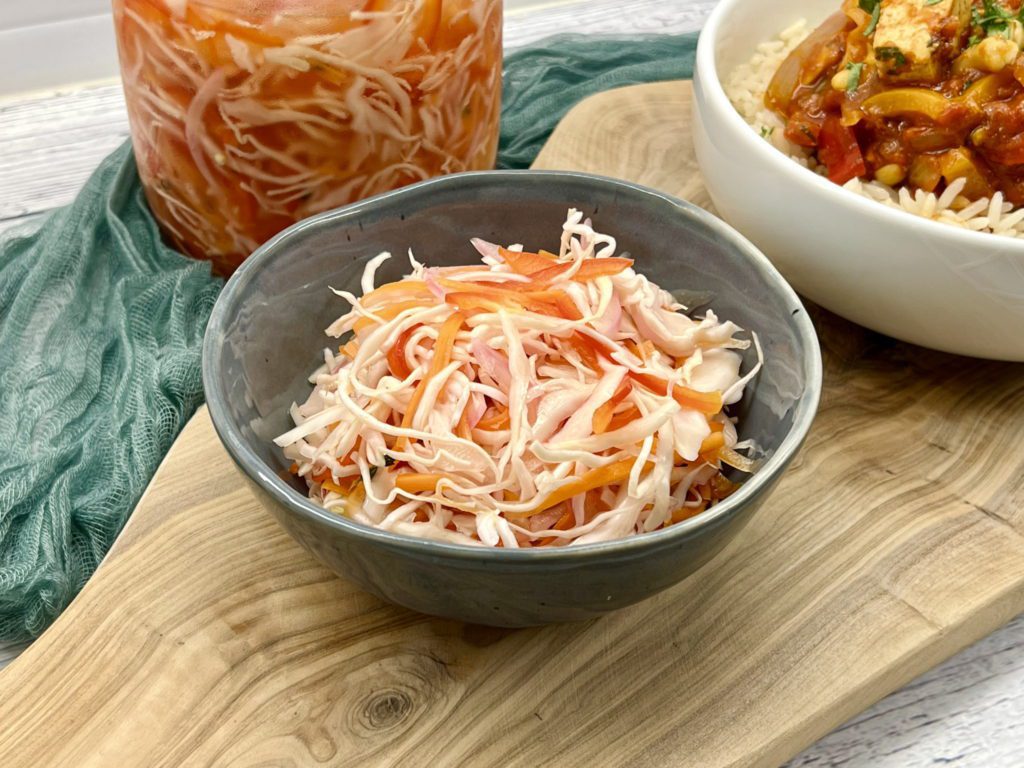 Pikliz is a traditional Haitian condiment that adds a spicy kick to any dish. It is made with thinly sliced cabbage, carrots, onions, bell peppers, and scotch bonnet peppers that are pickled in a vinegar-based brine. Pikliz is often served with fried or grilled meats, rice dishes, and sandwiches, and it is a staple of Haitian cuisine.
We recommend having it with our Vegan "Chicken" and Cashew (Vegan Poul Ak Nwa) It is also great served with crusty bread or on a sandwich.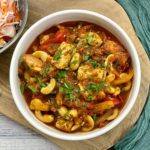 Vegan "Chicken" and Cashew (Poul Ak Nwa)
Tofu marinated in a epis and cooked in a tomato based sauce with cashews, peppers and onions.
Check out this recipe
Haitian Pikliz – Tips
Use gloves when handling Scotch bonnet peppers to avoid getting the oils on your skin.
Adjust the amount of Scotch bonnet to your personal taste. If you prefer less heat, use fewer peppers or remove the seeds and membranes before chopping.
Slice the vegetables as thinly as possible to ensure that they absorb the flavors of the brine and pickle evenly.
Use a glass jar with a tight-fitting lid to store the pikliz. Plastic containers may absorb the vinegar and alter the flavor of the condiment.
Let the pikliz sit in the fridge for at least 1 hour to allow the flavors to meld together. Overnight is even better.
The pikliz can last for several weeks in the refrigerator, but it may become softer over time. If you prefer a crunchier texture, eat it within the first week.
Using a Mandolin to make Pikliz
Using a mandolin in the Pikliz recipe can make the process of slicing the vegetables much faster and more efficient. The mandolin allows you to create uniformly thin slices of cabbage, carrots, bell peppers, and onion with ease. This will help ensure that they all pickle evenly and look consistent in the final product.
Be sure to use the hand guard that comes with the mandolin to hold the vegetables securely and protect your fingers from the sharp blades.
Overall, using a mandolin can save you time and effort in the preparation of Pikliz. Just be sure to follow the instructions for your mandolin carefully and use it safely to avoid accidents.
Pikliz
A spicy pickled slaw that's popular in Haiti.
Ingredients
½

small white cabbage

1

red onion

1

medium carrot

1-2

Scotch bonnet

more or less depending on heat level

1

red bell pepper

3

sprigs thyme

leaves only

½

teaspoon

black peppercorns

Juice of 1 lime

300

ml

white wine vinegar

2

teaspoons

salt
Instructions
Thinly slice the cabbage, onion, carrot, red bell pepper and Scotch bonnet. Use a mandolin for best results. Add them to a bowl with the thyme leaves and mix to evenly distribute everything.

Sterilise a large jar or 2-3 smaller ones by washing them thoroughly with dish soap, rinse well then either boil them in a big enough pot to fully submerge them for 10 minutes or put them in an oven, set to 110°C, for 10 minutes.

Once the jar has cooled completely add the sliced vegetables to the jar and gently compress them down to fill the jar.

In a bowl add the black peppercorns, lime juice, white vinegar and salt. Mix until the salt has dissolved this will take a couple of minutes.

Add the vinegar to the jar with the vegetables. Fill to the top so that everything is submerged. Top up with more vinegar if needed.

Place the Pikliz in the fridge for at least an hour before using.