Vegan Senegalese Yassa, a vegan take on the popular comfort food from Senegal. A spicy onion based dish with tempeh marinated in lemon juice and mustard. Yassa is a quick and easy to make recipe which is full of wonderful flavours.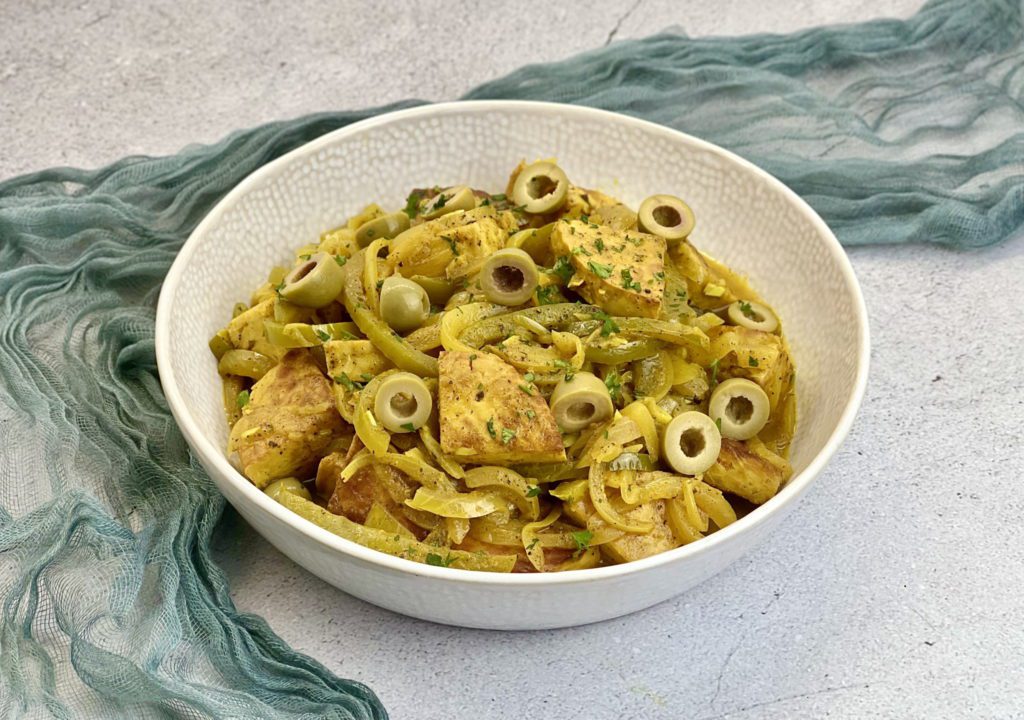 Ingredients of Note
Scotch Bonnet, is a spicy chilli variety that's used in Caribbean and West African cooking. You can add more or less depending on how spicy you like your food. Consider adding it whole if you want to add flavour to the stew without much of the spice. Piercing the pepper with a fork before adding it will increase the spice level imparted on your Vegan Yassa.
Nététou is a traditional condiment used in most Senegalese dishes including Yassa. It's made from fermented locust beans and is used throughout Western Africa. It has many different names. You can find it called Iru, Daddawa or Sumbala.
Locust bean powder has a pungent smell when raw but when cooked in a recipe it imparts a deep umami flavour to dishes. It had a rich complex flavour similar to miso or Parmesan. A little goes a long way.
In our Vegan Yassa, Locust bean powder is used in a similar way as adding a stock or bouillon cube to a recipe. If you can't source it you can replace it with a mushroom bouillon cube or even ½ teaspoon of msg.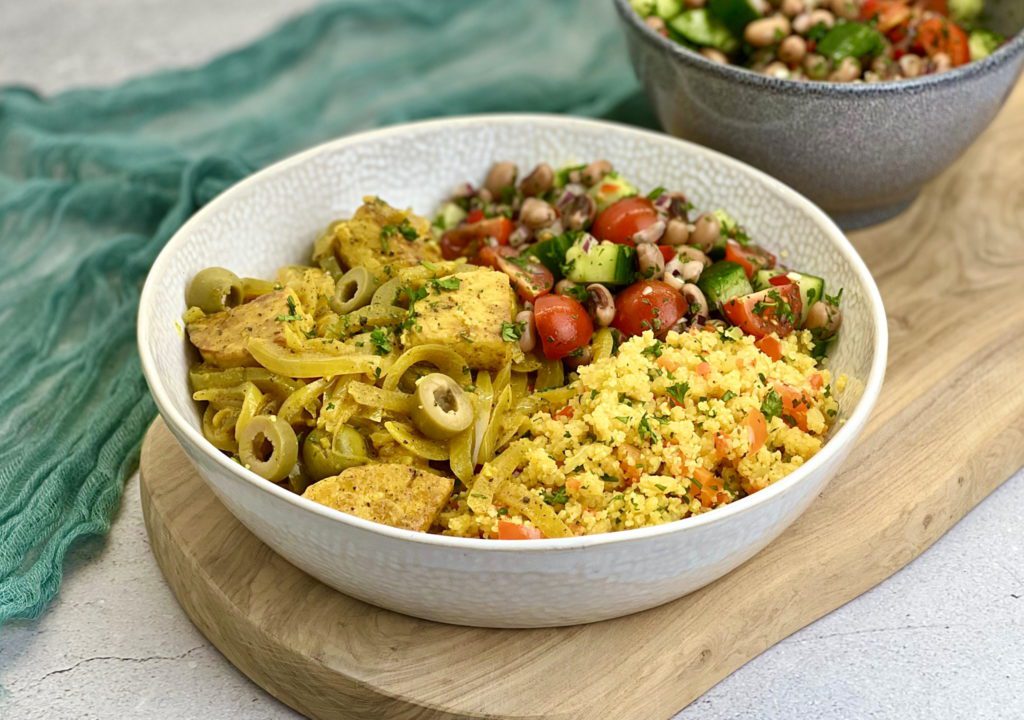 Serving Vegan Senegalese Yassa
Our vegan Yassa recipe is quick and easy to make and can be enjoyed with many different side dishes such as rice or salad. We have a recipe for Fonio Pilaf, a West African supergrain that makes a perfect accompaniment. We also have a recipe for a traditional Black Eyed Bean Salad that's popular in Senegal. Vegan Yassa could also be served with white rice.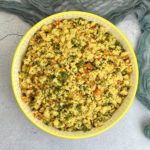 Vegan Fonio Pilaf – Ancient Grain Salad
An ancient grain salad made with Fonio. A supergrain from western Africa with a subtle nutty flavour that's easy to prepare and full of nutrients
Check out this recipe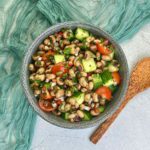 Black Eyed Bean Salad (Salatu Niebe)
A quick and easy-to-make bean salad from Senegal. Black eyed beans, tomato, cucumber, chilli and onion in a simple lime and oil dressing.
Check out this recipe
Quick and Easy Cooking Tips
Yassa is a simple dish that's easy to make and requires only a few ingredients.
The key to getting the best flavour from your Yassa is to make sure the tempeh is well covered in marinade and you fry it long enough to get deeply golden all over. The mustard and lemon juice create a wonderfully complex flavour.
There is no need to wash out the pan between frying the tempeh and frying the onions. Just add more oil and make sure not to burn any marinade left in the pan. This will add even more flavour to the finished dish.
Make sure to keep any of the leftover marinade and add it to the Yassa to give it even more flavour.
Vegan Senegalese Yassa
A vegan take on the popular comfort food from Senegal. A spicy onion based dish with tempeh marinated in lemon juice and mustard. Quick and easy to make.
Ingredients
Tempeh Marinade
300

g

tempeh

2

tablespoon

Dijon mustard

2

tablespoons

lemon juice

½

teaspoon

smoked paprika

½

teaspoon

salt

½

teaspoon

freshly cracked black pepper

1

tablespoon

vegetable oil
Yassa
3

tablespoons

vegetable oil

3

large brown onions

thinly sliced

4

cloves

garlic

minced

1

sprig thyme

1

Scotch bonnet

diced or whole depending on heat level

1

bay leaf

1

teaspoon

nététou – locust bean powder

optional see note*

¼

teaspoon

turmeric

optional for colour

1

green bell pepper

thinly sliced

300

ml

vegetable stock

2

tablespoons

red wine vinegar

10

green olives

Fresh parsley for garnish
Instructions
Cut the tempeh into bite-sized pieces then add to a bowl with the rest of the marinade ingredients. Mix well to coat the tempeh with the mustard and spices.

Heat 2 tablespoons of vegetable oil in a nonstick pan over medium heat. Once hot add the tempeh and fry on all sides until lightly golden all over. Reserve any remaining marinade. Watch not to burn the mustard. Turn the heat down if needed.

Remove the tempeh from the pan then add the remaining oil and the sliced onions with a pinch of salt. Sauté until the onions are soft and translucent and starting to turn golden, around 8 minutes.

Add the minced garlic, thyme, bay leaf and optional nététou. Sauté for 1 minute then add the turmeric, bell pepper, any remaining marinade and vegetable stock. Bring to a boil then reduce to a gentle simmer and cook for 5 minutes.

Add the tempeh and red wine vinegar, mix well to combine.

Taste and adjust the seasoning. The amount of salt needed will depend on the salt level in the stock. We added ¼ teaspoon salt and a good crack of black pepper.

Serve your Vegan Yassa garnished with sliced green olives and parsley.
Notes
Nététou is an optional ingredient you can read about it above.