Vegan Tofu Thieboudienne (Ceebu Jen), our vegan version of the National dish of Senegal. Marinated tofu served with rice and vegetables cooked in a spicy tomato broth.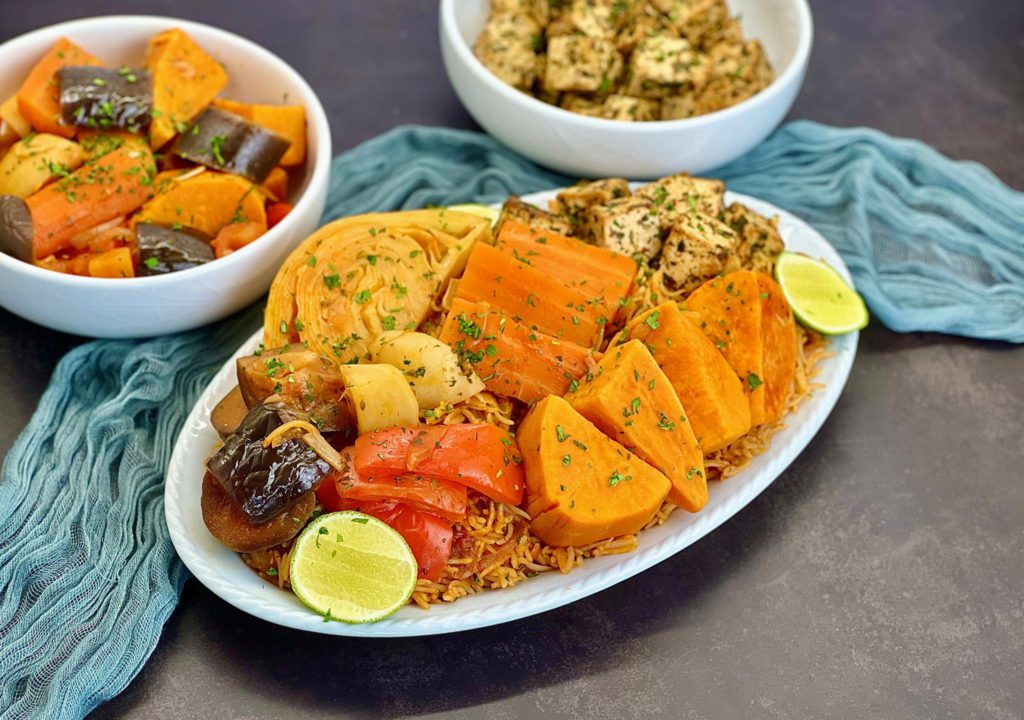 Thieboudienne (Ceebu Jen) is the National dish of Senegal. It's traditionally a fish and rice dish made with fresh fish and flavoured with dried fish. For our vegan version, we use tofu for the protein and vegan fish sauce to impart a rich umami flavour to the dish.
Ingredients of Note
Scotch Bonnet, is a spicy chilli variety used in Caribbean and West African cooking. You can add more or less depending on how spicy you like your food. Consider adding it whole if you want to add the flavour to the stew without much of the spice. Piercing the pepper with a fork before adding it will increase the spice level imparted on the dish.
In Senegal, Thieboudienne is usually served very spicy so if you are ok with heat the traditional way of making the recipe would be to add the Scotch bonnet finely diced.
Nététou is a traditional condiment used in most Senegalese dishes. It's made from fermented locust beans. It's used throughout Western Africa and has many different names. You can find it called Iru, Daddawa or Sumbala.
Locust Bean powder has a pungent smell when raw but when cooked in a recipe it imparts a deep umami flavour to dishes. It had a rich complex flavour similar to miso and Parmesan. A little goes a long way.
Locust bean powder is used similarly to adding a stock or bouillon cube to a recipe. If you can't source it you can replace it with a mushroom bouillon cube or even ½ teaspoon of msg.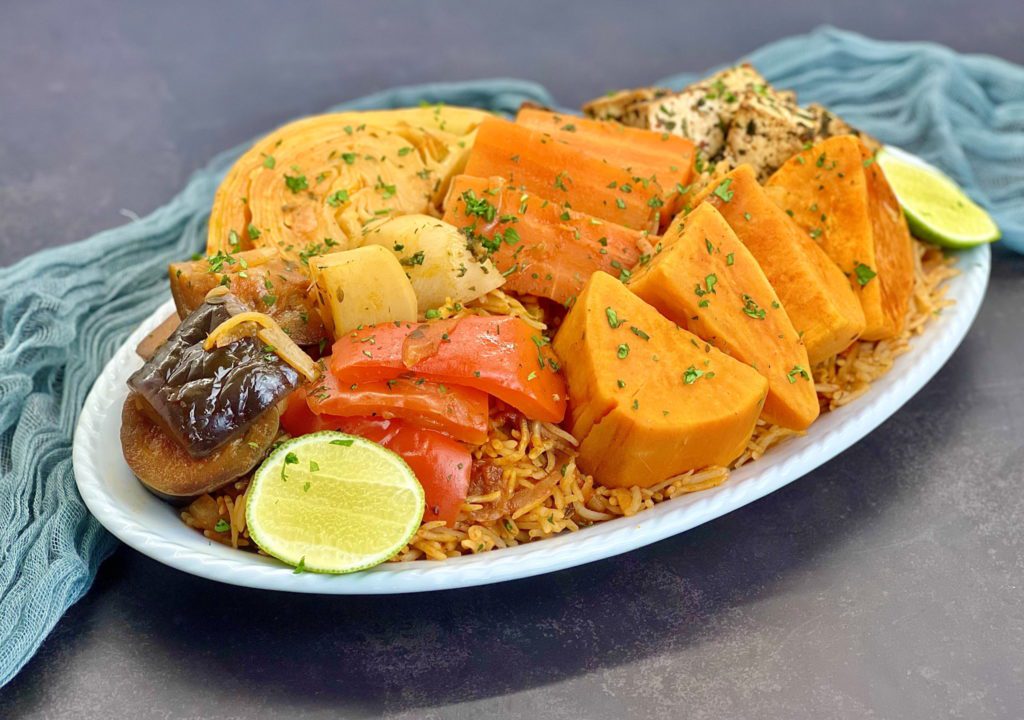 Serving Vegan Tofu Thieboudienne (Ceebu Jen)
Senegal Thieboudienne (Ceebu Jen) is the perfect social dish to be served as a platter for sharing around the table. Everyone can help themself to which vegetables they want and how much rice they want. Serve enough lime wedges for everyone. You can also serve Thieboudienne alongside a fresh salad of sliced tomatoes, bell peppers and cucumbers to add some freshness to the dish.
Vegan Thieboudienne is a versatile recipe that can be altered to include your favourite vegetables or protein. You can add other root vegetables such as potatoes or cassava root. You could also add softer vegetables such as green beans or cauliflower, these will need less cooking, so add them when you add the aubergine in the recipe. Consider using vegetables that are locally in season for you.
We used tofu in place of the fish in the traditional Thieboudienne dish. We find this works well, however, you can use whichever protein you want. You could use tempeh or soy curls in a similar way as the tofu or you could add chickpeas, lentils or beans to the broth when cooking the vegetables.
Senegalese Thieboudienne (Ceebu Jen) Cooking Tips
Traditionally Thieboudienne is made with broken jasmine rice. However, we find long grain rice such as jasmine or basmati works just as well for this recipe.
Make sure you cook out the tomato purée until it gains a deep red colour. This will give the Thieboudienne a deep umami flavour.
When prepping your cabbage, keep enough of the root so the cabbage doesn't fall apart too easily while cooking.
Not all dishes require you to press your tofu, however, we recommend for the best texture, press for at least 5 minutes to release excess liquid.
More West African Recipes
Vegan Senegalese Yassa
Vegan Obe Ata
Vegan Efo Riro
Vegan Nigerian Tomato Stew
Vegan Jollof
Vegan Tofu Thieboudienne (Ceebu Jen)
A vegan version of the national dish of Senegal. Marinated tofu served with rice and vegetables cooked in a spicy tomato broth.
Ingredients
Tofu
400

g

firm tofu

20

g

fresh parsley

2

spring onions

1

teaspoon

chilli flakes

4

cloves

garlic

1

tablespoon

vegan fish sauce

½

tablespoon

tamari

1

teaspoon

freshly cracked black pepper

2

tablespoons

vegetable oil
Thieboudienne (Ceebu Jen)
3

tablespoons

vegetable oil

2

medium brown onions

sliced

4

cloves

garlic

minced

1

Scotch bonnet

6

tablespoons

tomato purée

2

teaspoons

nététou – locust bean powder

optional see note*

½

teaspoon

smoked paprika

1

tablespoon

vegan fish sauce

or Worcestershire sauce

1

tablespoon

tamarind paste

1

teaspoon

salt

½

teaspoon

freshly cracked black pepper

2

bay leaves

4

cups

water

1

sweet potato

2

medium carrots

2

small turnips

½

head small green cabbage

1

medium aubergine

eggplant

2

red bell peppers

2

cups

basmati rice

Limes

Parsley

to garnish
Instructions
Tofu
Press and drain the tofu to remove some excess liquid.

Finely dice the parsley, garlic and spring onions for the tofu marinade then, using either a hand blender or a pestle and mortar, blend into a rough paste.

Add the paste to a large bowl then mix in the other ingredients.

Cut the pressed tofu into bite-sized cubes then place them in the bowl of marinade and gentle coat all over. Set aside for at least 10 minutes. Leaving it to marinate for a few hours will help.

Heat a large frying pan over medium heat. Once hot add the tofu and fry on all sides until lightly golden, around 8 minutes. Remove from the pan and set aside. Keep any remaining marinade for later.
Thieboudienne (Ceebu Jen)
Heat the oil in a large pot over medium heat. Once hot add the sliced onion with a pinch of salt and sauté until the onion is soft and starting to turn golden, around 8 minutes.

Add the minced garlic and sauté for 1 minute.

Either finely chop the Scotch bonnet removing the seeds or add it whole for less spice.

Add the Scotch bonnet and sauté for a further minute.

Next, add the tomato purée and the nététou. Cook off the tomato purée until it's a deep red colour and starts to caramelise, around 6 minutes.

Now add the smoked paprika, vegan fish sauce, tamarind paste, salt and pepper. Mix into the tomato paste then add the water and bay leaves. Bring to a boil.

While the broth is coming to a boil, prepare the vegetables. Peel and cut the carrots, turnips and sweet potatoes into large pieces. Cut the cabbage into large wedges keeping enough of the root to hold it all together. Add the root vegetables and the cabbage to the broth for 5 minutes. Cut the aubergine and bell peppers into large chunks and add them after 5 minutes. Add more water to cover the vegetables if needed.

Boil the vegetables until they are cooked through, around 20 minutes. Remove them with a slotted spoon when they are done and set them aside.

While the vegetables are cooking, wash the rice until the water runs clear then soak in a bowl for at least 10 minutes.

When the vegetables are cooked and have been removed from the broth. Drain and rinse the rice again then add the rice to the broth to cook. Cover the pot with a lid when boiling the rice.

Boil the rice for 8 minutes on medium heat then reduce the heat to the lowest setting on your cooker for 10 minutes. Check the rice is cooked and has absorbed all the liquid. Continue to cook on low if needed.

Turn off the heat and leave the rice to steam with the lid on for 5 minutes then fluff up with a fork.

Serve your Vegan Tofu Thieboudienne on a platter. Serve the rice on the bottom with the vegetables and tofu on top. Garnish with parsley and lime wedges.